NEXT STORY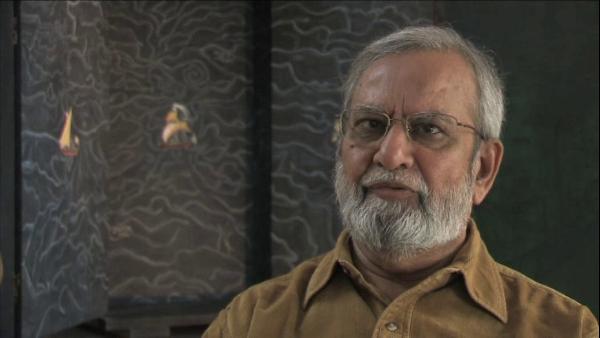 Salman Rushdie and magic realism
Gulammohammed Sheikh
Artist
1
...
3
4
5
6
7
During all the years when you were essentially teaching art history within quite a demanding university regime, did you feel conflicted? I mean, did you feel your painting was being held up almost? Or did you feel it was a...
I didn't think of it at all, you know. It was partly because it was something that came to me in that way. I mean, very simply when I was offered to teach, I mean, I got a job as, a job teaching art history – I just took it, you know, because I had no job, very simply. And I was, you know, I had something like 23 classes a week, you can't believe it, and I was teaching from Chinese art to Indian to western to Indian aesthetics and all that. I did that, you know, for many years, but I also continued to paint. I painted in the evening or afternoon or evening, also on Sundays and all this. Somehow you know, I didn't see that there was a conflict between the two so my wife felt that it was our life... it has come that way to me. And it worked, it seemed to work. I had a studio in the college so I would go to my studio in the afternoon and work there or I'd come home later in the afternoon and work there. I know demands were much greater, you know, and people like Bhupen my friend, you know, who didn't have that kind of a demanding job. He worked as a chartered accountant but part time so he had plenty of time, you know, to work and he occasionally taught – he taught part time in a school of architecture. But that was not half as demanding as, but then many like my teachers were like that, you know, Subramanyan for that matter, you know – he taught full time for many years and he continued to paint. So we had that kind of an example and we were not really, in that sense... what shall we call it? I mean, we were as professional as professional artists are because we showed everyone. But then those who don't do such things, you know, sometimes feel that, well, we should be paying more attention, but that didn't matter to me, at all.
Sudhir Patwardhan who is part of 'Place for People', was doing a full time job as a radiologist.
Gieve Patel was you know, was a full time [doctor], he had a clinic, you know, he attended it twice a day in the morning and evening, for many years. And there are many others, you know, who work like that so it was not something, you know, which could cause that kind of a conflict.
And even perhaps looking back, I mean, you did it till you were 45 – it was perhaps a very useful apprenticeship, giving you all the languages for your 'Speaking Tree' or your 'Palipsest' or...
It's true. And I think in our teaching fed into my work because every year, when you teach the same subjects you want to re... sort of, at least re-look at all what you have been talking about. And sort of in that sense, you know, if you don't have any kind of a hard art history or a hard core art history, which luckily in this college we had full freedom to teach the way we liked. So mine was a kind of an art history which was, in a way, from the eyes of a painter. And I, I mean, I did deal with obviously with dates and provenance and various other issues, to an extent, but that was not my main concern. My main concern was to go to the work of art so for me it was a discovery every time, you know. So I look at Duccio again and I say, my God, you know this man has done so much in his life. Now, a new aspect would emerge from that and, I think, eventually that discovery would feed into your work, your imagination and it would become part of it. So I greatly benefited from that, I would say.
And in 1982 you became Professor of Painting.
Yes. Well, I was teaching art history for a number of years although I was not trained as an art historian, but I wanted to go to paintings and wanted to have a kind of rapport with practising artists. Subramanian left that year and I applied and I got the job so I taught for about 10 years. But I continued to teach history of painting to students of MA, so I continued my association with art history.
Gulammohammed Sheikh is an Indian painter, writer and art critic who has been a major figure in the Indian art world for half a century. His artistic career is closely associated with the renowned MS University of Baroda in Gujarat where after gaining his Master's degree, Sheikh went on to teach in the Faculty of Fine Arts, and where he was appointed Professor of Painting in 1982.
Title: Teaching and painting
Listeners: Timothy Hyman
Timothy Hyman is a graduate of Slade School of Fine Art, London, in which he has also taught. In 1980 and 1982, he was Visiting Professor in Baroda, India. Timothy Hyman has curated many significant art exhibitions and has published articles and monographs on both European and Indian artists.
Duration: 5 minutes, 22 seconds
Date story recorded: December 2008
Date story went live: 18 November 2010