NEXT STORY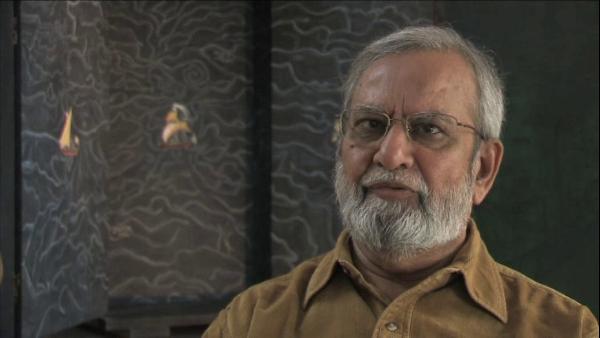 Exhibition in Paris and stories in my work
Salman Rushdie and magic realism
Gulammohammed Sheikh
Artist
1
...
3
4
5
6
7
Well, I have greatly enjoyed Midnight's Children and I even have enjoyed a number of his, several of his books. And I do feel a sense of, kind of a, well, I think there are... I mean, what I'm trying to say is that there are areas which, in some ways, can be described as similar and somebody has already written about our work and they have used the word 'magic realism', which is used for Salman's work, I know that. But we didn't have that kind of a direct, kind of, either in the form of communication, in the form of dialogue, in the form of any formal, you know. We have not articulated it in that way.
You did appear on the same platform at the Festival of India?
Oh yes, that we did, yes, once we did. There were a lot of people there but they were all around... in '82, that's right, in London at the Riverside Studios, that's right, yeah.
And Tariq Ali bought a painting by Bupan and...
Yeah, Tariq Ali bought a painting and Salman bought a painting of Bupan, yes, I know that so there is... But you see the world that way, you know, came to us through Marquez, through Calvino, through Kundera, you know, there are these writers and Salman became part of it and today it is Pamuk, you know. So all these writers have been so much part of our, you know, make up, you know. In a way we shared so many things, you know, with them. And I think Calvino is something which I greatly admire so when I, and also it goes back to the larger tales, you know, like the Arabian Nights, which I greatly enjoyed and it's something which you can keep reading all your life. And of course, the great stories called the Kathasaritsagar that is an ocean of oceans and river of stories – it's a great book, you know, one of the... most, it's kind of an amazing kind of text and it has 100 sub-stories, stories within stories. Some myth, some real, some historical, some others, all put together. So it is, in a way, if I were to articulate it would be in that it's like one life lived many times, many lives – so it's like Jataka, you know, the previous lives of Buddha, so each life, you know, is lived as an animal, as a bird, as a human being, as... and all these come together and form a kind of a world which is very magical. And I think this is something which one feels like and, it's kind of a lifetime engagement, it's not something which... and you can keep on with them and you can never finish them. Many of these stories are endless stories, they don't end anywhere, there is no frame, there is no kind of an outline in which you can place. They extend into something and you can pick them up at whichever point that you wish to and start again.
Gulammohammed Sheikh is an Indian painter, writer and art critic who has been a major figure in the Indian art world for half a century. His artistic career is closely associated with the renowned MS University of Baroda in Gujarat where after gaining his Master's degree, Sheikh went on to teach in the Faculty of Fine Arts, and where he was appointed Professor of Painting in 1982.
Title: Salman Rushdie and magic realism
Listeners: Timothy Hyman
Timothy Hyman is a graduate of Slade School of Fine Art, London, in which he has also taught. In 1980 and 1982, he was Visiting Professor in Baroda, India. Timothy Hyman has curated many significant art exhibitions and has published articles and monographs on both European and Indian artists.
Duration: 3 minutes, 30 seconds
Date story recorded: December 2008
Date story went live: 18 November 2010