NEXT STORY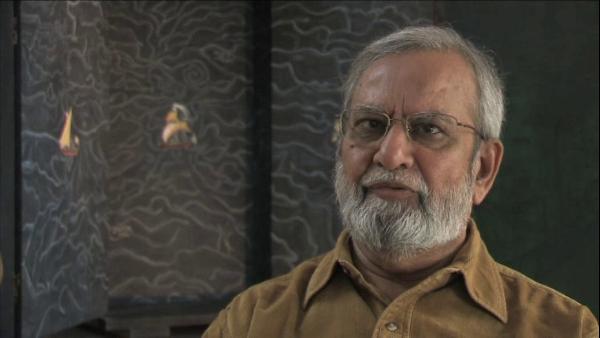 Home Street Shrine Bazaar Museum
Gulammohammed Sheikh
Artist
1
...
3
4
5
6
7
Well, curating is not something which I have chosen myself. But at some point of time, you know, it came to me to, let us, say either organise or curate exhibitions. Way back in, I think, '69 or so, we were asked to do something on art of Gujarat, a small exhibition, but Bhupen, Jyoti Baht and I went round and collected a few objects and put up a show at Jehangir Art Gallery in Bombay. But, it was at a later stage that one felt that perhaps one could put together exhibitions. Well, I had done small things here and there, like when I was teaching in the faculty. I would put up sort of all exhibitions sometimes of reproductions and originals. I think we did something in popular art at one stage. But it was later when offers came from other sources. Among these, an important one was, I forget the title of the exhibition, but an exhibition in exchange of one that had gone to France, perhaps for the Festival of India again, and we were, that is Geeta Kapur, Anis Farooqi, who was the director of the National Gallery of Modern Art, and I. We visited Paris to select works from French museums. So, we had done some work before going, and put together what we thought to be relevant for India. But most of the works were to come from museums in Paris, but we certainly had on our list the artists that, I was very keen on Bonnard, and there were these sort of little tips that we should be having both van Gogh and Gauguin, without which an exhibition like that would perhaps be adversely commented. So, we put that into their mind, the French who were working with us, and we managed to put together a reasonable exhibition in India. I don't know what it was called, it's something like 'Birth and Life of Modernity' or something like that, and it was in the National Gallery, but we did not write the catalogue, it was already written by the French. But I think that was an experience because we actually dealt with some very well known works of art and also important museums, and it was great fun looking at those works in the collection of the Pompidou and in... the, what is it, the other big impressionist museum collection?
Orsay.
L'Orsay, and... we didn't visit other museums besides Paris, but we had a list and we got a Bonnard from a museum somewhere in the south. Not a very large show, but a reasonably big show, a good show.
When did it end, about 1950?
This must have ended around that time, yah. I don't really remember.
So it's classic?
Yes, it's more or less a classical show. Well, the French did send a show. It was curated by somebody else, you know. It was of a later period, you know, at the National Gallery of Modern Art. As I mentioned it to you, it was a friend of Deepak Ananth who curated that show, and that came at a later stage.
Gulammohammed Sheikh is an Indian painter, writer and art critic who has been a major figure in the Indian art world for half a century. His artistic career is closely associated with the renowned MS University of Baroda in Gujarat where after gaining his Master's degree, Sheikh went on to teach in the Faculty of Fine Arts, and where he was appointed Professor of Painting in 1982.
Title: Curating
Listeners: Timothy Hyman
Timothy Hyman is a graduate of Slade School of Fine Art, London, in which he has also taught. In 1980 and 1982, he was Visiting Professor in Baroda, India. Timothy Hyman has curated many significant art exhibitions and has published articles and monographs on both European and Indian artists.
Duration: 4 minutes, 34 seconds
Date story recorded: December 2008
Date story went live: 18 November 2010