NEXT STORY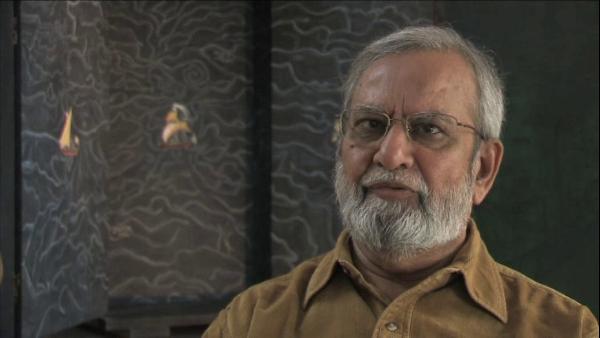 Benode Bihari Mukherjee (Part 2)
Benode Bihari Mukherjee (Part 1)
Gulammohammed Sheikh
Artist
1
...
3
4
5
6
7
Well, at a later stage it came to me to curate the exhibition of the work of Benode Bihari Mukherjee. Benode Bihari Mukherjee was a very unique kind of artist. Well, in terms of let's say his life, I mean, if you think of his life. He had lost an eye in his childhood, so all he painted was with one eye, and that was also a poor eye, which eventually he lost in his 50s. But that is not the point. The point is that he had something very unusual in him. He studied at Santiniketan, and then became a librarian. I think of his own choice he sort of learnt to put together all the volumes that Tagore and others had collected, something about history, and he also became a writer of sorts later. You know, he published both in Bengali and later on I came to know that he had in fact, his work, his writing was greatly admired, and Subramanyan eventually translated his work into English.
Well, Subramanyan had worked on his major sort of magnum opus, the great work that he did for the Department of Hindi in Santiniketan where there was this scholar called Hazari Prasad Dwivedi, the great Hindi scholar who had written on saint poetry, and even his work on Kabir is of, I would say it is one of the most important books ever written on Kabir. And Benode Bihari and Hazari Prasad seem to have got along very well, so Hazari Prasad invited Benode Bihari to make murals in the new hall that they had built. There were three walls that Benode Bihari painted. He also wanted to paint the fourth, but that was not available to him.
Around 1940?
It is 1947. But he had already painted murals before that. You know, he had painted the student's hostel, the ceiling of the student's hostel, and that mural... I don't know how he made it, you know, because it's a very narrow passage. It's about 8 foot high, and it's a kind of a veranda and it looks that he must have been sort of lying and painting, or just putting his head up and painting it. And it's an interesting painting because it's a kind of a... circular, the surroundings of Santiniketan, all the trees and vegetation and animals all kinds of whatever, people, you know, who come to sell, come to sort of they are wandering around, and right in the middle is a pond with buffalos bathing. I think there is something in that painting which Satyajit Ray seems to have responded to. I think even Pather Panchali is the first film that Satyajit Ray made, has characters very similar to the ones that appear in that painting. In that painting there are various characters that are very similar to the one that Benode Bihari painted in that. But he also painted for instance another mural in Cheena Bhavan and that is the Department of Chinese, and that was different, but it was the grand mural, the big mural that he did in the Hindi Bhavan, and I think that is, to my mind is a kind of a great landmark in the history of contemporary Indian art. It's also done at the point of time when India was on the verge of getting its independence, and it also portrays something which in a way covers the culture or the belief systems of the subcontinent. So it is actually the story of the mediaeval saints of India, and you have one like the west wall begins with all the sadhus, all the monks, all the aesthetics coming down from the Himalayas, wandering around, and then eventually there is this image of Ramanuja, the great saint of the south, you know, literally kind of a gothic height, and his disciples standing around him, and moving further you have the image of Kabir, you know, seated and in a kind of a musical sangat or sit together. Moving further there is the great work, Hindi poet, perhaps the first poet who wrote in Hindi instead of Sanskrit, the Ramayana, the story of Rama, and that even is still popular and people sing that Rama, it's called Tulsi Ramayan.
Gulammohammed Sheikh is an Indian painter, writer and art critic who has been a major figure in the Indian art world for half a century. His artistic career is closely associated with the renowned MS University of Baroda in Gujarat where after gaining his Master's degree, Sheikh went on to teach in the Faculty of Fine Arts, and where he was appointed Professor of Painting in 1982.
Title: Benode Bihari Mukherjee (Part 1)
Listeners: Timothy Hyman
Timothy Hyman is a graduate of Slade School of Fine Art, London, in which he has also taught. In 1980 and 1982, he was Visiting Professor in Baroda, India. Timothy Hyman has curated many significant art exhibitions and has published articles and monographs on both European and Indian artists.
Duration: 5 minutes, 47 seconds
Date story recorded: December 2008
Date story went live: 18 November 2010