NEXT STORY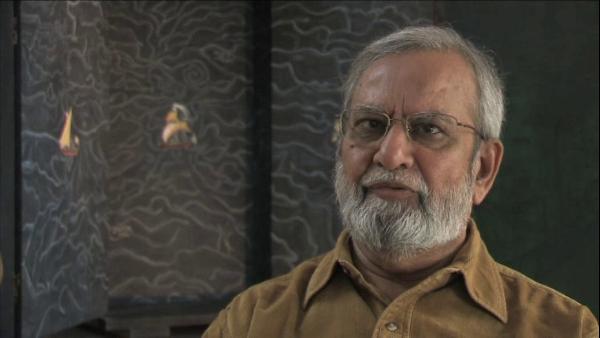 Reading, writing and painting
Gulammohammed Sheikh
Artist
1
2
3
4
5
...
7
Well, Islam I knew from whatever the family gave us, but our Islam was a very different Islam. I think people living in UP (Uttar Pradesh) might not even consider it Islamic. Most of our rituals, in our family traditions, were mixed. That is one. We only learnt Koran, which we did not understand, because we only learnt to recite. We didn't know the meaning of it. So, we, I didn't study Urdu. If there was a Koran with an Urdu translation, I couldn't read it. I could read Arabic because I was taught to read that and I could recite it but without understanding a word. But what is interesting is that at school, when I went to opt for subjects, you know, earlier Persian was offered as an option and there were either no takers or there were no teachers. Then Sanskrit became an option. So, I... was... I opted for Sanskrit and I studied Sanskrit. It allowed me an opportunity to study the Hindu and Jaina text, both religious and then, of course, the other literary texts, you know, it opened doors, you know, in that direction. In a sense I knew more about religions other than the one in which I was born. I became more and more interested. I learnt about Upanishads, I learnt about the way the... I mean, in whichever way, a young boy can at that point in time, because I could pick up books in Gujarati and I could learn about that. But I also learnt Sanskrit and Sanskrit came very handy when, at a later stage in Baroda, when I was teaching, I was supposed to teach Indian aesthetics and with my smattering of Sanskrit, I could do that job. But, anyway, so that was a kind of a mixed kind of a tradition. So, I was interested in other belief systems and I made a point to even learn about them, to know what they did. But, as you know, that it was a society which was in one sense, you know, divided but at the same time there were some crossovers and I could sort of use that territory, you know, to learn, to know more about other belief systems. And then I came to know later that our own, I mean, the Islam that, in which I was born was very different. You know, many of our customs were actually local cultural customs and so that's what...
Was there also an element of colonial Christianity?
Yeah, there was an Irish missionary hospital and there were Christians around. As I told you, my geography teacher was Christian. I used to visit him. He was, I think, quite fond of me and he used to invite me home. So, I knew about Christianity.
Gulammohammed Sheikh is an Indian painter, writer and art critic who has been a major figure in the Indian art world for half a century. His artistic career is closely associated with the renowned MS University of Baroda in Gujarat where after gaining his Master's degree, Sheikh went on to teach in the Faculty of Fine Arts, and where he was appointed Professor of Painting in 1982.
Title: Religion (Part 2)
Listeners: Timothy Hyman
Timothy Hyman is a graduate of Slade School of Fine Art, London, in which he has also taught. In 1980 and 1982, he was Visiting Professor in Baroda, India. Timothy Hyman has curated many significant art exhibitions and has published articles and monographs on both European and Indian artists.
Duration: 3 minutes, 31 seconds
Date story recorded: December 2008
Date story went live: 17 November 2010