NEXT STORY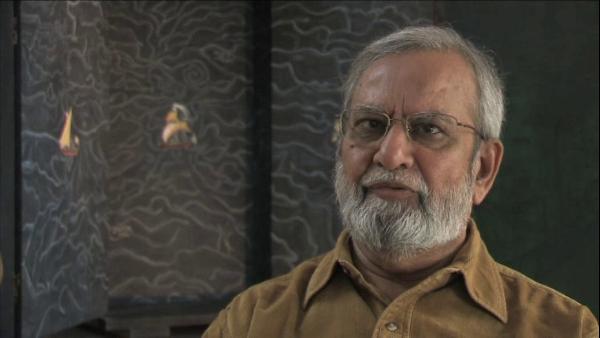 More about my childhood and my mother
Reading, writing and painting
Gulammohammed Sheikh
Artist
1
2
3
4
5
...
7
All the books that I read during that time, I read a lot of literature. I read all in Hindi and in Gujarati that was available to me. But I also got exposed to, let us say, art. There was Marg. They subscribed to Marg, that journal of art, great journal of art, which Mulkaraj Anand edited. I remember having seen work of Francis Newton Souza as a young boy and these were Christian paintings, you know. There were so many other things. I think I must have on my own learnt or discovered. I was very curious, you know, that if there is something new or different, I wanted to access it and I... luckily the library was pretty good and the journals were very sort of, like they used to have a journal called Aajkal. Now, this is a government of India journal in Hindi and I remember in the later days of my school I read travelogues written by Ramkumar when he was in Prague or something. I knew about Nirmal Virma. I had read his stories while I was in school. So, in that sense West or Western culture, you know, was also part of my being to the extent that I even wrote, I wrote, besides poetry, lots of short stories and one I wrote which was based in America. I mean, they're silly stories but they were all published, you know? I mean, they must have been good enough for publication. And Labhshankar and I published a lot in those days. Labhshankar published much more. And so it was this, in a way it was literature and it was association with all these friends, you know, that allowed me an opportunity to know about different cultures.
Did you feel any conflict between the writing and the painting?
Well, people always ask that question, you know. I think that has never died. I don't know why. I think it is more theoretical than practical. And I came to know, to my great delight, that Rabindranath Tagore, you know, in my school days I knew of his work, that he painted and he wrote. So, I didn't see that kind of a conflict and it's not possible to answer the question in black and white. There can be conflict, I'm not saying that, but it can be fruitful conflict. There can be overlaps, you know, you will do something what you do in writing, you may also do in, but that, there are certain things which you can only write and others you can only paint. So, there is a distinction between the two. And so over the years, when, but, you see, it was in that culture quite common to accept it. Labhshankar was very pleased that I painted and I wrote and, in fact, one of the things that I did when I was leaving Surendranagar was to prepare a handwritten volume, his poems which I illustrated. He still has it. So, in a way that conflict did not figure or did not cause any problem.
Gulammohammed Sheikh is an Indian painter, writer and art critic who has been a major figure in the Indian art world for half a century. His artistic career is closely associated with the renowned MS University of Baroda in Gujarat where after gaining his Master's degree, Sheikh went on to teach in the Faculty of Fine Arts, and where he was appointed Professor of Painting in 1982.
Title: Reading, writing and painting
Listeners: Timothy Hyman
Timothy Hyman is a graduate of Slade School of Fine Art, London, in which he has also taught. In 1980 and 1982, he was Visiting Professor in Baroda, India. Timothy Hyman has curated many significant art exhibitions and has published articles and monographs on both European and Indian artists.
Duration: 3 minutes, 47 seconds
Date story recorded: December 2008
Date story went live: 17 November 2010