NEXT STORY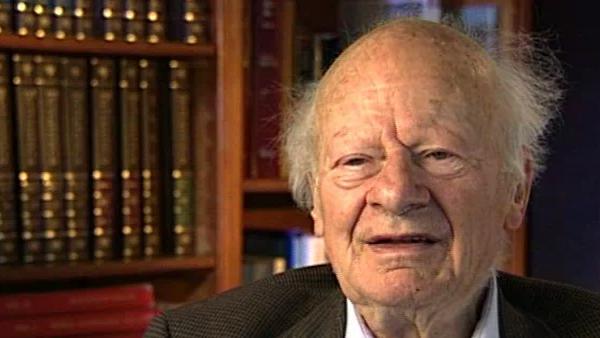 Looking after visiting Americans in Germany
Writing two articles for Handbuch der Physik
1
2
3
4
5
6
...
16
[Q] The life time of excited states of Hydrogen.
Yes, and life time also of the first excited state of Helium, which is metastable because it is a triplet state and the transition has to be to the singlet ground state. So all that is in this article. Then, when that was... when I did some of that in Rome, I think most of it in my second term in Rome in 1932, in fact at that time I spent most of the time writing that Handbuch article. Then while this was going on I was asked to write a second article, that is really Sommerfeld was to write an article on electron theory of metals, and Sommerfeld told me 'I will accept this only if you do - you meaning me - if you do 90% of the work and get 90% of the honorarium.' And the honorarium was very substantial in those days. It started me out when I had to emigrate. So when I had finished the first Handbuch article, I began writing the second which kept me busy until 1933, and I included again everything I knew and could find about solid state theory. I included the Wigner-Seitz Theory of how a metal electron actually looks in... in its crystal field, how that was connected to cohesion, binding energy of metals. I included all electromagnetic, ferroelectric effects and I think it was up to date at that time. It was in fact republished after the war by Springer who also published the first Handbuch and the first Handbuch article was then revised with Salpeter and brought up to date with much more relativistic theory put into it and that was then republished by Springer and also published in English by academic publication [Academic Press] in this country.
The late German-American physicist Hans Bethe once described himself as the H-bomb's midwife. He left Nazi Germany in 1933, after which he helped develop the first atomic bomb, won the Nobel Prize in Physics in 1967 for his contribution to the theory of nuclear reactions, advocated tighter controls over nuclear weapons and campaigned vigorously for the peaceful use of nuclear energy.
Title: Writing two articles for "Handbuch der Physik"
Listeners: Sam Schweber
Silvan Sam Schweber is the Koret Professor of the History of Ideas and Professor of Physics at Brandeis University, and a Faculty Associate in the Department of the History of Science at Harvard University. He is the author of a history of the development of quantum electro mechanics, "QED and the men who made it", and has recently completed a biography of Hans Bethe and the history of nuclear weapons development, "In the Shadow of the Bomb: Oppenheimer, Bethe, and the Moral Responsibility of the Scientist" (Princeton University Press, 2000).
Tags: University of Rome, Handbuch der Physik, Academic Press, Springer, Arnold Sommerfeld, Edwin Ernest Salpeter
Duration: 3 minutes, 42 seconds
Date story recorded: December 1996
Date story went live: 24 January 2008