NEXT STORY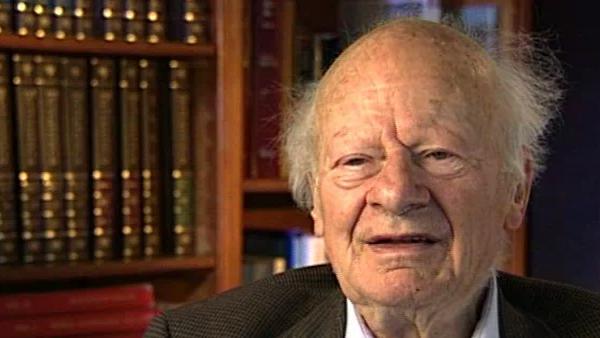 The use of my paper on shockwaves with Edward Teller
Offering to work with Edward Teller for the war effort
1
...
7
8
9
10
11
...
16
[Q] At this stage you're still not an American citizen, but you're clearly very concerned, as you say, about Western values. And so, how do you get involved? You can't, so to say, officially participate since you're not a citizen. But on your own you already start.
I started very early and in particular I felt that I should use my talents to do something. In particular Edward Teller, my good friend, and I decided that we would go to a man who was prominent in aviation, Theodore von Kármán, who was well-known to Edward Teller and was perhaps the most knowledgeable scientist in the science of aviation. So we both went down to Los Alamos to Pasadena to consult von Kármán [on] what we could do without getting actual clearance by the authorities. 'Well,' said Kármán, 'there is something very important for us. It would be very helpful to us if you would investigate shock waves, shock waves being produced for instance by a very high speed plane, by a supersonic plane when it flies through the air. And now we' Kármán said, 'we aerodynamicists have well under control the general theory of shock waves, but we don't know what happens at the very beginning of a shock wave. After all, there's the air and it's in its normal state, but when the shock has gone through it is at high temperature, let's say 5000 degrees, and we know very well that an equilibrium in this case the molecules are in a high state of vibration. How does it happen?' So Teller and I got together and he was very expert in molecular physics. He knew that to excite the vibrations of molecules takes a lot of energy; they get into equilibrium only when you get well above 1000 degrees, and so... and when you start out with air at normal temperature it's very difficult to excite the vibrations. So we thought about the problem and wrote a paper about the attainment of equilibrium after a shock wave showing that this is a slow process, it doesn't happen immediately after the shock, but it takes a certain time and especially the excitement of vibrations is difficult. Even more difficult is it to make chemical reactions in the air. If you go to really high temperatures, 5000 degrees or so, then oxygen and nitrogen will react and form the molecule NO, and that takes even more energy than to excite the vibrations.
The late German-American physicist Hans Bethe once described himself as the H-bomb's midwife. He left Nazi Germany in 1933, after which he helped develop the first atomic bomb, won the Nobel Prize in Physics in 1967 for his contribution to the theory of nuclear reactions, advocated tighter controls over nuclear weapons and campaigned vigorously for the peaceful use of nuclear energy.
Title: Offering to work with Edward Teller for the war effort
Listeners: Sam Schweber
Silvan Sam Schweber is the Koret Professor of the History of Ideas and Professor of Physics at Brandeis University, and a Faculty Associate in the Department of the History of Science at Harvard University. He is the author of a history of the development of quantum electro mechanics, "QED and the men who made it", and has recently completed a biography of Hans Bethe and the history of nuclear weapons development, "In the Shadow of the Bomb: Oppenheimer, Bethe, and the Moral Responsibility of the Scientist" (Princeton University Press, 2000).
Tags: Los Alamos, Pasadena, WWII, Edward Teller, Theodore von Kármán, Theodore von Karman
Duration: 4 minutes, 40 seconds
Date story recorded: December 1996
Date story went live: 24 January 2008