NEXT STORY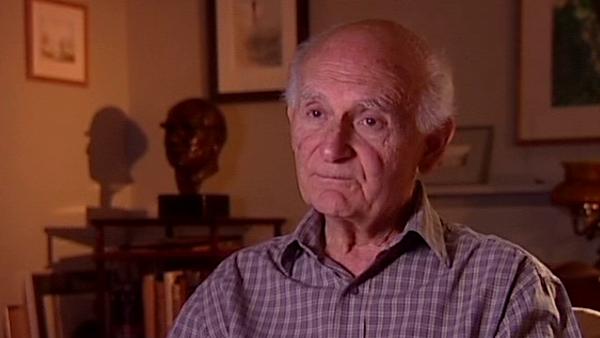 Women in medicine in the 1940s
The life of a young doctor
1
2
3
4
5
...
8
It was stupid. You, you, you were on... this is houseman, both surgical and medical... you were on duty all the time pretty well and not quite all the time, but most of the time and there was a casualty officer in the day time. So at night you were also, as well as your own affairs in the wards, the casualty medical officer or the casualty surgical officer. You were the casualty person. So you got extremely short of sleep, and I know a few young doctors and they told me it's no good, they're not getting enough experience, I can tell you. Well, there must be some halfway house, mustn't there really? We must have been a considerable menace to the patients because we were so tired. It was a squalid casualty department in UCH. Again, you make these generalisations, you remember the episodes which show you what was going on and you sat on a sort of stool looking at a chap's cut or abscess or whatever it was and I used to sit on the steps and I used to nod to see, show the patient I understood what he was saying but the reason I nodded was to kind of close my eyes then I'd lift up and open my – I mean ludicrous. And, the surgicals I thought there might be three perforated peptic ulcers and a couple of appendices in one night, but you were at work the previous day and the following day. I mean really silly. And when I went to bed, there are tunnels at UCH between the bits, and I was three floors up, which is four floors from the basement. I sometimes used to sit on the stairs before I could feel strong enough to get up to my own bedroom.
[Q] So what were the rotas?
There were no rotas. You, your department...
[Q] No rotas? You just did, you worked for six months? For that firm...
Yeah. No, the surgical one was very, very good. You had one half weekend off every three weeks, and I wasn't married then, and I used to get on the train going to where we lived and fall asleep and by some miracle wake up and my mother used to say, 'Oh my God!' she thought I was dying. Actually, I felt perfectly well but she... actually, I have to say, the thing is, it sounds as if we were total slaves, but, again, climate of the times, it was a bit macho, really stupid. You felt you could take this. I mean really silly.
[Q] I mean nowadays one would say that actually such people were putting themselves at risk of illness in some way, wouldn't you?
Yeah, yeah, I suppose we were.
[Q] But... you don't...
There was the occasional tragedy, but I've seen the odd tragedy in much more recent times too, doing medicine is so taxing. Another big element, now I think about it, is partnerships were much later. There was one chap married in my intake before we qualified, and he wasn't thought to be crazy, but he was thought to be pretty unusual really and even non-married partnerships. So you lived in the place all the time and your home was the Mess, as the army would put it, at UCH. And you... I mean, it... that was your life. So it wasn't actually as bad as it sounds. It was bad, particularly from the patients point of view, because you wouldn't know what mistake you were making, would you? I remember... but even now, you know, you see these tales of people giving the wrong injection, particularly intrathecally and they... they really curdle my blood, because at my junior stage as a houseman we knew the rules about that. I remember once sucking up some stuff into a syringe from a bowl on a trolley and giving it to the patient. It was the right thing, but I remember thinking: I must never, never do that again. I'll suck it up from the syringe that I've read the label of.
So these aren't new lessons. They're incredibly old ones. I remember once, it was in the middle of the night, I was injecting somebody with aminophylline and she had terribly, terribly difficult veins and I kept slipping out so I gave her the rest of it intramuscularly, and I had forgotten that the intramuscular injection, it was the right stuff, was a different concentration. It was very painful and she complained of terrible pain and, and I think that's the one, I must have made other mistakes because, you know, you do, but that's the one I remember. I told her what I'd done and she was very decent about it and then I gave her something for the pain. It wasn't, it wasn't a major error, but it was an error and, you, these, giving intrathecal! When I was young, in infections you would get a lot of intrathecal treatment, but it was even then a thing to be pondered about, to be thought, doing it at all and giving what and how much. So when people kill people by doing intrathecal injections I don't... I don't know quite what can be happening really.
[Q] May... maybe the fact that drugs were relatively... the volume... the numbers of drugs were relatively new, your generation was perhaps more careful.
Maybe, could be, could be but also, of course, we were also, the legal side was much looser. At night in UCH you got the key to the pharmacy and you wandered around the pharmacy till you got what you wanted. I mean, you'd be put in prison now for that, wouldn't you? And at the Central Middlesex we had a thing called 'resurrection mixture' which was – some registrar had invented – this is true. You know when people are in left ventricular failure, which of course you don't see so much nowadays because it was mostly hypertension or aortic valve disease, we saw a lot of people in bad LVF and you know they get to a point where they're not any longer sort of almost struggling for breath, almost got to somebody not breathing and really near to death, and this chap he invented this. We put in the syringe. I mean, would I be put in prison for this now, I don't know about this...
[Q] We'd better decide that.
Decide that later. Nikethamide, which is a medullary stimulant, make him breathe, diamorphine which as you know, it's the great thing for... and aminophylline and we all mixed this up and gave the patients and they sort of woke up, started breathing. No clinical trial. Anyway, that's what we got. So you can see it was, a lot of stuff we did would be absolutely not on nowadays.
British doctor Harold Lambert (1926-2017) spent his career tackling infectious diseases, helping in the development of pyrazinamide as an effective treatment for tuberculosis. He also published work on the rational use of antibiotics and was a trustee and medical advisor for the Meningitis Research Foundation.
Title: The life of a young doctor
Listeners: Roger Higgs
Roger Higgs was an inner city GP for 30 years in south London, UK, and is Emeritus Professor of General Practice at Kings College London, where he set up the department.

He gained scholarships in classics at Cambridge but changed to medicine after a period of voluntary work in Kenya in 1962. He was Harold Lambert's registrar for 18 months in the early 1970s, the most influential and exciting episode in his hospital training. He set up his own practice in 1975. He helped to establish medical ethics as a practical and academic subject through teaching, writing and broadcasting, and jointly set up the 'Journal of Medical Ethics' in 1975.

His other work included studies in whole person assessment and narrative in general practice and development work in primary medical care: innovations here included intermediate care centres, primary care assessment in accident and emergency departments, teaching internal medicine in general practice and establishing counselling services in medicine.

He was made MBE in 1987 for this development work and now combines bioethics governance, teaching and writing with an arts based retirement.


Tags: University College Hospital
Duration: 6 minutes, 15 seconds
Date story recorded: October 2004
Date story went live: 24 January 2008