NEXT STORY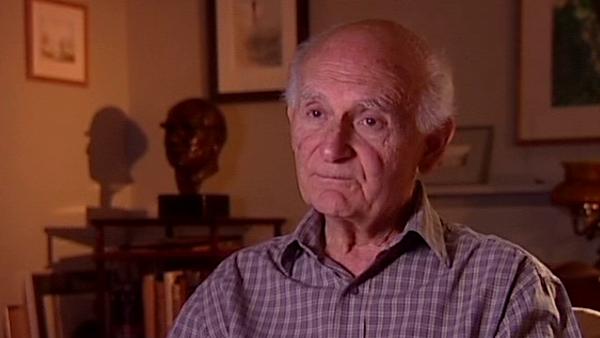 Decision theory in prescribing antibiotics
Writing Antibiotics and Chemotherapy
1
2
3
4
5
6
...
8
Because you were the infection man, as it then became, the question of what drug to treat what disease became a big issue and then... I never actually did major research on antibiotics, trivial things really, but I was sitting in a lecture room and next to me was Francis O'Grady who was Bart's chap who became foundation professor of microbiology at Nottingham, the then new medical school, and he said, 'I want to discuss something with you, Harold'. We'd already made, made medical films together about antibiotic usage, and he asked me to become co-author of a book called Antibiotic and Chemotherapy, which he'd been writing with a chap called Paul Garrod, grand old man of antibiotics. And they were both microbiologists, and I'd read that book avidly and I don't usually think, you know, I'd like to write that book, except maybe War and Peace or something like that but, I... looked at this book and I thought, you know, it's very good but, you know, if they were clinicians they'd do it this way or that way. So, actually when he said this I leapt on it. Instead of saying, 'Oh my God, what a lot of work!' I said, 'Yes I'd really love to do this', and then that led to about, what, I don't know, 25 or 30 years of writing successive editions of this book.
[Q] A series of it. You went through, what, three? It's got to number eight hasn't it?
I think I did four editions, I think, with successfully more and more people involved and now there's the first, the last edition out was without Francis and me, but with a lot of other people. And for that reason I got asked to lecture a lot and write a lot about antibiotics and how to use them and it wasn't so much basic biology of antibiotics - that was really another... other people's job - but it was to do with rational use of antibiotics. What is the right way of using this drug so that the cost benefit to the patient is best and the risks of resistance are lowest and, although it sounds incredibly easy: that bug, treat... as you know, it's actually quite a difficult thing to answer in many ways.
British doctor Harold Lambert (1926-2017) spent his career tackling infectious diseases, helping in the development of pyrazinamide as an effective treatment for tuberculosis. He also published work on the rational use of antibiotics and was a trustee and medical advisor for the Meningitis Research Foundation.
Title: Writing "Antibiotics and Chemotherapy"
Listeners: Roger Higgs
Roger Higgs was an inner city GP for 30 years in south London, UK, and is Emeritus Professor of General Practice at Kings College London, where he set up the department.

He gained scholarships in classics at Cambridge but changed to medicine after a period of voluntary work in Kenya in 1962. He was Harold Lambert's registrar for 18 months in the early 1970s, the most influential and exciting episode in his hospital training. He set up his own practice in 1975. He helped to establish medical ethics as a practical and academic subject through teaching, writing and broadcasting, and jointly set up the 'Journal of Medical Ethics' in 1975.

His other work included studies in whole person assessment and narrative in general practice and development work in primary medical care: innovations here included intermediate care centres, primary care assessment in accident and emergency departments, teaching internal medicine in general practice and establishing counselling services in medicine.

He was made MBE in 1987 for this development work and now combines bioethics governance, teaching and writing with an arts based retirement.


Tags: Laurence Paul Garrod, Fracis O'Grady
Duration: 2 minutes, 8 seconds
Date story recorded: October 2004
Date story went live: 24 January 2008