NEXT STORY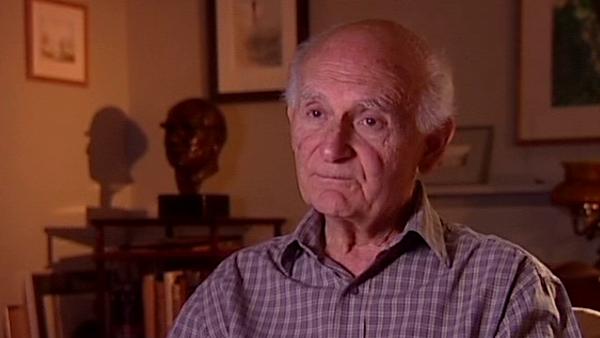 Does doctor know best?
Doctors' attitude towards AIDS patients
1
2
3
4
5
6
...
8
It was mainly prejudice of an order which, in my naivety, I hadn't realised was possible, and you realised that the undercurrent, which you knew about vaguely, among doctors and nurses of illness is a punishment for sin was rising up through the undergrowth and especially sexual sin.
[Q] Yes, that's extraordinary.
And we found that, everybody found, not us, surgeons wouldn't look at patients. I mean the risk of infection, as you know, it's either blood or sex and the idea of, you know, being a danger to any ordinary... it was no more dangerous than gastroenteritis to an ordinary doctor. But it was so common. I'm, I... as you know, I'm not a particularly touchy-feely kind of doctor, but I started shaking hands and sitting on the bed in a big way because the patients were so isolated. And many doctors, not just surgeons, GPs, consultants, I mean, most of them took it on board. It was just a terrible thing. But some were very prejudiced, and I remember we, we made some really bad things. A dying patient with, I think he had toxoplasma encephalitis, I think, but they often had many, many infections, as you know – wanted to go home and his partner who was, as so often, extremely loyal, wanted to take him home and we thought we'd organised everything, and then he died at home and they, they – the partner wrote me a very bitter letter saying how much we'd let him down and the GP had refused to go and visit.
[Q] Good heavens.
And the district nurse had refused to go and visit and I didn't actually realise this was possible. I mean, I suppose nowadays you'd report him to GMC or something, but now, I have to say, that was the early days. People on the whole got over the sort of thing and realised where they were and these were sick people and, of course, it was long before HAART – Highly Active Anti-Retroviral Therapy – is was actually, it was before anything except the beginning of, of the, nucleus side analogue drugs. So actually they, they died basically.
[Q] And what, what was just... what was the date that you first started seeing patients?
Well, I retired from St George's in 1988. So, I suppose it was '83, '84 mainly it started coming and there still wasn't much actually by the time I retired, but I probably looked after 35, 40 patients, something of that order and it was a really big moment for all those reasons, all combined together.
[Q] And did you have actively to educate people in the unit or was it just a process of diffusion?
Oh, I don't think I did. Jenny Yates was, she just acted in a sensible way and were the junior staff and nurses worried? I don't really remember actually. I don't remember, but she... she, you know, she was an old-fashioned sister. She was there a lot of the time and she then became, she has just retired actually. She went to her retirement party from being, I suppose, the equivalent of the matron of St George's and, I mean, boy, it was a big, big thing.
[Q] And did you, did you see a process of change in attitudes and, and...
Yes.
[Q] ... and organisation?
Yeah. I wouldn't say in my unit particularly because as I say, I think we started off on more or less the right wavelength because of Jenny but, oh yes, people got calmer over the years and it's still, it's still a dreadful disease with awfully difficult treatment, as you well know, but, you know, people can deal with it.
[Q] And, and your optimistic unit, not used to dealing with people dying, did you find you had to start talking about dying in, in a different way or...
I suppose the truthful answer is I should have done but I don't know that I did. I think it was sort of osmosis more than – yeah, yeah, I think that's probably we should have done more going over it with people than we did. Yeah.
British doctor Harold Lambert (1926-2017) spent his career tackling infectious diseases, helping in the development of pyrazinamide as an effective treatment for tuberculosis. He also published work on the rational use of antibiotics and was a trustee and medical advisor for the Meningitis Research Foundation.
Title: Doctors' attitude towards AIDS patients
Listeners: Roger Higgs
Roger Higgs was an inner city GP for 30 years in south London, UK, and is Emeritus Professor of General Practice at Kings College London, where he set up the department.

He gained scholarships in classics at Cambridge but changed to medicine after a period of voluntary work in Kenya in 1962. He was Harold Lambert's registrar for 18 months in the early 1970s, the most influential and exciting episode in his hospital training. He set up his own practice in 1975. He helped to establish medical ethics as a practical and academic subject through teaching, writing and broadcasting, and jointly set up the 'Journal of Medical Ethics' in 1975.

His other work included studies in whole person assessment and narrative in general practice and development work in primary medical care: innovations here included intermediate care centres, primary care assessment in accident and emergency departments, teaching internal medicine in general practice and establishing counselling services in medicine.

He was made MBE in 1987 for this development work and now combines bioethics governance, teaching and writing with an arts based retirement.


Tags: Saint George's Hospital, Jenny Yates
Duration: 4 minutes, 14 seconds
Date story recorded: October 2004
Date story went live: 24 January 2008