NEXT STORY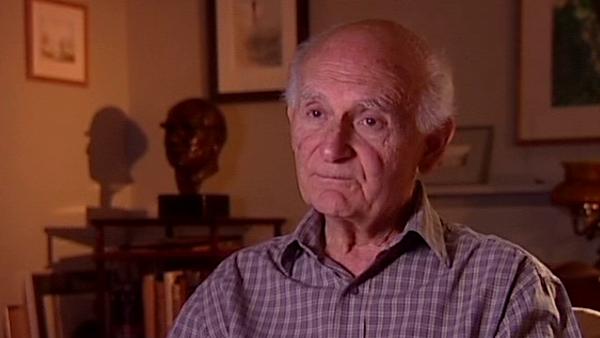 The pro and cons of alternative medicine
Finding the right way to approach each patient
1
...
4
5
6
7
8
The patient may be in a position where he thinks the doctor would know all about it and he's... sometimes we've got a pretty definite, we're not all totally, you know, hopeless. There are a lot of things we really do feel we know the right thing to do but there are many, many important things where we're... we're in a state of uncertainty ourselves and I know the feeling of horror, as you do, that you see dawning on the patients when they realise we, we're not quite sure what's happening. There's this balance between openness and direction, you might say. I mean, I think it's just like gardening in a way. I mean you suddenly realise after you get into gardening it's all... nobody knows anything about it. They've got these absolutely arbitrary things about seeding trees trunks off or cutting roses and how to prune them, endless books. It turns out if you take the garden shears and chop the ends off that seems to be about as good as anything, you know, it takes... it takes centuries to work that one out. And the other thing is don't just stand there, do something. We know very well that very often the very best thing to do is to stand there and do nothing, I mean, you know, in a technical sense. But that's terribly hard for us to swallow with an ill person, isn't it? Very hard.
[Q] But even within our own training there is this, I mean I've observed younger doctors having huge difficulty taking on the idea of uncertainty, that actually they feel that somewhere they have to know and that they ought to go on doing something until they do know and, and finding it terribly difficult to stand still as you're saying and, and accept the fact that we don't know the future. But that actually, I mean, the corollary is that actually I want you to stay in there, in there with the patient rather than actually say off you go, you know. But as you were saying before the idea of saying there is a plan and even if the plan is only we're going to meet in two weeks time or... or whatever that might be so that some people can see where they go next rather than being left completely on their own.
Yeah. It is waiting that's so terrible, isn't it? You... you say... if some patient is worried about something and you say to the patient, 'Look, we've got to do these tests and the other tests and do this, that and the other and come back next week', or in the case of an inpatient you might say, 'I'll get the results in 48 hours' and you think, 'Oh my God, 48 hours is an absolute lifetime!' This person's sitting in bed and, you know, it's, we can say 48 hours and go off, but for them it's, it's a terrible thing and you, you just have to, sort of, do it.
[Q] But I've experienced within my family one of the difficulties about the false reassurance during that process, I mean, we would usually say to people, 'Let's keep hope alive', let's say, I mean, if you say, 'We're doing these tests, it, it'll probably be fine', but then, of course, if it's not fine then, then you haven't quite given yourself enough manoeuvre if you've been too certain about it, and then I watched somebody's faith in the medical process gradually seep away because of false... too... over, over reassurance, 'It'll be fine', and then the tests aren't fine, you know. So I think that, that, again, that we have to learn to sit on the fence in rather a more comfortable way.
Yes, that's true and patients want... different patients want... different things. Different levels of certainty. I don't know if you've found it, but often very successful businessmen, they've got this sort of mechanical model, you press this button that happens, you take this lever and then you get better or you get worse, and they find it very hard to take the actual situation they're in.
[Q] But it... it's always fascinated me in general practice because if you look at the people who turn... who show, mothers bring boys more often... sons more often than they bring daughters which is sort of, I mean, Freud would understand that. And then once the teenage years are past, women come much more often than men and then until the, the gender balance evens out later on. But actually then if you look at casualty figures men are turning up there more often than women so it's the... it seems to me it's the 'fix-it' thing in a lot of men, you know, that they don't like to, you know - so they'll leave it and then, and then the businessman, you know, fix it for me and I think that often shows itself in a... different way in which they use the services, even if the services are there. I find...
That's very interesting, I hadn't noticed that at all.
[Q] I mean the figures almost seem to be like, you know, like South America and... and Africa, so sort of fit in together, between general twenties and casualty. Yes, tectonic plate of medicine.
British doctor Harold Lambert (1926-2017) spent his career tackling infectious diseases, helping in the development of pyrazinamide as an effective treatment for tuberculosis. He also published work on the rational use of antibiotics and was a trustee and medical advisor for the Meningitis Research Foundation.
Title: Finding the right way to approach each patient
Listeners: Roger Higgs
Roger Higgs was an inner city GP for 30 years in south London, UK, and is Emeritus Professor of General Practice at Kings College London, where he set up the department.

He gained scholarships in classics at Cambridge but changed to medicine after a period of voluntary work in Kenya in 1962. He was Harold Lambert's registrar for 18 months in the early 1970s, the most influential and exciting episode in his hospital training. He set up his own practice in 1975. He helped to establish medical ethics as a practical and academic subject through teaching, writing and broadcasting, and jointly set up the 'Journal of Medical Ethics' in 1975.

His other work included studies in whole person assessment and narrative in general practice and development work in primary medical care: innovations here included intermediate care centres, primary care assessment in accident and emergency departments, teaching internal medicine in general practice and establishing counselling services in medicine.

He was made MBE in 1987 for this development work and now combines bioethics governance, teaching and writing with an arts based retirement.


Tags: gardening, difficulties, reassurance, hope, patients, communication, certainty
Duration: 5 minutes, 5 seconds
Date story recorded: October 2004
Date story went live: 24 January 2008