NEXT STORY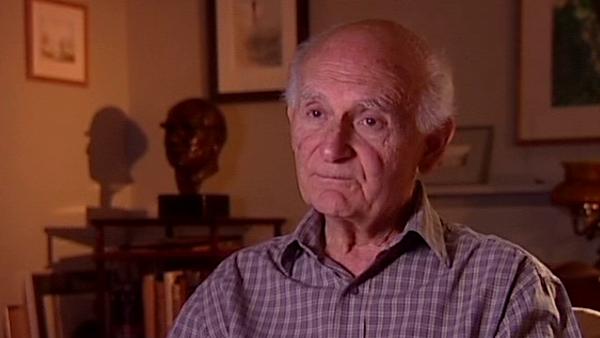 Psychiatric and emotional factors in physical illness
1
...
4
5
6
7
8
Given the fact that we are such diverse creatures and that we all have a particular makeup and that some people, you know, react badly to penicillin and some people don't, or whatever it may be, but actually I'm sure there must be an alt- an- I'm not going to use the word alternative, I'll use the word another- Another. Another way of, of research which starts much closer to the individual and I sometimes wonder whether we've got so- we're so much enthralled to randomised control in trials which are, which are fantastically useful and very important that, that we, we've actually turned our face away from some of the ideas that actually- of looking at what's happened to an individual and, and, and building up a, a, as it were a library of the sort of people who would respond well to this rather than the numbers game, if you see what I mean. I, I just, I mean, if one sees it from the path- pathological end, we have no idea why a person develops breast cancer or, or, or such like and so, you know, in a sense we're still a long way back, aren't we? We're- and, and there again, it would be very useful I think- I mean, I, I'm working with a bio bank, the Bio Bank, looking at, at following through what sort of experiences people have and, and then thinking- oh well, gosh, here are 20 people who've, you know, lived near a flyover or, or, you know, under an acacia tree or, or, or whatever it is or been to school in some, you know- perhaps we should follow through that. And I, I feel sometimes when, one of the things that- and certainly I think the homeopathies do is very much try and focus down on the individual. I'm sure their methods are for- are not, are not yet very clear but I'm sure we shouldn't entirely abandon that idea, which I think we have, haven't we really? I don't think science takes on board the idea of working with- I mean, it, it'll have to take on board the idea of the genetic structure of course- Yes, yes, but about the other- yeah, I, I, I, that's a very interesting line of thought and as you say that, it makes me feel you're looking at two slightly different ways- as you say, there's the biomedical basis because we don't know nearly enough, hardly anything about the different reactions to people to drugs and to illnesses. And the next phase of medicine, which will take I suppose a generation or two is the, is the detailed genetics of individuals showing- I react this way and you react that way and I think that's the future of, you might say, conventional, biological based, scientific based medicine. And that's one type of answer to the type of question you're talking about. Yes. Yes. But on the more- the other aspect of human experience and contact, there is a sort of- there's a rise isn't there in narrative medicine, life history medicine. Now, I, I do, as you, think there's, there's got to be a lot there about the more intuitive basis of people's experience, quite apart from their need to tell their lives, which must have valuable medicine somewhere tucked in that. I'm a bit bound by my, by my sort of scientific base and I, I mistrust it but I'm sure there must be important things there. I mean there are important things there anyway in a sense of helping patients but I'm sure you're right, there must be important things for our knowledge base as well but I don't actually know how to get at them. Well, I suppose that the, the, the bringing together, as you rightly say, the, the genetic basis and our, our diverse nature must be what, might be one way in which complementary and, and, clinical might, might come together. Yes. Yes. And that would be very, very exciting if one would be able to just show that so that you can say- well, you're the sort of person, you know, we're testing who can do very well here with this and that's, that's, that's a new form of certainty, isn't it, which might, which people might look for. And, and I suppose narrative in a sense is looking inside them, inside oneself to say- well, is there anything in my history which indicates what sort of person I am rather than actually interrogating my genes, interrogating my, my history. Perhaps indicating what sort of choices people like to make or the way in which they like to run their lives, whether they like to be really in control or whether they're the sort of people who, in a crisis, are happy to hand over to someone else and find that easier. So some of those, those sorts of- I think, I don't think narrative will necessarily solve any of the scientific questions but they might help us through some of these difficult decisions, the ethical decisions, a little bit.
British doctor Harold Lambert (1926-2017) spent his career tackling infectious diseases, helping in the development of pyrazinamide as an effective treatment for tuberculosis. He also published work on the rational use of antibiotics and was a trustee and medical advisor for the Meningitis Research Foundation.
Title: Narrative medicine
Listeners: Roger Higgs
Roger Higgs was an inner city GP for 30 years in south London, UK, and is Emeritus Professor of General Practice at Kings College London, where he set up the department.

He gained scholarships in classics at Cambridge but changed to medicine after a period of voluntary work in Kenya in 1962. He was Harold Lambert's registrar for 18 months in the early 1970s, the most influential and exciting episode in his hospital training. He set up his own practice in 1975. He helped to establish medical ethics as a practical and academic subject through teaching, writing and broadcasting, and jointly set up the 'Journal of Medical Ethics' in 1975.

His other work included studies in whole person assessment and narrative in general practice and development work in primary medical care: innovations here included intermediate care centres, primary care assessment in accident and emergency departments, teaching internal medicine in general practice and establishing counselling services in medicine.

He was made MBE in 1987 for this development work and now combines bioethics governance, teaching and writing with an arts based retirement.


Tags: penicillin, research, individual medicine, pathology, bio-bank, methods, homoeopathy, genetics, ethics
Duration: 4 minutes, 59 seconds
Date story recorded: October 2004
Date story went live: 24 January 2008