NEXT STORY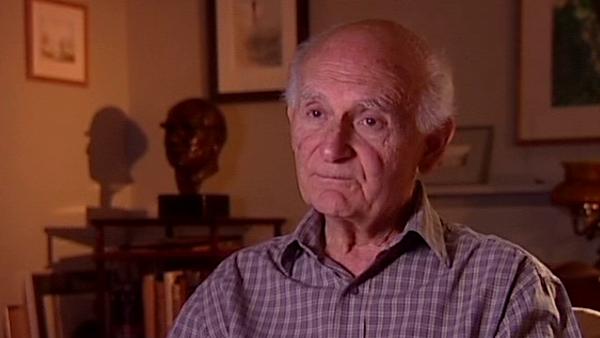 The importance of listening to the patient
When dogma trumps science
1
...
4
5
6
7
8
This child was, well, actually being killed. I don't remember exactly what the dogma was, but the parents knew how to feed the child and the child was losing weight and becoming really at grave risk. And when the child was admitted, as I recall – I wasn't involved personally – the paediatrician must have been extraordinarily good and tactful and they managed to get the child better. And I think I'm remembering rightly, they went home, it went back; they knew the answer and I find actually, I actually find that rather hard to stomach. We, we're all such pragmatic people ourselves it's not difficult for us to understand how a dogma could be wrong.
[Q] Yes. Yes. Yes. Well, I suppose ultimately one would have recourse to the Children Act which would say, you know, that the welfare of the child is paramount, and if you're not feeding your child right it's the equivalent of locking them in a... the cellar and posting coal through the door, isn't it?
Oh, that has been done, I think, had recourse to law.
[Q] Yes, which is again a horrible thing to have to do. And one wonders where that dogma came from. It would be interesting to know why suddenly... I mean, because you need to work with the parents in some way, don't you, if you're allowed to but...
If you're allowed to. It's really strange that, how people, people – everyone says people are irrational but, in fact, it's kind of a despairing need for some rational basis. I heard, again a rather harrowing really, thing on the radio a year or two ago where a child had the most terrible eczema, which, as you know, infantile eczema can be trivial, it can be a really awful, awful strain on parents and the child, can't it? And she was gone on herbal things and we know there is some Chinese thing which is relevant to this so it's not way out, but it's a bit out. And the child got worse and worse and worse and she finally accepted the need to go to a Great Ormond Street or some where dermatologist who explained to her that the fears about steroids were valid, but they were now unfounded because we now know how much steroid will stop a child growing, how much will not and how to use it, how intermittently to use it. I don't know exactly how you'd treat it but, you know, a dermatologist does know actually and the child got magically better. And this poor woman expressed her terrible guilt that this thing she had fixed in her head turned out not to be right and the Western medicine, in this case, was right.
[Q] Well, perhaps it's this funny either/or phenomenon that we've got, isn't it? I'm not sure that this isn't partly the blame is not partly to be laid at the door of medicine because somewhere hidden, written in invisible ink on our, on our doors is, you know: come in here and...
We know best.
[Q] We know best and leave your funny ideas outside. That's quite right. I think that's hugely destructive. If one could have a mix and match, it might be much more difficult to do, but I mean... I'm part of a process of bringing French doctors over to UK, and it's fascinating of course when you meet someone else's culture you, you know, even just 20 miles across the channel, we know the French are very different from us. But, the approach of these general practitioners would be: let's follow the physical line until we proved that it, there isn't anything there, and then we'll deal with the psychological.
British doctor Harold Lambert (1926-2017) spent his career tackling infectious diseases, helping in the development of pyrazinamide as an effective treatment for tuberculosis. He also published work on the rational use of antibiotics and was a trustee and medical advisor for the Meningitis Research Foundation.
Title: When dogma trumps science
Listeners: Roger Higgs
Roger Higgs was an inner city GP for 30 years in south London, UK, and is Emeritus Professor of General Practice at Kings College London, where he set up the department.

He gained scholarships in classics at Cambridge but changed to medicine after a period of voluntary work in Kenya in 1962. He was Harold Lambert's registrar for 18 months in the early 1970s, the most influential and exciting episode in his hospital training. He set up his own practice in 1975. He helped to establish medical ethics as a practical and academic subject through teaching, writing and broadcasting, and jointly set up the 'Journal of Medical Ethics' in 1975.

His other work included studies in whole person assessment and narrative in general practice and development work in primary medical care: innovations here included intermediate care centres, primary care assessment in accident and emergency departments, teaching internal medicine in general practice and establishing counselling services in medicine.

He was made MBE in 1987 for this development work and now combines bioethics governance, teaching and writing with an arts based retirement.


Tags: child, dogma, dermatologist, steroids, blame, medicine
Duration: 3 minutes, 47 seconds
Date story recorded: October 2004
Date story went live: 24 January 2008