NEXT STORY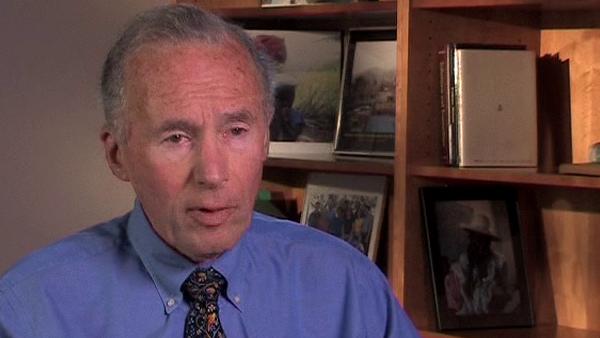 A year at the Pasteur Institute in Paris
1
2
3
4
5
...
7
I got permission. I was obviously a very junior faculty member, not anywhere near eligible for a sabbatical, but I took a year leave of absence, got a Fellowship from the Commonwealth Fund, and Doris and I and our three children went to Paris. It was clearly the most exciting year of our lives, for all of us. I worked with François Gros who was one of the people who had gotten a degree with Jacques Monod, and with, subsequently with François Jacob, and our children were in French schools. John and Deborah, then 11 and 9, in a private French school and Fred, then 5, in a... in a kindergarten.
The... my introduction to François Jacob came on day one. I walked into his office and he was sitting talking to a man. I excused myself for interrupting, said in the... the glorious French that I had learned during the year getting ready to go, stumbled through my introduction, and whereupon the small man sitting at his side said, in what was clearly a South African English accent, said to me, 'How is that yours is the only French I can understand in this city?' That man was Sydney Brenner and that compliment was one that I have remembered, as you can see.
I did have, actually, a comment on my accent. Later on, at the end of that year there, there was a biochemistry congress, an international congress in... Moscow and François Gros was supposed to present the paper that we had worked on during the year at the congress, but at the last minute was unable to go and asked me to go in his place. The French, at that time, were reluctant to have their funds used in ways that would not promote France, so I was asked to wear not a US badge on my jacket, but a badge that said France. I was entering the... one of the... halls where papers were being given and stopped to greet, be greeted by and to greet an American friend whom I hadn't seen for some time and we talked at length, and I saw somebody nearby watching me, listening, and then that person came over to me and excused himself for the intrusion, but said, 'You know, I can't help but notice', he said looking at me and looking at my badge that said France, 'I can't help but notice that you speak English with a decidedly American accent'. The, I indicated that my mother was American and felt that this was... the circle had come around from my earlier... the earlier comment about the quality of my, of my language.
Born in 1925, American Howard Hiatt set up one of the first medical oncology research and training units in the US and has headed up some of America's most prestigious medical institutions. Hiatt attended Harvard College and received his MD from the Harvard Medical School in 1948. He was a member of the team at the Pasteur Institute, Paris, that first identified and described mRNA, and he was among the first to demonstrate mRNA in mammalian cells. From 1991 to 1997, he was Secretary of the American Academy of Arts and Sciences, where he began and directs the Academy's Initiatives For Children program. He is also committed to helping disadvantaged people access decent health care.
Title: An American in Paris
Listeners: Milton C. Weinstein
Milton C. Weinstein, Ph.D., is the Henry J. Kaiser Professor of Health Policy and Management at the Harvard School of Public Health and Professor of Medicine at the Harvard Medical School. At the Harvard School of Public Health he is Academic Director of the Program in Health Decision Science, and Director of the Program on Economic Evaluation of Medical Technology . He is best known for his research on cost-effectiveness of medical practices and for developing methods of economic evaluation and decision analysis in health care. He is a co-developer of the CEPAC (Cost-Effectiveness of Preventing AIDS Complications) computer simulation model, and has conducted studies on prevention and treatment of HIV infections. He is the co-developer of the Coronary Heart Disease Policy Model, which has been used to evaluate the cost-effectiveness of cardiovascular prevention and treatment. He is an author of four books: Decision Making in Health and Medicine: Integrating Evidence and Values; Cost-Effectiveness in Health and Medicine,the report of the Panel of Cost Effectiveness in Health and Medicine; Clinical Decision Analysis; and Hypertension: A Policy Perspective.He has also published more than 200 papers in peer-reviewed medical, public health, and economics journals. He is an elected member of the Institute of Medicine of the National Academy of Sciences, and a recipient of the Award for Career Achievement from the Society for Medical Decision Making. Dr. Weinstein received his A.B. and A.M. in Applied Mathematics (1970), his M.P.P. (1972), and his Ph.D. in Public Policy (1973) from Harvard University.
Tags: Francois Jacob, Francois Gros, Sydney Brenner
Duration: 4 minutes, 27 seconds
Date story recorded: September 2006
Date story went live: 24 January 2008