NEXT STORY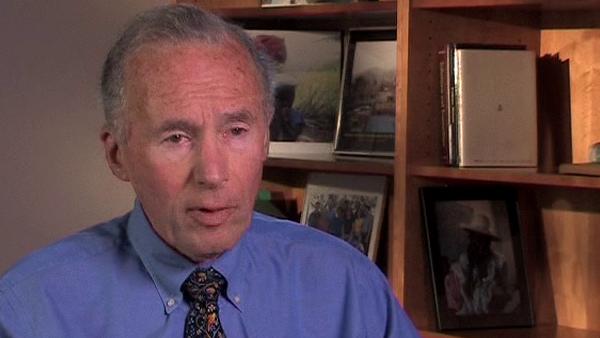 Working with Fred Mosteller
1
2
3
4
5
...
7
My introduction to university politics came soon after I arrived as dean at the School of Public Health. The university counsel, Dan Steiner, called a meeting of all of the deans on medical school... School of Public Health side of the river, and indicated that there was an incipient strike, not a strike, an incipient movement to... to organize into a labor union the employees of the various units on our side of the river, and the deans were asked to come together to talk about strategy as to how to deal with this. Dan, whom I liked very much, knew well that this might provide something of a problem for me because one of the organizers of the union was my daughter, who had at that time just become a secretary in the dean's office at the medical school, and on day one, when one of the deans asked her without much ceremony to get him a cup of coffee, she said, 'I don't remember that in my job description'. And, she... I don't think this was her... her turning to the union was a result of that, but she found practices of that sort and it was quite sympathetic.
It was at this time - I had just left Beth Israel Hospital where I'd been Chief of the Medical Service - and shortly after my departure another union was attempting to organize there. The lawyer that was representing that union was my older son who had just gone into the law and who became a labor lawyer. Finally, my third child, Fred, who was an undergraduate at Harvard at the time, was writing for The Crimson, and there were problems at that time because Harvard had investments in South Africa and the students were not happy with that arrangement and Fred was writing editorials for The Crimson, castigating the President for not taking the university out of that arrangement. At any rate, it seemed not to have a profound affect on my career and I confess that, at the time and ever since, I've felt some measure of pride at their activities.
Born in 1925, American Howard Hiatt set up one of the first medical oncology research and training units in the US and has headed up some of America's most prestigious medical institutions. Hiatt attended Harvard College and received his MD from the Harvard Medical School in 1948. He was a member of the team at the Pasteur Institute, Paris, that first identified and described mRNA, and he was among the first to demonstrate mRNA in mammalian cells. From 1991 to 1997, he was Secretary of the American Academy of Arts and Sciences, where he began and directs the Academy's Initiatives For Children program. He is also committed to helping disadvantaged people access decent health care.
Title: My politicized children
Listeners: Milton C. Weinstein
Milton C. Weinstein, Ph.D., is the Henry J. Kaiser Professor of Health Policy and Management at the Harvard School of Public Health and Professor of Medicine at the Harvard Medical School. At the Harvard School of Public Health he is Academic Director of the Program in Health Decision Science, and Director of the Program on Economic Evaluation of Medical Technology . He is best known for his research on cost-effectiveness of medical practices and for developing methods of economic evaluation and decision analysis in health care. He is a co-developer of the CEPAC (Cost-Effectiveness of Preventing AIDS Complications) computer simulation model, and has conducted studies on prevention and treatment of HIV infections. He is the co-developer of the Coronary Heart Disease Policy Model, which has been used to evaluate the cost-effectiveness of cardiovascular prevention and treatment. He is an author of four books: Decision Making in Health and Medicine: Integrating Evidence and Values; Cost-Effectiveness in Health and Medicine,the report of the Panel of Cost Effectiveness in Health and Medicine; Clinical Decision Analysis; and Hypertension: A Policy Perspective.He has also published more than 200 papers in peer-reviewed medical, public health, and economics journals. He is an elected member of the Institute of Medicine of the National Academy of Sciences, and a recipient of the Award for Career Achievement from the Society for Medical Decision Making. Dr. Weinstein received his A.B. and A.M. in Applied Mathematics (1970), his M.P.P. (1972), and his Ph.D. in Public Policy (1973) from Harvard University.
Tags: Harvard School of Public Health, Beth Israel Medical Center, The Crimson, Dan Steiner
Duration: 2 minutes, 44 seconds
Date story recorded: September 2006
Date story went live: 24 January 2008