NEXT STORY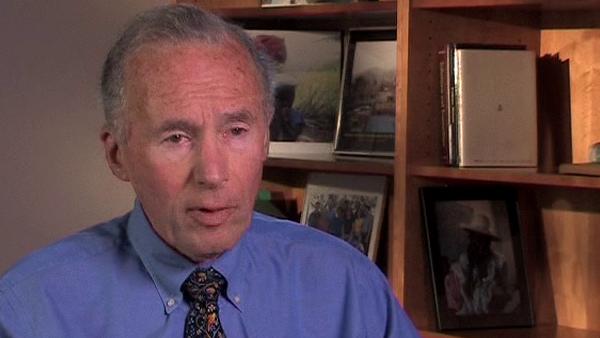 Difficulties recruiting public health instructors
Working with Fred Mosteller
1
2
3
4
5
...
7
Indeed, we started with a seminar on health issues that was led by Fred Mosteller who was chairman of the Department of Statistics at Harvard, and a member of the faculty of not only Arts and Sciences but of Government and who was widely respected within the university and around, around the world for his work in statistics. Fred, and perhaps 100 people from around the university, gathered at a bi-weekly seminar that we held on a range of issues that were chosen by the people in the group, but issues that many of which were on the Public Health School agenda, many of which were related to the public's health, but weren't on the agenda. Out of that series of seminars arose joint projects, books and plans for future activities. One book that was published by Milt Weinstein and Bill Stason. A decision, scientific treatment of the problem of hypertension was an early product. Fred and two colleagues, a surgeon names Ben Barnes and the chairman of anesthesia at Stanford, John Bunker, on leave at Harvard at that time, the three edited a book entitled Costs, Risks and Benefits of Surgery, which dealt with a series of procedures many of which were high on the list of frequent... were being carried out frequently by physicians, but the validity of which remained to be determined, and in some instances, where the validity had been excluded.
Fred became a close advisor and a year later, when the school started a search for a chairman of the Department of Biostatistics, he was a person whom I consulted and who joined... who served on the committee to find such a chair. That department at the school had three members, people deeply committed to teaching, but who did little or no research, and who... all three of whom, were eager to retire. Fred agreed to permit me to put his name before the committee that was seeking a chairman and his selection was virtually automatic. I was congratulated on the possibility of his joining us, and he agreed to serve. He said he would leave his post in the Department of Statistics in the Faculty of Arts and Sciences, but only for three years, and then help... during which time he would help build a department and then return to Cambridge. He did so. He built what shortly became, and has remained by... in the view of most experts, the outstanding department of biostatistics in the country. And, at the end of that three-year period, when Fred said he was going to return to Cambridge, I approached him and asked whether he would consider staying to chair a new department, a Department of Health Policy and Management which we had just created. To my delight, Fred agreed to do so.
Born in 1925, American Howard Hiatt set up one of the first medical oncology research and training units in the US and has headed up some of America's most prestigious medical institutions. Hiatt attended Harvard College and received his MD from the Harvard Medical School in 1948. He was a member of the team at the Pasteur Institute, Paris, that first identified and described mRNA, and he was among the first to demonstrate mRNA in mammalian cells. From 1991 to 1997, he was Secretary of the American Academy of Arts and Sciences, where he began and directs the Academy's Initiatives For Children program. He is also committed to helping disadvantaged people access decent health care.
Title: Working with Fred Mosteller
Listeners: Milton C. Weinstein
Milton C. Weinstein, Ph.D., is the Henry J. Kaiser Professor of Health Policy and Management at the Harvard School of Public Health and Professor of Medicine at the Harvard Medical School. At the Harvard School of Public Health he is Academic Director of the Program in Health Decision Science, and Director of the Program on Economic Evaluation of Medical Technology . He is best known for his research on cost-effectiveness of medical practices and for developing methods of economic evaluation and decision analysis in health care. He is a co-developer of the CEPAC (Cost-Effectiveness of Preventing AIDS Complications) computer simulation model, and has conducted studies on prevention and treatment of HIV infections. He is the co-developer of the Coronary Heart Disease Policy Model, which has been used to evaluate the cost-effectiveness of cardiovascular prevention and treatment. He is an author of four books: Decision Making in Health and Medicine: Integrating Evidence and Values; Cost-Effectiveness in Health and Medicine,the report of the Panel of Cost Effectiveness in Health and Medicine; Clinical Decision Analysis; and Hypertension: A Policy Perspective.He has also published more than 200 papers in peer-reviewed medical, public health, and economics journals. He is an elected member of the Institute of Medicine of the National Academy of Sciences, and a recipient of the Award for Career Achievement from the Society for Medical Decision Making. Dr. Weinstein received his A.B. and A.M. in Applied Mathematics (1970), his M.P.P. (1972), and his Ph.D. in Public Policy (1973) from Harvard University.
Tags: Harvard, Costs, Risks and Benefits of Surgery, Fred Mosteller, Ben Barnes, John Bunker
Duration: 5 minutes, 13 seconds
Date story recorded: September 2006
Date story went live: 24 January 2008