NEXT STORY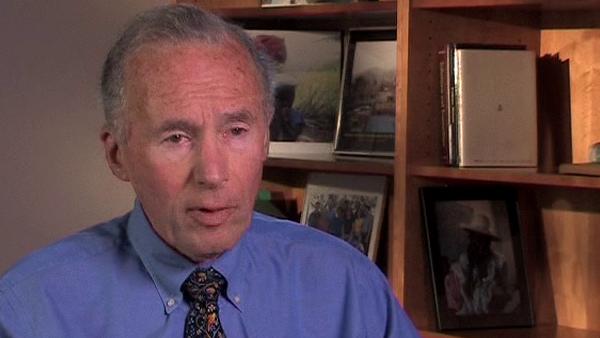 John David
Recruiting for other departments in the school
1
2
3
4
5
...
7
In other departments in the school we often went outside the traditional public health area with considerable success. Nathan Keyfitz, one of the world's leading demographers, chaired the Department of Population Sciences for several years, and he was followed by David Bell who was the first head of the... the... David Bell who was the first Head of USAID under President Kennedy, and then the head of the Population Program at the Ford Foundation. Armen Tashjian chaired the Department of Toxicology, Armen having been at the medical school before coming to the School of Public Health, and he and the people he recruited redefined that field. John Cairns, one of the world's leading biologists, came to the school, set up a program in cancer biology and in epidemiology, and again, was met early on with a charge that he had no public health background, a true charge if one means by that no background in a school of public health, but a world renowned scientist who contributed much.
We didn't succeed in all of the ventures we began. I tried very hard to persuade Joe Goldstein and Michael Brown, two scientists who, of course, won, ultimately won a Nobel Prize for their work on cholesterol biosynthesis. I tried hard to persuade them to come to the school to chair the Department of Nutrition, but they preferred to stay in Texas. Subsequently Peter Timmer, a well known agricultural... agricultural economist did come to the school and after two or three years found that the business, the Harvard Business School would be a more hospitable environment for his work and he... he transferred there. Peter Goldman, a person trained in clinical pharmacology, but interested in nutritional issues, ultimately did come to the School and contributed a great deal.
Born in 1925, American Howard Hiatt set up one of the first medical oncology research and training units in the US and has headed up some of America's most prestigious medical institutions. Hiatt attended Harvard College and received his MD from the Harvard Medical School in 1948. He was a member of the team at the Pasteur Institute, Paris, that first identified and described mRNA, and he was among the first to demonstrate mRNA in mammalian cells. From 1991 to 1997, he was Secretary of the American Academy of Arts and Sciences, where he began and directs the Academy's Initiatives For Children program. He is also committed to helping disadvantaged people access decent health care.
Title: Recruiting for other departments in the school
Listeners: Milton C. Weinstein
Milton C. Weinstein, Ph.D., is the Henry J. Kaiser Professor of Health Policy and Management at the Harvard School of Public Health and Professor of Medicine at the Harvard Medical School. At the Harvard School of Public Health he is Academic Director of the Program in Health Decision Science, and Director of the Program on Economic Evaluation of Medical Technology . He is best known for his research on cost-effectiveness of medical practices and for developing methods of economic evaluation and decision analysis in health care. He is a co-developer of the CEPAC (Cost-Effectiveness of Preventing AIDS Complications) computer simulation model, and has conducted studies on prevention and treatment of HIV infections. He is the co-developer of the Coronary Heart Disease Policy Model, which has been used to evaluate the cost-effectiveness of cardiovascular prevention and treatment. He is an author of four books: Decision Making in Health and Medicine: Integrating Evidence and Values; Cost-Effectiveness in Health and Medicine,the report of the Panel of Cost Effectiveness in Health and Medicine; Clinical Decision Analysis; and Hypertension: A Policy Perspective.He has also published more than 200 papers in peer-reviewed medical, public health, and economics journals. He is an elected member of the Institute of Medicine of the National Academy of Sciences, and a recipient of the Award for Career Achievement from the Society for Medical Decision Making. Dr. Weinstein received his A.B. and A.M. in Applied Mathematics (1970), his M.P.P. (1972), and his Ph.D. in Public Policy (1973) from Harvard University.
Tags: public health, recruitment, head of department
Duration: 3 minutes, 35 seconds
Date story recorded: September 2006
Date story went live: 24 January 2008