NEXT STORY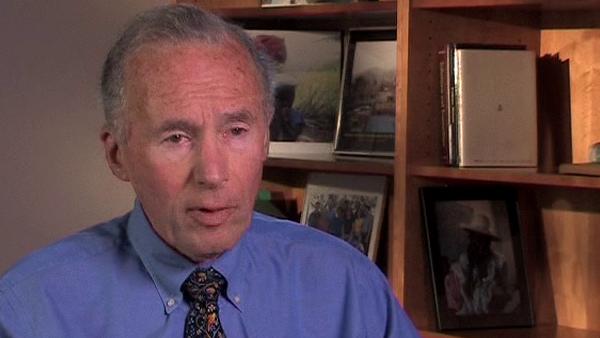 Going back to medical school
1
2
3
4
5
6
7
In 19... 1981, a student came to me and said he was organizing - it was 1980, at a time when two presidential candidates were talking about fighting and winning a nuclear war - a student came and said he was organizing a meeting at Harvard on the topic of nuclear war and asked me to serve as the keynote speaker. I had not paid much attention to the problem. I just assumed that nobody considered nuclear war a... a feasible undertaking of any sort, but clearly I thought it appropriate to cast the problem in public health terms. And... I did speak at the meeting. I did focus on the implications of the... the use of a single nuclear weapon of one megaton strength, and the problem attracted a fair amount of attention.
A year later, the Papal Academy of Sciences called a meeting on the topic and I was asked to go as part of an American delegation of four people. The topic was, in fact, the medical issues surrounding a nuclear conflagration, and I was asked to write the paper that the Pope would subsequently sign and distribute to the leaders of the nuclear powers. Members of the meeting at the Papal Academy were asked to call on President Reagan, Prime Minister Thatcher, Mitterand of France, and Brezhnev in... in Russia, and I was a part of the group of four that called on President Reagan. Victor Weisskopf, Professor of Physics at MIT, David Baltimore, Professor of Biology at that time at MIT and subsequent Nobel Prize winner, and Marshall Nirenberg, also a Nobel laureate at the National Institutes of Health, and I called on the President, along with the papal nuncio. The President was not very comfortable with our visit. We weren't asked to sit down; we stood. Because I was the only physician present, Vicky Weisskopf, the head of our group, said to the President that they had asked me, as the physician, to carry the Pope's message to him. I apologized to the President for personalizing the message. There had been an assassination attempt on his life, his, President Reagan's life, a year before and he had been hospitalized at the George Washington University Hospital in the emergency room, initially. And I said to him, 'Mr President, it... I apologized for making this so personal, but it's my impression from all that I've read in the papers that your life was saved by the group of doctors and nurses and other personnel at the GW Hospital'. He said, 'Undoubtedly that's true'. I said, 'Further, it's my impression from what I know about emergency rooms that were there three or four people in your condition brought to the hospital simultaneously, the resources of the institution would've been stretched beyond capacity, and there would've been no way to intervene on behalf of all four'. And he said, 'That doesn't surprize me'. I said, 'The Department of Defence has released figures that indicate that in the event of a 1 megaton weapon exploding over the White House, that as many as 300,000 or 400,000 people would be killed immediately, and many more rendered in desperate need of medical attention, and the George Washington University Hospital would cease to would cease to exist as would other institutions where such people might go'. There was silence. The President then said something about Armageddon, I'm not sure quite what, but he thanked me for my presentation. We were ushered out a back door and we went out. One of the members of our group knew that there was a large group of people from the press waiting to interview us, and so we went around to the... to the front door of the West Wing and went in and were greeted by the press where we described this event, and the... description of all but the personal exchange that I've just mentioned was headline news in the newspapers the next day.
I continued to work on that problem, along with colleagues, and I think that group that included Bernard Lown and others from this area, Herbert Abrams from Stanford, did have a profound effect.
Born in 1925, American Howard Hiatt set up one of the first medical oncology research and training units in the US and has headed up some of America's most prestigious medical institutions. Hiatt attended Harvard College and received his MD from the Harvard Medical School in 1948. He was a member of the team at the Pasteur Institute, Paris, that first identified and described mRNA, and he was among the first to demonstrate mRNA in mammalian cells. From 1991 to 1997, he was Secretary of the American Academy of Arts and Sciences, where he began and directs the Academy's Initiatives For Children program. He is also committed to helping disadvantaged people access decent health care.
Title: Averting Armageddon
Listeners: Milton C. Weinstein
Milton C. Weinstein, Ph.D., is the Henry J. Kaiser Professor of Health Policy and Management at the Harvard School of Public Health and Professor of Medicine at the Harvard Medical School. At the Harvard School of Public Health he is Academic Director of the Program in Health Decision Science, and Director of the Program on Economic Evaluation of Medical Technology . He is best known for his research on cost-effectiveness of medical practices and for developing methods of economic evaluation and decision analysis in health care. He is a co-developer of the CEPAC (Cost-Effectiveness of Preventing AIDS Complications) computer simulation model, and has conducted studies on prevention and treatment of HIV infections. He is the co-developer of the Coronary Heart Disease Policy Model, which has been used to evaluate the cost-effectiveness of cardiovascular prevention and treatment. He is an author of four books: Decision Making in Health and Medicine: Integrating Evidence and Values; Cost-Effectiveness in Health and Medicine,the report of the Panel of Cost Effectiveness in Health and Medicine; Clinical Decision Analysis; and Hypertension: A Policy Perspective.He has also published more than 200 papers in peer-reviewed medical, public health, and economics journals. He is an elected member of the Institute of Medicine of the National Academy of Sciences, and a recipient of the Award for Career Achievement from the Society for Medical Decision Making. Dr. Weinstein received his A.B. and A.M. in Applied Mathematics (1970), his M.P.P. (1972), and his Ph.D. in Public Policy (1973) from Harvard University.
Tags: Papal Academy of Sciences, the Pope, George Washington University Hospital, Ronald Reagan, Margaret Thatcher, Francois Mitterand, Leonid Brezhnev, Victor Weisskopf
Duration: 7 minutes, 4 seconds
Date story recorded: September 2006
Date story went live: 24 January 2008