NEXT STORY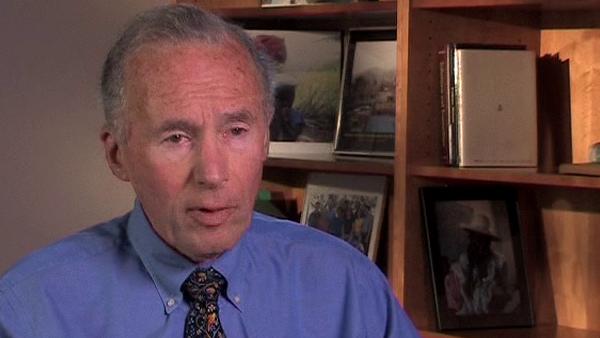 Setting up community health programs in Rwanda
Battling epidemics in Haiti and Russia
1
...
3
4
5
6
7
I spoke of Peru earlier. Haiti has been on the agenda for, now, 20... more than 20 years, and what was a single hospital, a single clinic in Haiti three years ago when I first visited there, when money became available from the global fund to fight AIDS, TB and malaria, from the President's fund for AIDS and from a foundation, that program grew. The year I was there we, we saw - again note the lapse into the first person plural - my colleagues there saw 100,000 patient visits. This year past, it was 1.2 million patient visits, not in one hospital but now in four hospitals and in seven clinics at widely dispersed areas on the central plateau.
The program has, has spread elsewhere. Early on we discovered an epidemic, or we were told about an epidemic, of drug-resistant tuberculosis in Russia and were asked to consult at a prison on Tomsk in Siberia. Paul and Jim and our colleagues began working there then, there... they found the, the prison overrun with MDR-TB. If one goes into a prison in that setting or any other where there is no opportunity to... to separate people with disease like tuberculosis, the spread is guaranteed. Paul and others refer to tuberculosis as 'ebola with wings' and it is a problem that is one that I think the world will confront in greater and greater fashion in the time ahead.
Let me... since I brought that up let me just mention that the problem of, of what was MDR-TB, multi-drug resistant tuberculosis, has evolved into something now called XDR-TB. That's a form of tuberculosis that's resistant to virtually all drugs, and in the absence of new drugs, in the absence of new ways to deal with... with this problem, we really confront the possibility of a worldwide epidemic of a disease that, in very, very many situations is lethal in a matter of very few weeks.
We began in, in Siberia to help train Russian physicians, brought Russian... some Russian physicians here to the Brigham and the School of Public Health at Harvard for the Clinical Effectiveness program, and there's now a movement to set up a Clinical Effectiveness program in Moscow just as some of our younger students in the early... earlier students in the Clinical Effectiveness program have set up a program in Buenos Aires for Argentina and for other Latin American States.
Born in 1925, American Howard Hiatt set up one of the first medical oncology research and training units in the US and has headed up some of America's most prestigious medical institutions. Hiatt attended Harvard College and received his MD from the Harvard Medical School in 1948. He was a member of the team at the Pasteur Institute, Paris, that first identified and described mRNA, and he was among the first to demonstrate mRNA in mammalian cells. From 1991 to 1997, he was Secretary of the American Academy of Arts and Sciences, where he began and directs the Academy's Initiatives For Children program. He is also committed to helping disadvantaged people access decent health care.
Title: Battling epidemics in Haiti and Russia
Listeners: Milton C. Weinstein
Milton C. Weinstein, Ph.D., is the Henry J. Kaiser Professor of Health Policy and Management at the Harvard School of Public Health and Professor of Medicine at the Harvard Medical School. At the Harvard School of Public Health he is Academic Director of the Program in Health Decision Science, and Director of the Program on Economic Evaluation of Medical Technology . He is best known for his research on cost-effectiveness of medical practices and for developing methods of economic evaluation and decision analysis in health care. He is a co-developer of the CEPAC (Cost-Effectiveness of Preventing AIDS Complications) computer simulation model, and has conducted studies on prevention and treatment of HIV infections. He is the co-developer of the Coronary Heart Disease Policy Model, which has been used to evaluate the cost-effectiveness of cardiovascular prevention and treatment. He is an author of four books: Decision Making in Health and Medicine: Integrating Evidence and Values; Cost-Effectiveness in Health and Medicine,the report of the Panel of Cost Effectiveness in Health and Medicine; Clinical Decision Analysis; and Hypertension: A Policy Perspective.He has also published more than 200 papers in peer-reviewed medical, public health, and economics journals. He is an elected member of the Institute of Medicine of the National Academy of Sciences, and a recipient of the Award for Career Achievement from the Society for Medical Decision Making. Dr. Weinstein received his A.B. and A.M. in Applied Mathematics (1970), his M.P.P. (1972), and his Ph.D. in Public Policy (1973) from Harvard University.
Tags: Haiti, Russia, Siberia, Clinical Effectiveness Program
Duration: 4 minutes, 28 seconds
Date story recorded: September 2006
Date story went live: 24 January 2008