NEXT STORY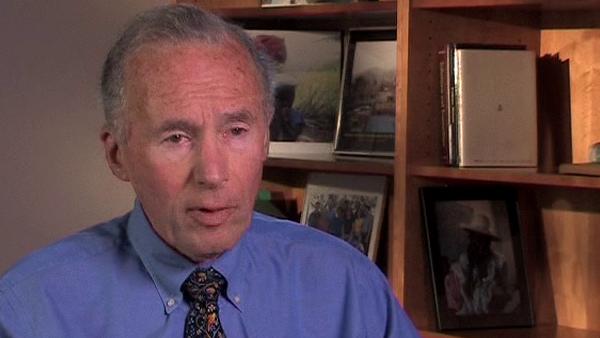 Talking to Web of Stories
My advice to undergraduate students at Harvard
1
...
3
4
5
6
7
For the last five years, I've been teaching an undergraduate class at Harvard College. I've been doing that with Don Berwick. Teaching undergraduates has been one of the most satisfying aspects of my teaching career. They are wonderful young people. Their pores are wide open, their knowledge is, you know, is extraordinary, and their eagerness to apply that knowledge to important problems is wonderful.
Often the... the title of the program, of the course is The Quality of America's Healthcare. Very often - and obviously the kids who take the course are people who are concerned about the quality of America's healthcare - very often I'm asked by a student: what can I do that would make a difference, shall I go to medical school? Well, I tell them, if you want to be a doctor, if you want to take care of sick people - and there's nothing I've done that's been more gratifying than taking care of sick people at that stage in my life when I did it - then you have to go to medical school, and I urge you to consider that seriously; we need people like you in medicine.
But if your goal is to change the healthcare system because it's in urgent need of change, despite my book, then going to medical school will occupy years that would be much better spent in other areas. If you were to train yourself in economics or in law or in political science or in anthropology, you might do much more for the healthcare system than via the route of being a doctor, and increasingly, decision-making in medicine is less in the hands of doctors and more in the hands of the public, and for that reason alone you should think about a career outside of medicine, unless, as I said, it's patient care that interests you to a large extent.
But, have you thought of public service? Have you thought of the possibility of running for political office? Of becoming a council person in your city or town? Ultimately considering becoming a Governor or a member of Congress? We need, desperately we need people like you in public service.
And, you know, I think I've maybe nudged one or two people over the years in that direction. So often the response is: I wouldn't go into politics! Why would I want to do that? And, of course, the cumulative attitude of that sort means that we don't have the people in public life that we want.
Born in 1925, American Howard Hiatt set up one of the first medical oncology research and training units in the US and has headed up some of America's most prestigious medical institutions. Hiatt attended Harvard College and received his MD from the Harvard Medical School in 1948. He was a member of the team at the Pasteur Institute, Paris, that first identified and described mRNA, and he was among the first to demonstrate mRNA in mammalian cells. From 1991 to 1997, he was Secretary of the American Academy of Arts and Sciences, where he began and directs the Academy's Initiatives For Children program. He is also committed to helping disadvantaged people access decent health care.
Title: My advice to undergraduate students at Harvard
Listeners: Milton C. Weinstein
Milton C. Weinstein, Ph.D., is the Henry J. Kaiser Professor of Health Policy and Management at the Harvard School of Public Health and Professor of Medicine at the Harvard Medical School. At the Harvard School of Public Health he is Academic Director of the Program in Health Decision Science, and Director of the Program on Economic Evaluation of Medical Technology . He is best known for his research on cost-effectiveness of medical practices and for developing methods of economic evaluation and decision analysis in health care. He is a co-developer of the CEPAC (Cost-Effectiveness of Preventing AIDS Complications) computer simulation model, and has conducted studies on prevention and treatment of HIV infections. He is the co-developer of the Coronary Heart Disease Policy Model, which has been used to evaluate the cost-effectiveness of cardiovascular prevention and treatment. He is an author of four books: Decision Making in Health and Medicine: Integrating Evidence and Values; Cost-Effectiveness in Health and Medicine,the report of the Panel of Cost Effectiveness in Health and Medicine; Clinical Decision Analysis; and Hypertension: A Policy Perspective.He has also published more than 200 papers in peer-reviewed medical, public health, and economics journals. He is an elected member of the Institute of Medicine of the National Academy of Sciences, and a recipient of the Award for Career Achievement from the Society for Medical Decision Making. Dr. Weinstein received his A.B. and A.M. in Applied Mathematics (1970), his M.P.P. (1972), and his Ph.D. in Public Policy (1973) from Harvard University.
Tags: Harvard College
Duration: 3 minutes, 39 seconds
Date story recorded: September 2006
Date story went live: 24 January 2008