NEXT STORY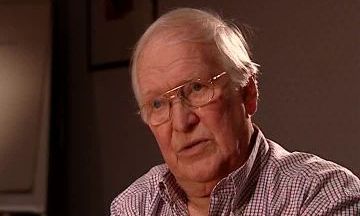 Working on histamines at Smith, Kline & French
1
2
3
4
Back now, we're down... 1964, and I'm... got itchy feet, restless legs syndrome, and I realise that when I'd been in the Vet School that I learned that another class of drugs called antihistamines, which had been introduced at about the same time and from the same school in Paris as the anti-adrenalines – these were the antihistamines – and it had been shown by 1940 that antihistamines would not block histamine stimulated secretion of acid. So I knew that from the Vet School days. And, now I began to think: why, maybe histamine, like adrenaline, had its beta receptors and maybe acid secretion which had a different time course to the normal effect of histamine, which is to constrict blood vessels... I mean, dilate them... maybe it had its beta receptor. So that was the point where there was a series of events. The Head of Pathology, George Edward Paget, had been a... working with...
[Q] This was at ICI now?
Well that's at ICI [Imperial Chemical Industries], yes, sorry. And... and George... George Paget... Edward Paget is Head of Toxicology. So, I had worked pretty closely with him during the development of these drugs. He, meanwhile, had been doing some work on some committee or other at which he met Bill Bain who...
[Q] The Hennessey Committee.
Eh?
[Q] The Hennessey Committee.
Was that what it was?
[Q] Yeah.
So, anyway, he... and, Bill Bain was running a research outfit which was being funded by Smith Kline & French, but it was a separate unit, and they decided they wanted a research director for the... the company bit, and so George Edward Paget was head-hunted to go to Smith Kline & French as R&D Director. I remember him asking me one day, did I know any pharmacologists who were looking, and I said, 'What's wrong with me?' And so that's how it was that I... I went down there, and... and that's when I put the knuckle on you. I said, 'Come on Bill, here's an opportunity'. And, I can remember driving down together, do you remember? And you hiding so as not to be seen on our way to Welwyn Garden City where Smith Kline was. Anyway, upshot of it all is that you and I depart to Welwyn Garden City, not immediately because I had a 6 month contract with ICI and they enforced it, so I was made to come into work, or into the building, every day, but I wasn't allowed to contaminate anybody, so I worked... Do you remember that surgery? So, I was despatched to the surgery. I was excommunicated. I wasn't allowed to see any paperwork, and so I struggled to learn how to play the guitar for six months. Anyway, we both then go off to Smith Kline.
The late Scottish pharmacologist Sir James W Black (1924-2010) revolutionised medical treatment of hypertension and angina with his invention of propranolol, the first ever beta blocker. This and his synthesis of cimetidine, used for the treatment of peptic ulcers, earned him the Nobel Prize in Physiology or Medicine in 1988.
Title: Excommunication from ICI
Listeners: William Duncan
After graduating with a BSc Bill Duncan went on to gain a PhD from Edinburgh University in 1956. He joined the Pharmaceuticals Division of ICI where he contributed to the development of a number of drugs. In 1958, he started a collaboration with Jim Black working on beta blockers and left ICI with him in 1963 to join the Research Institute of Smith Kline & French as Head of Biochemistry. He collaborated closely with Black on the H2 antagonist programme and this work continued when, in 1968, Duncan was appointed the Director of the Research Institute. In 1979, he moved back to ICI as Deputy Chairman (Technical), a post he occupied until 1986 when he became Chairman and CEO of Coopers Animal Health. He 'retired' in 1989 but his retirement was short-lived and he held a number of directorships in venture capital backed companies. One of his part-time activities was membership of the Bioscience Advisory Board of Johnson and Johnson who asked him to become Chairman of the Pharmaceutical Research Institute of Johnson and Johnson in New Jersey. For personal reasons he returned to the UK in 1999, but was retained by Johnson and Johnson until 2006 in a number of senior position in R&D working from the UK. From 1999 to 2007 he was a non-executive director of the James Black Foundation. He is now fully retired.
Tags: 1964, University of Glasgow Veterinary School, Paris, ICI, Kline & French, Welwyn Garden City, George Edward Paget, Bill Bain, William Duncan
Duration: 3 minutes, 42 seconds
Date story recorded: August 2006
Date story went live: 02 June 2008