NEXT STORY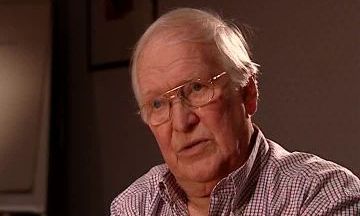 Comparing the stories of beta blockers and histamine
Working on histamines at Smith, Kline & French
1
2
3
4
Here's the point I mentioned earlier, the accident: that we got to beta blockers from adrenaline taking the natural compound and manipulating it. And I did that because I couldn't think of anything else to do. Now, we go to Smith Kline and we're in the same position. I want to block the effects of histamine and I know the structure of antihistamines, but they don't do the job I want. So where to start? So, that's when – more self-consciously – we started making analogues of histamine, and... and that's where you were involved and so on. Anyway, they... the analogy here is that one of the earliest compounds we made was the guanidine analogue of histamine of the terminal. And it was tested and found to be just like histamine, and so it was ignored. And we went on, I think, four years, Bill, and tested and tested and tested them, and just got nowhere. And now this is the kind of place where... is it recollection or reconstruction? I fear it's reconstruction but my reconstruction is that I remember... so this is my... my reconstruction, sitting with Mike Parsons, who was the pharmacologist who was doing the work, and going through all these structures. And, again, we had now changed the method of assay and I remember fingering this compound and saying, 'Why don't...?' And we found that it was to histamine like DCI was to adrenaline; that is, in certain circumstances it would be a powerful stimulant. But, anyway, that... we then... we got to beta blockers from adrenaline by attacking the hydroxyl groups on the ring, replacing them the analine. Histamine is imidazolethylamine, and so I was expecting that we would have to do something to the imidazole ring. And a lot of our chemistry, you know, very difficult chemistry because of the solubility of these things... they didn't come out of solution easily, was making benzimidazole and all kinds of things. You remember. And so now this was... changed not on the ring but on the side chain. And so, anyway, once Ganellin and his chaps got the idea there was no holding him back then, and we went from that eventually to cimetidine, and into man.
The late Scottish pharmacologist Sir James W Black (1924-2010) revolutionised medical treatment of hypertension and angina with his invention of propranolol, the first ever beta blocker. This and his synthesis of cimetidine, used for the treatment of peptic ulcers, earned him the Nobel Prize in Physiology or Medicine in 1988.
Title: Working on histamines at Smith, Kline & French
Listeners: William Duncan
After graduating with a BSc Bill Duncan went on to gain a PhD from Edinburgh University in 1956. He joined the Pharmaceuticals Division of ICI where he contributed to the development of a number of drugs. In 1958, he started a collaboration with Jim Black working on beta blockers and left ICI with him in 1963 to join the Research Institute of Smith Kline & French as Head of Biochemistry. He collaborated closely with Black on the H2 antagonist programme and this work continued when, in 1968, Duncan was appointed the Director of the Research Institute. In 1979, he moved back to ICI as Deputy Chairman (Technical), a post he occupied until 1986 when he became Chairman and CEO of Coopers Animal Health. He 'retired' in 1989 but his retirement was short-lived and he held a number of directorships in venture capital backed companies. One of his part-time activities was membership of the Bioscience Advisory Board of Johnson and Johnson who asked him to become Chairman of the Pharmaceutical Research Institute of Johnson and Johnson in New Jersey. For personal reasons he returned to the UK in 1999, but was retained by Johnson and Johnson until 2006 in a number of senior position in R&D working from the UK. From 1999 to 2007 he was a non-executive director of the James Black Foundation. He is now fully retired.
Tags: Smith, Kline & French, William Duncan, Michael Parsons, Robin Ganellin
Duration: 3 minutes, 15 seconds
Date story recorded: August 2006
Date story went live: 02 June 2008