NEXT STORY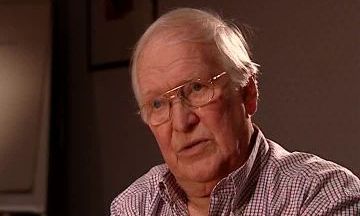 Going to work for the Wellcome Foundation
My dream of making medicinal chemistry in academia
1
2
3
4
I got interviewed for the Chair in Pharmacology at University College and, of course, that's very flattering – to be head-hunted – and... but it wasn't just the flattery, I think, I pride... I kid myself, that I liked the idea that maybe in academia I could continue this kind of work without having to think commerce; that we would be able to go and look for tools that would interfere with physiological processes. And so that was in my mind when I went to University College, and I did a... a lot of interesting things there. I learned to teach pharmacology, which I didn't do very well but I did my best. I learned that I... my... my staff, my faculty... there was about 12 of them; none of them had ever done medicine and all loved to give lectures talking about medical subjects, and I thought this was preposterous, and so I wanted to change the course and I wanted to teach pharmacology as properties of molecules and nothing to do with medicine because... but I... and that was one of the battles I lost and they loved to talk about all these diseases about which they knew nothing and cared less. But we did some interesting pharmacology and we got... did... one of the things we worked on was... I developed a... an interest in mathematical modelling of pharmacology which had started with James Raventos whom I mentioned, and so we were able to model all kinds of things like why DCI [dichloride] and the guanidino analogue of histamine... why they would stimulate on certain preparations and not on others, and this is because they're partial agonists, and partial agonists are dependent on density of receptors. If the density is very high you see agonist activity; if the receptor density is low, then you just see the blocking activity. And then we showed how... that if you... blocked, indirectly, so gastrin releasing histamine, and you block histamine... now, I'm going to amplify this story. I have a beautiful data set which was generated by Mike Parsons, and this shows histamine dose response curves in... alone, and in the presence of two increasing doses of cimetidine – a metiamide it was, the precursor. So you've got parallel shifts of the dose response curves which is what theory predicted you'd get. When we went to gastrin... well, we didn't use gastrin, we used the commercially available ICI-produced terminal pentapeptide – pentagastrin – and when we did pentagastrin dose response curves they weren't displayed. First of all, the shape of them was different. Whereas the histamine curves were steep, the pentagastrin curves flat and they developed that uninhibitory axis at the top, and when you put increasing doses in this thing collapsed. So, two things: one was we were able mathematically to show that that was precisely what you expect if it's an indirectly acting antagonist; but the other thing was, I remember... and I have the slide I produced, and we did an experiment like... showing that if you took maximum histamine secretion and then put gastrin in on top, there was an inhibitory component in gastrin. And so I remember making this little model that gastrin stimulates like histamine, but also recruits at slightly higher doses an inhibitory action, and what you see is the resultant, hence the shape, and... and I modelled this reduction in as dose response curves, moving in parallel across this inhibitory function. And I really forgot about that until recently, and I'll come back to that, if you can just hold that in the memory, because of some work I'm going to tell you about.
Back to University College. My passion to get chemistry, medicinal chemistry, going in a university... failed. I managed to get them to start an undergraduate degree in medicinal chemistry which was not a very good course, because by this time the University was running the units system, and all you could do was cobble together units and it... it was just a... not a very good course, but it was popular. People liked it because it seemed to be more directly utility orientated than just pure chemistry. But what I wanted was to build a floor on the top of the chemistry department which would... I wanted to get the money for that where I get half and the University would get half, but I'd have my dedicated chemist. Well, 4 years I failed. I never got the money, never got the chemistry, and so my dream of medicinal chemistry in academia, not driven by commerce, failed.
The late Scottish pharmacologist Sir James W Black (1924-2010) revolutionised medical treatment of hypertension and angina with his invention of propranolol, the first ever beta blocker. This and his synthesis of cimetidine, used for the treatment of peptic ulcers, earned him the Nobel Prize in Physiology or Medicine in 1988.
Title: My dream of making medicinal chemistry in academia
Listeners: William Duncan
After graduating with a BSc Bill Duncan went on to gain a PhD from Edinburgh University in 1956. He joined the Pharmaceuticals Division of ICI where he contributed to the development of a number of drugs. In 1958, he started a collaboration with Jim Black working on beta blockers and left ICI with him in 1963 to join the Research Institute of Smith Kline & French as Head of Biochemistry. He collaborated closely with Black on the H2 antagonist programme and this work continued when, in 1968, Duncan was appointed the Director of the Research Institute. In 1979, he moved back to ICI as Deputy Chairman (Technical), a post he occupied until 1986 when he became Chairman and CEO of Coopers Animal Health. He 'retired' in 1989 but his retirement was short-lived and he held a number of directorships in venture capital backed companies. One of his part-time activities was membership of the Bioscience Advisory Board of Johnson and Johnson who asked him to become Chairman of the Pharmaceutical Research Institute of Johnson and Johnson in New Jersey. For personal reasons he returned to the UK in 1999, but was retained by Johnson and Johnson until 2006 in a number of senior position in R&D working from the UK. From 1999 to 2007 he was a non-executive director of the James Black Foundation. He is now fully retired.
Tags: UCL, James Raventos, Michael Parsons
Duration: 6 minutes, 20 seconds
Date story recorded: August 2006
Date story went live: 02 June 2008