NEXT STORY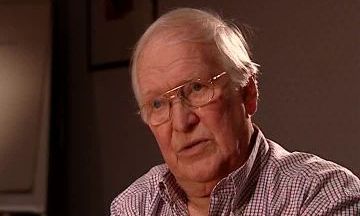 Testing the effects of blocking gastrin on nude mice
Working on a gastrin antagonist
1
2
3
4
All the action in gastrin is in the tetra, the terminal... four amino acids – Trp-Met-Asp-Phe – and it's amidated. And, so when we started here in '88, that's what we knew, and the question was: how can we go with that knowledge to make an antagonist? Well, we... in our initial hiring of people here, a lot of it was done through Imperial College and Barrett Collingen who had replaced me came as part of that, but we also took on a modeller who was exceptionally bright. And, anyway, he found in the literature that the infrared structure... pattern, for tetragastrin could only happen if the two aromatic rings of the indol of the Trp and the phenyl were about 4-5Å apart. Now, what Biola did was to show that they could only be in that position if that little peptide was wound into a tight helix, a 310-helix, it was called. And so, the chemist started off then to say, 'Can we get two aromatics held together', and we knew that it had dipolar structure in a dipole, and again, a bit like the first histamine story, we went on... we got leads right from the beginning in peptides. We could make peptide analogues, but all of them had partial agonist activity which, this appears on all of these programmes, so that wasn't what we were looking for. And it took us, really, a long time – about five years – before... and what happened, I mentioned Barrett Collingen who was our Head of Chemistry during this time, and he suddenly remembered a... an experiment he had done as an undergraduate at University College.
The late Scottish pharmacologist Sir James W Black (1924-2010) revolutionised medical treatment of hypertension and angina with his invention of propranolol, the first ever beta blocker. This and his synthesis of cimetidine, used for the treatment of peptic ulcers, earned him the Nobel Prize in Physiology or Medicine in 1988.
Title: Working on a gastrin antagonist
Listeners: William Duncan
After graduating with a BSc Bill Duncan went on to gain a PhD from Edinburgh University in 1956. He joined the Pharmaceuticals Division of ICI where he contributed to the development of a number of drugs. In 1958, he started a collaboration with Jim Black working on beta blockers and left ICI with him in 1963 to join the Research Institute of Smith Kline & French as Head of Biochemistry. He collaborated closely with Black on the H2 antagonist programme and this work continued when, in 1968, Duncan was appointed the Director of the Research Institute. In 1979, he moved back to ICI as Deputy Chairman (Technical), a post he occupied until 1986 when he became Chairman and CEO of Coopers Animal Health. He 'retired' in 1989 but his retirement was short-lived and he held a number of directorships in venture capital backed companies. One of his part-time activities was membership of the Bioscience Advisory Board of Johnson and Johnson who asked him to become Chairman of the Pharmaceutical Research Institute of Johnson and Johnson in New Jersey. For personal reasons he returned to the UK in 1999, but was retained by Johnson and Johnson until 2006 in a number of senior position in R&D working from the UK. From 1999 to 2007 he was a non-executive director of the James Black Foundation. He is now fully retired.
Tags: 1988, Imperial College London, UCL
Duration: 2 minutes, 23 seconds
Date story recorded: August 2006
Date story went live: 02 June 2008