NEXT STORY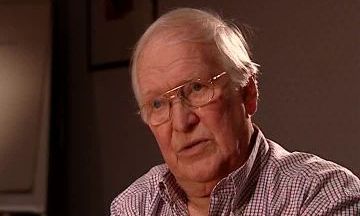 The beta blocking story
Comparing our pancreatic cancer treatment with placebos
1
2
3
4
So after we'd done 10 patients it became clear, statistically, when we compared the outcome of these 10 with the previous year's 18 untreated – consecutive 18 against our 10 – a highly significant difference in survival, and I didn't believe it. I was sure it was a placebo effect from the tender loving care, and so I wanted to get a placebo controlled study. Now that took me a while. I was told I'd never get it, but eventually we found a surgeon over at University College and we argued with ethics committee people that this was ethical because there was no recognised treatment for this terrible disease, and secondly, these patients were going to get something which the National Health Service can't provide, which is massive tender loving care. And so, on that basis, we got a placebo controlled study done at University College, and the recruitment was terribly slow because oncologists don't like referring patients for placebos. And then gemcitabine was improved, or was made approvable by the regulatory people here and when that happened recruitment stopped. So, we ended up with this placebo controlled trial having nine patients in each arm, and when analysed, this was, this was double... this was double blind placebo controlled; a well designed study, but only 18; highly significant difference between the two. Now, again, this was a subset of patients. These were patients that oncologists thought – 'cause of research – were operable, so these were early patients who were thought, you know, not to have a disseminated tumours. So jaundice at King's...
Meanwhile, before I got that placebo controlled... incidentally, the DDX scheme is gone. We'd never be able to do that study again. We would never now be allowed to do a placebo controlled study in any cancer where there's an approvable drug, so that study would never be repeatable. Then, thirdly, I heard that David Cunningham, Gastroenterological Consultant at the cancer place here in London... his passion was for treating patients with 5-fluorouracil [5-FU], and it was normally given by periods of intravenous injections, but he had pioneered the use of a pump and line to deliver it continuously, and claimed that this was doing very much better. So here were a group of patients who were... got pump and line against my patients with pump and line, and so he agreed he would do a head to head. And, well, that trial eventually ran out of steam. It was quite well designed, but recruitment was a problem and eventually, when we had about 100 patients, or something like that – 98 I think it was – it was agreed to call a halt. And it was plain; overall, there was no difference between pump-driven 5-FU and our gastrin antagonist. So, either... neither of them were active or they were as active, so our drug would be as active as 5-fluorouracil. Now, I did a subgroup analysis on that study. Indeed, I... I went through, back through all the data and wherever any patients had evidence of metastases I removed them. So, if you take out all the patients with proven metastases, the effects of the drug were highly significant in all studies, including David Cunningham's one, where... what we were doing was going from 100 days median survival to over 300 days, in each of these studies. So it looked as though if you could get them quickly you may be able to do something, but that head to head study, I would not be allowed to do today. So, none of the three studies would I be allowed to do, and I... I find it worrying that... anyway, we made this discovery; our backers, Johnson & Johnson weren't interested; and so it was never developed. But we kept going and we got orally active ones, but Johnson & Johnson never got very excited about the project, and eventually it sort of died.
The late Scottish pharmacologist Sir James W Black (1924-2010) revolutionised medical treatment of hypertension and angina with his invention of propranolol, the first ever beta blocker. This and his synthesis of cimetidine, used for the treatment of peptic ulcers, earned him the Nobel Prize in Physiology or Medicine in 1988.
Title: Comparing our pancreatic cancer treatment with placebos
Listeners: William Duncan
After graduating with a BSc Bill Duncan went on to gain a PhD from Edinburgh University in 1956. He joined the Pharmaceuticals Division of ICI where he contributed to the development of a number of drugs. In 1958, he started a collaboration with Jim Black working on beta blockers and left ICI with him in 1963 to join the Research Institute of Smith Kline & French as Head of Biochemistry. He collaborated closely with Black on the H2 antagonist programme and this work continued when, in 1968, Duncan was appointed the Director of the Research Institute. In 1979, he moved back to ICI as Deputy Chairman (Technical), a post he occupied until 1986 when he became Chairman and CEO of Coopers Animal Health. He 'retired' in 1989 but his retirement was short-lived and he held a number of directorships in venture capital backed companies. One of his part-time activities was membership of the Bioscience Advisory Board of Johnson and Johnson who asked him to become Chairman of the Pharmaceutical Research Institute of Johnson and Johnson in New Jersey. For personal reasons he returned to the UK in 1999, but was retained by Johnson and Johnson until 2006 in a number of senior position in R&D working from the UK. From 1999 to 2007 he was a non-executive director of the James Black Foundation. He is now fully retired.
Tags: University College London, NHS, UCL, King's College London, London, Royal Marsden Hospital, Johnson & Johnson, David Cunningham
Duration: 5 minutes, 22 seconds
Date story recorded: August 2006
Date story went live: 02 June 2008