NEXT STORY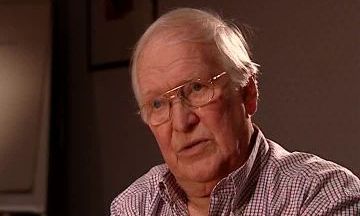 An innovative look at beta blockers
Realising a new drug is needed for heart failure
1
2
3
4
Now, let me tell you more about heart failure patients. Normally, there's more beta-1 than beta-2. But in heart failure, the beta-1 concentration is halved, or even less. The beta-2 aren't; indeed, may increase a bit. Second, the levels of adrenaline in the blood go up and it's usually argued by clinicians that this is a compensatory mechanism to, if you like, give the heart stimulation to keep it going. But the fact is that adrenaline, in so far as it's acting on the heart, encourages the phosphorylation of... I've missed out the GI. I've got to go back to that, haven't I?
[Q] Well, I thought that's where you were going.
Well, let me go back to that, then, Bill. So, when I started in the atrium we had – I didn't know that... have only got beta-1 receptors; the ventricles have got beta-1 and beta-2. These beta receptors, beta-1 and beta-2, couple to different G-proteins. Beta-1 couples to GS – stimulation – switches on the phosphorylating enzymes. GI also couples to GS but when it's phosphorylated, whereas beta-1 is inactivated, beta-2 now switches on GI, so the phosphorylated beta-2 receptor is producing GI-proteins which inhibit the force of contraction and do a whole of series of switching on of various kinases which are involved in programmed cell death, in stimulation of fibrosis; all the, kind of, nasty things which go on in the failing of a heart, are switched on by GI-proteins. So my model then is that it would take patients with heart failure, beta-1 are reduced, beta-2 aren't, adrenaline's up, you are increasing the amount of phosphorylated beta-2, and so there's a lot of GI production in the failing heart and there is evidence for that. And my theory is that these beta blockers are acting, not because they take out beta-1, indeed that's why I think the patients do badly on day one, but because they take out beta-2 and all these GI, and again it takes time for the reduction in GI to occur for these changes in the heart and restructuring and reshaping. So that's then... what I felt we needed was a selective beta-2 antagonist. Well, I told you, ICI's had one since the '70s. Indeed, many drug companies produced them, but these drugs are now way out of patent, and so I was unable to persuade AstraZeneca to renew the toxicology on that compound to bring it up to date so that we could use it clinically. So I have decided I'll make my own and I got a grant from a... a charity, a Jewish charity, offshore charity, called The Dorset Foundation, and they funded me to have two PhD students – one in chemistry and one in pharmacology – and we... the... the pharmacology chap, he has got all his assays going now after a year. The chemistry one we had difficulty recruiting, so eventually we... we recruited a post-doc, and so we've... taking our three year funding down to two years for him, and he'll get his own grant.
The late Scottish pharmacologist Sir James W Black (1924-2010) revolutionised medical treatment of hypertension and angina with his invention of propranolol, the first ever beta blocker. This and his synthesis of cimetidine, used for the treatment of peptic ulcers, earned him the Nobel Prize in Physiology or Medicine in 1988.
Title: Realising a new drug is needed for heart failure
Listeners: William Duncan
After graduating with a BSc Bill Duncan went on to gain a PhD from Edinburgh University in 1956. He joined the Pharmaceuticals Division of ICI where he contributed to the development of a number of drugs. In 1958, he started a collaboration with Jim Black working on beta blockers and left ICI with him in 1963 to join the Research Institute of Smith Kline & French as Head of Biochemistry. He collaborated closely with Black on the H2 antagonist programme and this work continued when, in 1968, Duncan was appointed the Director of the Research Institute. In 1979, he moved back to ICI as Deputy Chairman (Technical), a post he occupied until 1986 when he became Chairman and CEO of Coopers Animal Health. He 'retired' in 1989 but his retirement was short-lived and he held a number of directorships in venture capital backed companies. One of his part-time activities was membership of the Bioscience Advisory Board of Johnson and Johnson who asked him to become Chairman of the Pharmaceutical Research Institute of Johnson and Johnson in New Jersey. For personal reasons he returned to the UK in 1999, but was retained by Johnson and Johnson until 2006 in a number of senior position in R&D working from the UK. From 1999 to 2007 he was a non-executive director of the James Black Foundation. He is now fully retired.
Tags: ICI, 1970s, AstraZeneca, The Dorset Foundation, Imperial Chemical Industries
Duration: 4 minutes, 14 seconds
Date story recorded: August 2006
Date story went live: 02 June 2008