NEXT STORY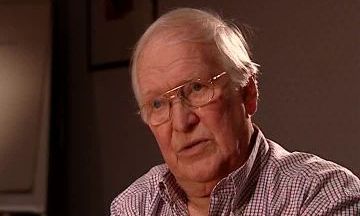 Working in Singapore
A year in the physiology department at St Andrews
1
2
3
4
I spent a year there while Hilary was finishing her degree. Indeed, she was in my class – I taught her. Also, this was 1946, and this was the time when all the young bucks were coming back from the war, married off, and children... desperate for knowledge. I have never, in all my teaching years, been sucked dry like an orange as I was in that first year, when I knew least, by these young men wanting to know. So, so that was learning how to teach, and I also got imprinted with research there. Not that I learned anything from the Professor. When I ever went to him with ideas he used to say, 'Oh, that's old stuff', and that's not the way to motivate anybody. But, anyway, he had a young PhD girl, Nancy somebody or other – I can't remember her second name – and she was working on a problem about the absorption of sugars from the gut, and there a Swiss physiologist, Verzar, was claiming that certain sugars, like glucose and fructose, which are reducing sugars, were selectively absorbed much faster than most other simple sugars. And his theory was that it was because they were phosphorylated, and so he claimed he had proof of this by using sodium iodoacetate as a poison to poison the phosphorylating enzyme. And, when treated with sodium iodoacetate, the selective absorption disappeared, and what Nancy was showing was that, in fact, the use of the substance just necrosed – killed off – the whole of the surface epithelium, and so Garry's argument was: 'Nothing to do with phosphorylation; has to do with epithelium'. But I remember asking her, but you know, 'What else is this poison doing? What's it doing to your blood pressure?' Didn't know. And, then because they couldn't measure blood pressure on these small animals at that time. So that was my first task: to learn how to measure blood pressure without a small instrument. But... so, I'm imprinted, then, right at the beginning, with something to do with the gut and something to do with the circulation, and these, as you know, are two ideas, which are two attitudes almost, that have haunted me for the rest of my life.
The late Scottish pharmacologist Sir James W Black (1924-2010) revolutionised medical treatment of hypertension and angina with his invention of propranolol, the first ever beta blocker. This and his synthesis of cimetidine, used for the treatment of peptic ulcers, earned him the Nobel Prize in Physiology or Medicine in 1988.
Title: A year in the physiology department at St Andrews
Listeners: William Duncan
After graduating with a BSc Bill Duncan went on to gain a PhD from Edinburgh University in 1956. He joined the Pharmaceuticals Division of ICI where he contributed to the development of a number of drugs. In 1958, he started a collaboration with Jim Black working on beta blockers and left ICI with him in 1963 to join the Research Institute of Smith Kline & French as Head of Biochemistry. He collaborated closely with Black on the H2 antagonist programme and this work continued when, in 1968, Duncan was appointed the Director of the Research Institute. In 1979, he moved back to ICI as Deputy Chairman (Technical), a post he occupied until 1986 when he became Chairman and CEO of Coopers Animal Health. He 'retired' in 1989 but his retirement was short-lived and he held a number of directorships in venture capital backed companies. One of his part-time activities was membership of the Bioscience Advisory Board of Johnson and Johnson who asked him to become Chairman of the Pharmaceutical Research Institute of Johnson and Johnson in New Jersey. For personal reasons he returned to the UK in 1999, but was retained by Johnson and Johnson until 2006 in a number of senior position in R&D working from the UK. From 1999 to 2007 he was a non-executive director of the James Black Foundation. He is now fully retired.
Tags: 1946, Fritz Verzár, RC Garry
Duration: 2 minutes, 57 seconds
Date story recorded: August 2006
Date story went live: 02 June 2008