NEXT STORY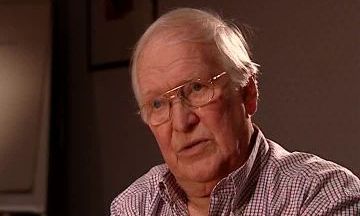 The accident that led to beta blockers
Working in the dream world of Imperial Chemical Industries
1
2
3
4
I had a friend at the time who was a... a rep for ICI [Imperial Chemical Industries] in the Western Scotland area, and he said, 'Why don't you write to ICI and see if they'll fund you to do some work on this', because he told me the ICI just moved into fantastic new labs down in Cheshire. They had moved from Trafford Park which was the old ICI Division... Dyestuffs Division. And, so I... I did; I took the advice and wrote in, and I got a site visit, and one of these was a guy called Garnet Davey who we were talking about earlier. I can't remember who the other chap was for the life of me but...
[Q] Al Spinks.
No, no, it wasn't, no.
[Q] Yule Bogue?
No, no, no, it wasn't. No, I don't know who he was because, because Garnet was definitely the senior, he was the leader, and... the upshot of it was they said, 'Look here, this is quite interesting, but it's hard for you to do it here; you've got no chemistry and so on. Why don't you come and work for us?' So that was how I was invited down to this Alderley Park place. I can't tell you what an eye-opener it was. You know, from Buccleuch Street, which was a dump in a... in a very rundown area of Glasgow, here was this place out in the country and big sweeping drive with lights, with little mice, the lights. You remember? And these fantastic new buildings beside the lake and... and the labs were just... Anyway, so I... I just... a dream world for me to be invited to work there. And, it wasn't till I got there that I realised that, in fact, Garnet Davey was subordinate to Alfred Spinks who was the Section Head at that time, I think he was called, but...
[Q] That was about 1958.
That's right, yes. And then, Garnet gets promoted to become Research Manager for the Biological... over Alf Spinks. So... yeah, so this was my first introduction to industrial politics of which you and I have played our part. But Garnet Davey played a... an important part in my life. He gave me the opportunity to do something. And so I was given a young chemist, John Stephenson, and he was a lovely fellow. And, I remember, every morning he would come down with his notebook, structures all over the place; he got excited about what we were trying to do, and I had never really... chemistry; I'd done a little bit at school and a term at university, but chemistry really wasn't something I knew much about, and so this was a whole eye-opener. And so now we're going to make ourselves a beta blocker. Now, here is the important theme which runs out through the rest of what I'm going to be talking about, and that is that what began as an accident, a pure accident, in retrospect I saw it as a principle. Now, the principle may be wrong but that's what we're going to talk about.
The late Scottish pharmacologist Sir James W Black (1924-2010) revolutionised medical treatment of hypertension and angina with his invention of propranolol, the first ever beta blocker. This and his synthesis of cimetidine, used for the treatment of peptic ulcers, earned him the Nobel Prize in Physiology or Medicine in 1988.
Title: Working in the dream world of Imperial Chemical Industries
Listeners: William Duncan
After graduating with a BSc Bill Duncan went on to gain a PhD from Edinburgh University in 1956. He joined the Pharmaceuticals Division of ICI where he contributed to the development of a number of drugs. In 1958, he started a collaboration with Jim Black working on beta blockers and left ICI with him in 1963 to join the Research Institute of Smith Kline & French as Head of Biochemistry. He collaborated closely with Black on the H2 antagonist programme and this work continued when, in 1968, Duncan was appointed the Director of the Research Institute. In 1979, he moved back to ICI as Deputy Chairman (Technical), a post he occupied until 1986 when he became Chairman and CEO of Coopers Animal Health. He 'retired' in 1989 but his retirement was short-lived and he held a number of directorships in venture capital backed companies. One of his part-time activities was membership of the Bioscience Advisory Board of Johnson and Johnson who asked him to become Chairman of the Pharmaceutical Research Institute of Johnson and Johnson in New Jersey. For personal reasons he returned to the UK in 1999, but was retained by Johnson and Johnson until 2006 in a number of senior position in R&D working from the UK. From 1999 to 2007 he was a non-executive director of the James Black Foundation. He is now fully retired.
Tags: ICI, Cheshire, Trafford Park, ICI Dyestuffs Division, Alderley Park, Buccleuch Street, Glasgow, Garnet Davey, Alfred Spinks, John Stephenson
Duration: 3 minutes, 41 seconds
Date story recorded: August 2006
Date story went live: 02 June 2008