NEXT STORY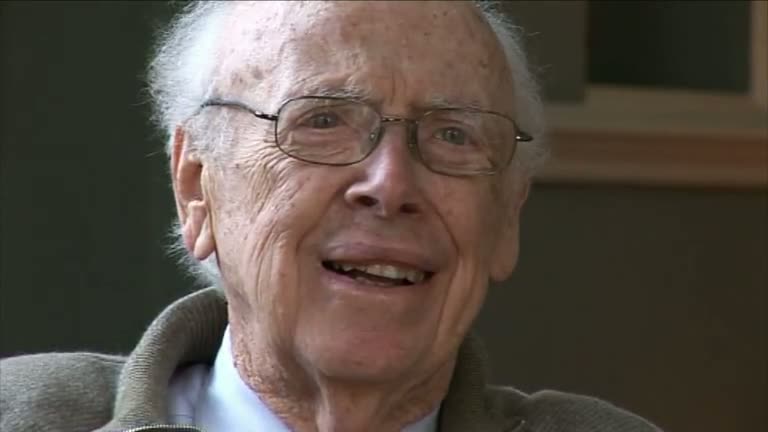 Salvador Luria and how Indiana University reacted to his bluntness
'The function of Chicago was to prepare you for greatness'
1
2
3
4
5
...
10
I was the only, you know... of the five or six students that came in that year, I was the only one who'd been educated to think, so I already thought like a scientist, and you know, didn't believe you could survive by memorization or you know, and my roommate had gone through Oklahoma Baptist University – well, he's just one of us, he became a professor in Illinois afterwards. He was a bright guy, but you know, he, it took him a long while to get away from, I don't know if he ever gave up college, and so that the... I mean, as the faculty, soon after I arrived, the faculty in Indiana treated me like faculty, you know, they'd ask me questions, what do you think, because I was the only one who...
[Q] You were significantly younger than them.
Yeah, I was younger by a couple of years. There were others who hadn't been in the war, so I wasn't the only person who hadn't been in the war, but it was... what I always found fun is afterwards, having the University of Chicago come in on these fake listings of American colleges which, you know, which is the most fun college to be at. And, you know, it's always someplace in the South, and they measure it by the percentage of students who get into the fraternities, the sororities, so some, you know, the number of weekends... and Chicago was the third on most unpleasant, and fifth was John Hopkins, fourth was Rensselaer Polytechnic, number one was either Westpoint or Annapolis and then there was Chicago.
And I realized that Chicago was officers' training school for intellectuals. Its aim was to teach you to be an officer, and you know, Hutchinson never quite said it, he'd said in a speech when we entered, that the function of Chicago was to prepare you for greatness. Then he said, 'You are to know the past and then you could know what remained to be done'. And no other place had that, except when we, you know, John McCain, military family, grandfather an Admiral... that there was... your destiny was out there to win and to lead. So, Chicago, you know, just... Hutchinson regarded our country as sort of a mixture of being infantile and insipid, with a few bright people like Jefferson, and so on, in the past. But not, Europe was always held out as being deeper in thought. And Chicago never looked up to New York City, except for Columbia is looking up to the great books.
[Q] So, this was instrumental for you, this experience you had...
At Chicago?
[Q] Coming young and great books.
Yeah, and you see, in my senior year at Chicago, I got... I think all my grades were As, you know, partly because I... you know, one of the rules from my book, take courses where you'll get good grades, it gives you self-confidence. But you probably don't get good grades so much you would like the subject, though there are some, you know, of the high IQ people, who could just ace any subject and ace it and get an A. It doesn't mean they're going to be a success in life, but they, you know, have that ability to seemingly learn anything.
There were a couple around Chicago, I was very jealous of them, and then afterwards you discovered that there wasn't much there, because there wasn't, they were just mastering the past, they weren't really ever putting themselves up against the future, which was the... the finals thing. But it was the need to... you know, a lack of respect for people who don't think. You just get them out of your sight. So, in that sense, Chicago was a very arrogant place, it was also a very honest place... I mean... but it did have that... but this was all the Hutchins world, you know, this completely unsocial sort. Not the ordinary Chicago faculty, many of them were conventional, but it was this thought that... because Chicago really, at college, believed you could get through thinking, as opposed to you know, the need to go out and observe.
American molecular biologist James Dewey Watson is probably best known for discovering the structure of DNA for which he was jointly awarded the 1962 Nobel Prize in Physiology or Medicine along with Francis Crick and Maurice Wilkins. His long career has seen him teaching at Harvard and Caltech, and taking over the directorship of Cold Spring Harbor Laboratory in New York. From 1988 to 1992, James Watson was head of the Human Genome Project at the National Institutes of Health. His current research focuses on the study of cancer.
Title: 'The function of Chicago was to prepare you for greatness'
Listeners: Martin Raff Walter Gratzer
Martin Raff is a Canadian-born neurologist and research biologist who has made important contributions to immunology and cell development. He has a special interest in apoptosis, the phenomenon of cell death.
Listen to
Martin Raff
at Web of Stories
Walter Gratzer is Emeritus Professor of Biophysical Chemistry at King's College London, and was for most of his research career a member of the scientific staff of the Medical Research Council. He is the author of several books on popular science. He was a Postdoctoral Fellow at Harvard and has known Jim Watson since that time
Tags: University of Chicago
Duration: 6 minutes, 21 seconds
Date story recorded: November 2008 and October 2009
Date story went live: 18 June 2010