NEXT STORY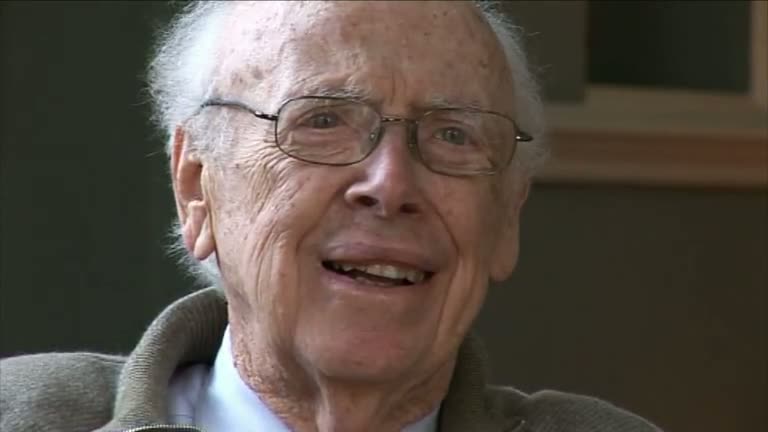 Life in Cambridge
My first year in Cambridge
1
2
3
4
5
...
10
Because when I got there, Max Perutz took me round to see if I could find a room where I could then live in when I came back two weeks later. And found something on Parkers Piece. No, not Parker's Piece, it was Park Parade. It was on a green. And the woman had a ground floor room, and she gave kippers for breakfast, and I got into a big argument. She said I can't come in after 10 o'clock at night, I woke up her husband. And I had been to some occasion at Francis' house and where I came in late. And she... we got into an argument, you know, she wanted me to say I'd never do it again, and so I went. And John Kendrew said that they had a spare room and it has a little servant's flat on Tennis Court Road that, at the Peter household. And so I moved in there.
So I lived with John and Elizabeth the whole year, so I wasn't lonely. And John... the rooms in college were infinitely more comfortable than his house. And I didn't know the marriage was really never satisfactory, and I gave Elizabeth someone to talk to. John was, you know, had his main records so whatever it had been then, his music in his rooms in college. And everything was catalogued and he could sit there and... so I would have Sunday meals with him. And then John and I would go, and sometimes Elizabeth, for Sunday walks. So most Americans who came to Cambridge were terribly lonely because the English don't believe in that anyone needs help, you know, you...
[Q] Suffering is good.
What?
[Q] Suffering is good.
That after you've been in Cambridge maybe a year you will be considered, you know. Well, one, they don't hold parties; second, they don't invite people to dinner. And so I ate the evening meals in the English-Speaking Union, Trinity Street, almost opposite the entrance to Trinity, which was on the second floor, probably established in the war. It probably had some connection with American servicemen during the war. And you could get a meal there, and there would be a few people from abroad. So Hugh Huxley and I would sometimes eat at the English-Speaking Union, and then sometimes the Kendrew's would invite me. So I did, I don't remember having many evening meals when I was alone.
Now, I had become a member of Clare College, but research students really weren't part of the college life, so the students would just eat in the hall in about 10 minutes and then repair to the various friends' rooms for coffee afterwards. So if you go to hall, there was no-one around it. Now, it made me a Fellow but you know, the way Cambridge moves, and probably moves still today, you had to be there about two years before you'd be into the system, and if you weren't obnoxious and didn't try and press yourself on them they would ask you to be part of it. So having a combination of either Francis or Odile, the Kendrew's taking care of me was awful... Sunday breakfast. There was no place to get breakfast on Sunday morning. And there were several awful Greek, or probably Cypriot restaurants, which would be a mixture of breakfast and lunch. And then there were a couple of indescribably awful Indian places where you could eat. And then there was a... but you'd be paying more money than anyone else would be, there was the... you could eat an evening meal at the Arts Cinema, which I think Keynes had started. And then there was the Bath Hotel where the Catholic Chaplain to the rich students, he had his meals. The Oxford Jesuit was Father Darcy or something, and I don't know the name of the equally polished custodian of the aristocracy in Cambridge who was... you know, dined like a Cardinal by himself with wine, you know, a good life. And so that was the first year when I was with the Kendrew's.
American molecular biologist James Dewey Watson is probably best known for discovering the structure of DNA for which he was jointly awarded the 1962 Nobel Prize in Physiology or Medicine along with Francis Crick and Maurice Wilkins. His long career has seen him teaching at Harvard and Caltech, and taking over the directorship of Cold Spring Harbor Laboratory in New York. From 1988 to 1992, James Watson was head of the Human Genome Project at the National Institutes of Health. His current research focuses on the study of cancer.
Title: My first year in Cambridge
Listeners: Martin Raff Walter Gratzer
Martin Raff is a Canadian-born neurologist and research biologist who has made important contributions to immunology and cell development. He has a special interest in apoptosis, the phenomenon of cell death.
Listen to
Martin Raff
at Web of Stories
Walter Gratzer is Emeritus Professor of Biophysical Chemistry at King's College London, and was for most of his research career a member of the scientific staff of the Medical Research Council. He is the author of several books on popular science. He was a Postdoctoral Fellow at Harvard and has known Jim Watson since that time
Tags: Cambridge University, Max Perutz, John Kendrew, Hugh Huxley
Duration: 6 minutes, 12 seconds
Date story recorded: November 2008 and October 2009
Date story went live: 18 June 2010