NEXT STORY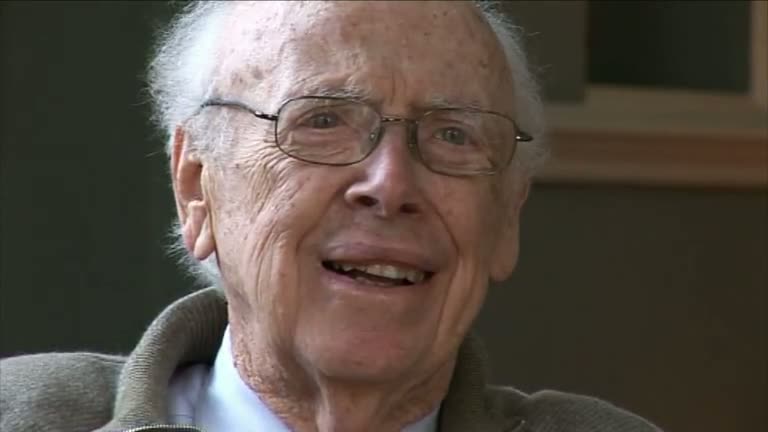 My lack of manners
1
2
3
4
5
...
10
And the second year... well, Odile had the idea that all I wanted to do was to meet women, and there was no way to break in the two women's colleges, Girton and Newnham. That was just how would you ever meet anyone? And they said, well, I know Americans, and they weren't good-looking to start with. So it... it was a... the idea was that I... there was this woman, Camille Prior, who ran a boarding house for... for French students, you know, French girls. And that was very near the centre. And I got into that and began going there during my second year. And I think the way I got into it is she gave me French lessons, because I realized that if you didn't speak French you... you couldn't go to the continent. And so I was really taking the lessons only so there was a way into dining with the French girls.
And then it turned out that the French girls really were hopeless, but there was a beautiful French boy there who was there to learn... better his English, Bertrand Foucard. But I never talked to him until... it was just the last three months when my sister came to Cambridge because her... she wanted to go to Europe and so when I went... was in Copenhagen and she came to Copenhagen and got a job with a military assistance group at the US Embassy and lived by herself for a year-and-a-half in Copenhagen. And I think had a good time.
And then an ex-boyfriend showed up and asked her to marry him. And she hadn't seen him for close to four years. He'd gone off and joined... became CIA. And so she came to Cambridge, I kept wondering whether she was going to say yes. And I arranged for her to live in the boarding house for French girls. And she became a friend of Bertrand. And Bertrand was out of... but he soon let us know he was one of the deux cents familles, the 200 and not rich families. Now, I guess some of them were aristocratic, but he wasn't, he wasn't aristocratic. And he was homosexual. I don't know when that became obvious, but he said that he was homosexual. But not only he... but both his brothers were. And one was a famous art dealer, and another was a famous interior decorator. And Bertrand was sort of the unaccomplished one. And he ended up by working for Newsweek. And... but his... he had become friends of the... Geoffrey Bawa who was then in Cambridge to study law. He came from Ceylon and his parents were tea planters, and he had a Rolls Royce in Cambridge. And Geoffrey and Bertrand were friends. Both were homosexuals.
And then, you see... then my second year in Cambridge became less... more fun, because Peter Pauling had arrived. And John had put him into Peterhouse. So Peter lived in the Peterhouse, not the main room but across the Trumpington Street. And so Peter sometimes came down to Camille Prior's and became... met Bertrand. So... and Bertrand, Odile said she couldn't take her, Odile Crick, her eyes off Bertrand. Bertrand was so unbelievably beautiful. When I last saw him he had gone bald, totally bald, it was really... his looks faded quite fast. And... but he had a certain style, and my sister became the only girl that Bertrand could be seen with, because I had bought her two French dresses, so she was that time... looked like she was the only well dressed girl in Cambridge.
My Fellowship was worth so much money on European terms that I sent her money to buy two Jacques Fath dresses and... Copenhagen. And so she could walk down the street with Jeffrey and Bertrand and they would look like they were... and Geoffrey was then interested, he went to Cambridge, he became the most distinguished architect in Ceylon. Books have been written about him. He just died. I think he was partly... he might have been half-English or something, but he switched then. He took my sister once over to a big house in Bedford, the head of the Architectural Association. And, you know, Pevsner was then in Cambridge so it was sort of the first time I was aware, you know, grand English architecture. And I played that spring, somehow Bertrand had got the rights to play on the King's College tennis courts, so I played with him. He was not a bad player, but the courts were only, you know, asphalt or something, dreadful on your feet.
[Q] How about an aside on tennis. When did your love for tennis start?
At the University of Chicago. And then I tried to play with Elizabeth Kendrew, but I never played with anyone who was ever good.
[Q] Until?
I was fired from the head of the Genome Project.
[Q] Oh my...
And then I hired pros at Piping Rock and I never played tennis, with one or two exceptions, with anyone in my life other than a pro. And, you know, it solves... it's not a wish, but you get three times as much exercise, or maybe ten, because they don't make mistakes and it just works.
American molecular biologist James Dewey Watson is probably best known for discovering the structure of DNA for which he was jointly awarded the 1962 Nobel Prize in Physiology or Medicine along with Francis Crick and Maurice Wilkins. His long career has seen him teaching at Harvard and Caltech, and taking over the directorship of Cold Spring Harbor Laboratory in New York. From 1988 to 1992, James Watson was head of the Human Genome Project at the National Institutes of Health. His current research focuses on the study of cancer.
Title: Life in Cambridge
Listeners: Walter Gratzer Martin Raff
Walter Gratzer is Emeritus Professor of Biophysical Chemistry at King's College London, and was for most of his research career a member of the scientific staff of the Medical Research Council. He is the author of several books on popular science. He was a Postdoctoral Fellow at Harvard and has known Jim Watson since that time
Martin Raff is a Canadian-born neurologist and research biologist who has made important contributions to immunology and cell development. He has a special interest in apoptosis, the phenomenon of cell death.
Listen to
Martin Raff
at Web of Stories
Tags: Cambridge University, Camille Prior, Bertrand Foucard, Geoffrey Bawa, Peter Pauling, Odile Crick, Jacques Fath, Elizabeth Kendrew
Duration: 8 minutes, 31 seconds
Date story recorded: November 2008 and October 2009
Date story went live: 18 June 2010