NEXT STORY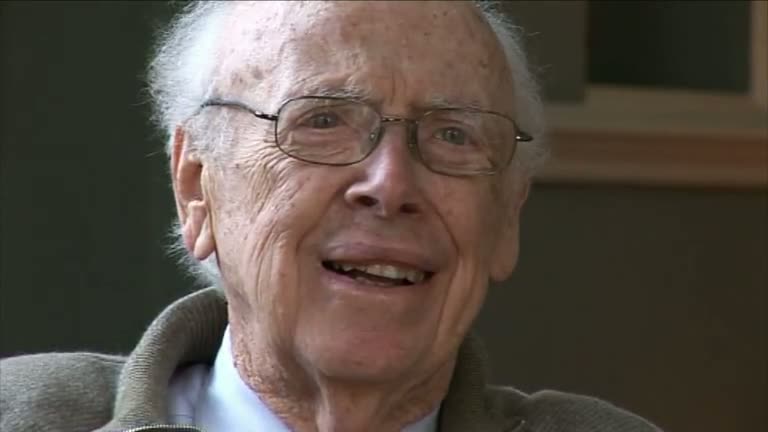 Competition and microbiology
1
2
3
4
5
...
10
It mattered a lot to Bragg. He, you know, the... that Pauling had bested him on some structures of silicates, in either '27 or '28. And Bragg never got over that. And people say he went into a sort of deep depression, if not a nervous breakdown after the Pauling affair on silicates. So... and Francis was never as competitive as I was, I don't know why. Competition sort of goes with sports. Francis never really liked sports. Then why? Maybe he just didn't... I think it has to be, it certainly must have been, you know, helpful when humans were hunter gatherers, you know? You get to prey before some other group. Their survival depended on being first.
I think, you know, when I was a boy, I... if you didn't get good grades you wouldn't be allowed to move ahead. So in that sense that you couldn't be indifferent to the fact that other people might be trying to achieve the... the same objective. And if they got there first you were often left with nothing. And that just... yeah, moving on in academia demanded that you win. And certainly people talked about it, but I don't remember... but, you know, I just took it for granted and never thought it was bad. I mean, in the sense that I was a bad person because I didn't want to... other people took, you know, to win simultaneously with someone else and wanted to win. That... and whether you could say that you just want to win or you want to win the consequence of winning. I think I want to win the consequence, you know, that beating someone else doesn't give me pleasure, which I... I'm sure in some cases, yes, you've knocked someone down it gives you... pleasure through...
Oh, I haven't told you this extraordinary fact. There's a paper and the proceedings of the Royal Society B you probably never look at it, you know? It's all behavior. Okay, this is a paper out of Canada, which is a correlation between the width of your face and your tendency to violence, okay? And so they prove it by... or they test the hypothesis by taking pictures of faces of hockey players and correlating the shape of the face with the number of minutes in the penalty box. So you've got two absolutely objective measurements so you can't go wrong, and it works. The wider your face the more likely you're in the penalty box. And they correlate that with the amount of testosterone that you have. So... there's a book called Born Fighting, the history of the Scots Irish on the borders and then in Northern Ireland, and then in Appalachia in the United States and then forming our military aristocracy Scotch-Irish. So the book is written by Senator Jim Webb, the one who won in Virginia and beat Allen. He's got the broadest face I've ever seen on any man.
American molecular biologist James Dewey Watson is probably best known for discovering the structure of DNA for which he was jointly awarded the 1962 Nobel Prize in Physiology or Medicine along with Francis Crick and Maurice Wilkins. His long career has seen him teaching at Harvard and Caltech, and taking over the directorship of Cold Spring Harbor Laboratory in New York. From 1988 to 1992, James Watson was head of the Human Genome Project at the National Institutes of Health. His current research focuses on the study of cancer.
Title: On being competitive
Listeners: Walter Gratzer Martin Raff
Walter Gratzer is Emeritus Professor of Biophysical Chemistry at King's College London, and was for most of his research career a member of the scientific staff of the Medical Research Council. He is the author of several books on popular science. He was a Postdoctoral Fellow at Harvard and has known Jim Watson since that time
Martin Raff is a Canadian-born neurologist and research biologist who has made important contributions to immunology and cell development. He has a special interest in apoptosis, the phenomenon of cell death.
Listen to
Martin Raff
at Web of Stories
Tags: Born Fighting, William Bragg, Jim Webb
Duration: 5 minutes, 28 seconds
Date story recorded: November 2008 and October 2009
Date story went live: 18 June 2010