NEXT STORY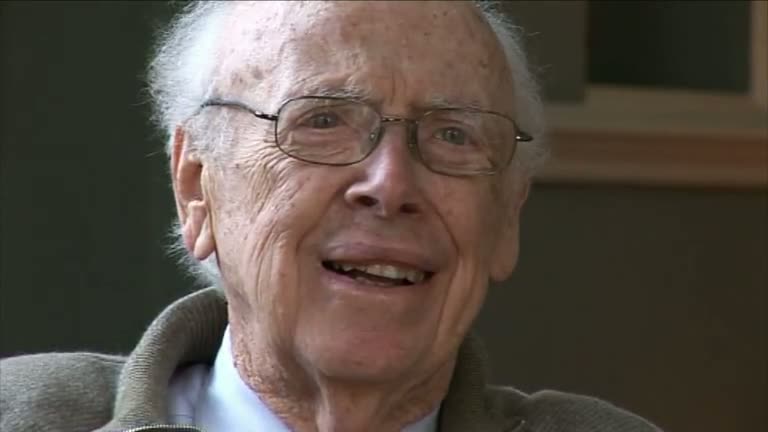 The RNA Tie Club
Going to Caltech and working on RNA
1
2
3
4
5
6
...
10
I went to the Cambridge, I was in the second year of a fellowship from the National Research Council of the United States, and in I moved to Cambridge before I got permission which was not the right thing to do and so, when they found out about it, they penalized me by four months' salary so I needed another source of money. And Max Delbrück at Caltech was close to the Polio Foundation and had arranged for them to give me a second two-year fellowship. The second year was to be spent in Caltech, really looking after, though I didn't realize it, Max Delbrück's research students and their PhD theses on bacterial viruses. So I was to go to Caltech in September of '53 independent of, you know, whether I had done... had success with the DNA structure.
So I went off then and, once there, they gave me a Caltech slightly better paying Caltech fellowship to let me stay on another year. And by then I wanted to go back to Cambridge, England, which I arranged to do just after I had got an academic job that I could go to upon my return from Cambridge. So I became an Assistant Professor of Biology at Harvard in July of 1955 but, in fact, the first year I was on leave at Cambridge hopefully solving the structure, three-dimensional structure of RNA. But that work went nowhere. At Caltech I'd been trying to get it. I think I thought if I'm close to Francis we might again have some clever idea which would make sense of RNA. No clever idea, we wrote minor but correct papers on virus structure, the spherical viruses, and that was my only contribution from that year. In fact, the three years you could say after the double helix, I went nowhere with my career, and it was because I had decided that the next big problem was how DNA provides the information to order the amino acids during protein synthesis, and I thought that the actual template was going to be an RNA molecule which had been made... copied off a DNA molecule in the way the DNA changed or copied off other DNA chains. That idea was right and I thought the only way to proceed forward was to see the structure of RNA in three dimensions and then you might see cavities that switch amino acids [unclear]. That was very wrong, and Francis Crick actually wrote a good paper saying why the idea probably wasn't right.
And so, after my third year was going nowhere, I decided to change what I was doing and study particles. The major form of RNA and cells were they were united with protein... particles we now call ribosomes. Proteins are made on ribosomes and I thought, well, we'll just study ribosomes as the RNA seems a mess but then initially, you know, we were dissipated. All ribosomes seem the same, so if they're all the same, how can they be templates for different proteins? So we were sort of intellectually lost until experiments were done in 1960 which showed in fact there was another form of RNA which was a true template. It's called messenger RNA, present in much smaller amounts than the model of RNA and the ribosomes. And... so we only sort of had the big picture in '61 which would have been eight years after the DNA structure. So Francis had a very clever idea about attaching amino acids to small RNA molecules, we now call transferring RNA molecules, and so that was a big insight. And then the second big insight which was sort of done independently by my lab and Sydney Brenner with Matt Meselson was the discovery of messenger RNA.
American molecular biologist James Dewey Watson is probably best known for discovering the structure of DNA for which he was jointly awarded the 1962 Nobel Prize in Physiology or Medicine along with Francis Crick and Maurice Wilkins. His long career has seen him teaching at Harvard and Caltech, and taking over the directorship of Cold Spring Harbor Laboratory in New York. From 1988 to 1992, James Watson was head of the Human Genome Project at the National Institutes of Health. His current research focuses on the study of cancer.
Title: Going to Caltech and working on RNA
Listeners: Walter Gratzer Martin Raff
Walter Gratzer is Emeritus Professor of Biophysical Chemistry at King's College London, and was for most of his research career a member of the scientific staff of the Medical Research Council. He is the author of several books on popular science. He was a Postdoctoral Fellow at Harvard and has known Jim Watson since that time
Martin Raff is a Canadian-born neurologist and research biologist who has made important contributions to immunology and cell development. He has a special interest in apoptosis, the phenomenon of cell death.
Listen to
Martin Raff
at Web of Stories
Tags: National Research Council, Polio Foundation, Caltech, 1960, Max Delbrück, Francis Crick, Sydney Brenner, Matt Meselson
Duration: 5 minutes, 31 seconds
Date story recorded: November 2008 and October 2009
Date story went live: 18 June 2010