NEXT STORY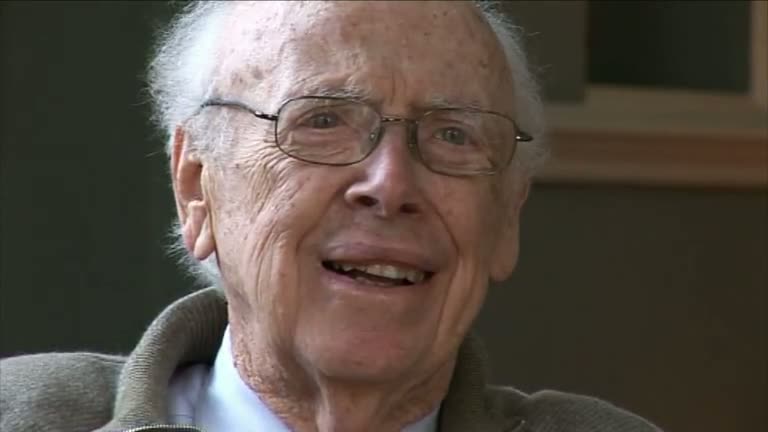 The books I took home from the South Shore library
1
2
3
4
5
...
10
I would think, except for worries particularly, you know, that Hitler would win, our... my childhood and that of my sister could have been described as really happy, that is neither of us was neurotic, it would... no one worried about our mental health or worried about, you know, that we didn't do our schoolwork, you know. Nor do I remember, you know, who half the class of the boys having attention deficit, there're all these things which, you know, now seem to. I find it hard to believe it because none of my...
[Q] Friends had it.
Friends had it and they all, sort of, you know... one of my friends, you know, became a good lawyer in Indiana, and another friend became a commercial artist. I had the impression most of, you know, the people, once they were middle-class and they had middle-class aspirations. And they all, within limits, succeeded.
[Q] But now, when you were in school, were you exceptionally bright, compared to your colleagues? Did you think of yourself as special?
No, I had no... you know, I would took, I think, two intelligence tests and I know I was... the teachers never told me what the result was and I once, you know, went up to the desk and found out and I was disappointed that I wasn't brighter. They were about 120 when, you know, I was told to be successful, you probably have to be 150 or something, but we also took tests in reading speed and comprehension and I was the best. So I seemingly could read faster and comprehend it. So... and I always was someone who would get up and try and answer the teacher's questions, rather than... so, yeah, I was the show-off but the teachers liked me and I, you know, in grammar school we had assemblies and somehow students spoke and I think I wanted to speak, so in that sense I wasn't shy.
[Q] You did speak at the assemblies?
Yes.
[Q] You did.
Yes, so, you know, maybe it was because the majority of, you know... I certainly remember the elections of '36 with Landon and Willkie... was 1940. The majority of children... we all used to wear pins, and Roosevelt pins were in the minority. The Jewish kids would have had Roosevelt pins and a few others... you could say, it was just solidly Republicans. You know, four blocks away everyone was Polish and they would have voted Democratic.
[Q] Now the school went up to what age?
Grammar school went to... through 8; there were no middle schools. And then high school was the age 9 through 12.
[Q] So what about that school?
And then I went to Grades 9 and 10 in South Shore High School, which was only one year old when I went to it, so, there was Calumet High School to the south and there was Hyde Park High School to the north and there was Hirsh High School to the west. And then they built South Shore for this neighborhood, which was really built in the '20s and '30s. The key thing there was a public library, we lived at 79th on 73rd Street, it was eight blocks to a mile. So it was, sort of, two-thirds of a mile down and then we had to go over it, so a little over a mile. And certainly, when I was in my first two years of high school, my father would take me every Friday night to the library and then I would get out a couple of books and I think I was trying to read a couple of books a week at that stage.
[Q] What kind of books?
Oh, novels, Fenimore Cooper, you know, sort of adventure things. By the time I was in high school I certainly read Microbe Hunters when... before I went to university.
American molecular biologist James Dewey Watson is probably best known for discovering the structure of DNA for which he was jointly awarded the 1962 Nobel Prize in Physiology or Medicine along with Francis Crick and Maurice Wilkins. His long career has seen him teaching at Harvard and Caltech, and taking over the directorship of Cold Spring Harbor Laboratory in New York. From 1988 to 1992, James Watson was head of the Human Genome Project at the National Institutes of Health. His current research focuses on the study of cancer.
Title: Childhood and school
Listeners: Walter Gratzer Martin Raff
Walter Gratzer is Emeritus Professor of Biophysical Chemistry at King's College London, and was for most of his research career a member of the scientific staff of the Medical Research Council. He is the author of several books on popular science. He was a Postdoctoral Fellow at Harvard and has known Jim Watson since that time
Martin Raff is a Canadian-born neurologist and research biologist who has made important contributions to immunology and cell development. He has a special interest in apoptosis, the phenomenon of cell death.
Listen to
Martin Raff
at Web of Stories
Tags: Microbe Hunters
Duration: 6 minutes, 26 seconds
Date story recorded: November 2008 and October 2009
Date story went live: 18 June 2010