NEXT STORY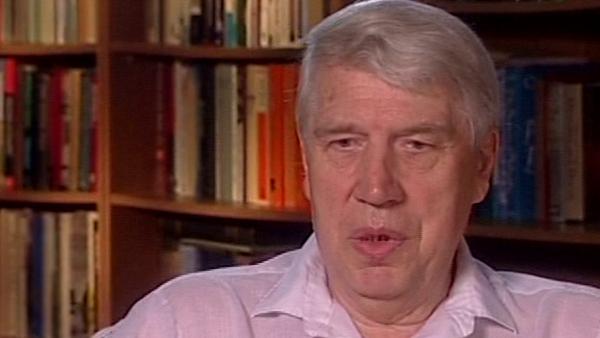 The future looks bleak
1
...
7
8
9
10
11
[Q] Much of the fashion in biology today is for big science... genomics and proteomics have their big centres. How do you see biology developing?
I don't have a crystal ball to tell you how it will be developing, for one thing, and for second, you know, old people are always expected to say well, you are... I am old so it should be the way it was in my youth. But I don't feel that it should be like that and whether it's a mistake or not that it's going so big, I don't know, but I always have been against big science. I think it's mostly a waste of money and all the history of science shows us that it never leads to the attempted goal. For example cancer research... there was a time when a lot of money was put in cancer research with the goal cancer will be solved. Well, there was a lot of money put in it but it didn't solve the cancer. It brought some minor successes, but that would have come regardless or probably they came on the side of it... a lot of money was wasted. The same thing is happening with AIDS, with the HIV virus investigation. A lot of money is wasted on it because it's too big and it's just an umbrella for mediocre science and the competition is reduced in such cases. You just write a grant application for HIV... used to be, I don't think it's any more like that because the money is perhaps even not there, but... and you would have a higher chance of getting support if it was this goal. All scientists practically write at the end of their application, maybe these results will be applicable to the solution of cancer or to the solution of AIDS and so on. It's the wrong way. History teaches us this is not the way to do science. So big science today, the genomics and so on is big and again, it's a lot of waste. I come to meetings, and most recently at a meeting on genomics there are presentations that I don't understand why the people do this kind of study and they don't define any goal or anything. They just take a set of data and let's see what can we do with these data, let's compare this with this and nobody did that before so I will compare that. What is it for? I thought we are supposed to start with the question and then try to answer the question. With these genomic centres and genomics in general, okay, let's sequence, we are powerful, we can decide, we can sequence a rat, we can sequence this or that species, let's see what the comparisons show. There is no basic design in anything and I just hope that it's temporary, that it will not last too long. I think that still... and with genomic research it leads to a lot of theoretical analysis and I think in biology we still have to do experiments. Primarily it has to be experiment based and experiments can be done in small groups better than in a large group. I don't know how a consortium or how a large group is going to do jointly an experiment, so I am very sceptical about where it's going to lead. It's just that a few powerful people are promoting this idea and they are getting money for it and part of it, of course, is that they are playing in the hands of businessmen, that they are doing the job which eventually might have some economical... economical profits at the end, but the profits will be of the companies that will... that if they want to have this kind of research, they should do it. So I'm sceptical.
Born in 1936, Jan Klein is a Czech-American immunologist who co-founded the modern science of immunogenetics – key to understanding illness and disease. He is the author or co-author of over 560 scientific publications and of seven books including 'Where Do We Come From?' which examines the molecular evolution of humans. He graduated from the Charles University at Prague in 1955, and received his MS in Botany from the same school in 1958. From 1977 to his retirement in 2004, he was the Director of the Max Planck Institute for Biology at Tübingen, Germany.
Title: The future of biology
Listeners: Colm O'hUigin
Colm O'hUigin is a senior staff scientist at the US National Cancer Institute. He received his BA, MSc and PhD at the Genetics Department of Trinity College, Dublin where he later returned as a lecturer. He has held appointments at the Center for Population and Demographic Genetics, UT Houston, and at the University of Cambridge. As an EMBO fellow, he moved in 1990 to the Max Planck Institute for Biology in Tübingen, Germany to work with Jan Klein and lead a research group studying the evolutionary origins of immune molecules, of teeth, trypanosomes and of species.
Duration: 5 minutes, 11 seconds
Date story recorded: August 2005
Date story went live: 24 January 2008