NEXT STORY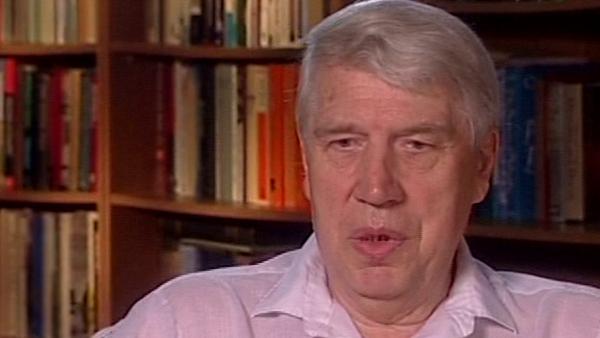 The ethics of science
We are doing the best to eliminate ourselves
1
...
7
8
9
10
11
Evolutionary success is in terms of persistence of a species, but we are doing the best to eliminate ourselves. We are cutting the branch on which we are sitting and unless we realize that, then I don't know how much worse it can get to... for people to come to reason. But we have to try to convince them and show them biologically what we really are. That sure we have good brains and we have culture and we have everything else, but if we don't use those things for our better survival of the species, not for momentarily successes but for long-term survival, then we are in trouble. And we are not smart, we are very stupid. So this lesson should be shown to people and for the religious it's unfortunate but we have to show them that yes, humans have evolved, are product of an evolution and not the product of a creation and therefore one should look at the human species in the context of everything else that's in nature and not as we are told by God that we can be the masters of nature and do with nature what we can... whatever we wish.
Born in 1936, Jan Klein is a Czech-American immunologist who co-founded the modern science of immunogenetics – key to understanding illness and disease. He is the author or co-author of over 560 scientific publications and of seven books including 'Where Do We Come From?' which examines the molecular evolution of humans. He graduated from the Charles University at Prague in 1955, and received his MS in Botany from the same school in 1958. From 1977 to his retirement in 2004, he was the Director of the Max Planck Institute for Biology at Tübingen, Germany.
Title: We are doing the best to eliminate ourselves
Listeners: Colm O'hUigin
Colm O'hUigin is a senior staff scientist at the US National Cancer Institute. He received his BA, MSc and PhD at the Genetics Department of Trinity College, Dublin where he later returned as a lecturer. He has held appointments at the Center for Population and Demographic Genetics, UT Houston, and at the University of Cambridge. As an EMBO fellow, he moved in 1990 to the Max Planck Institute for Biology in Tübingen, Germany to work with Jan Klein and lead a research group studying the evolutionary origins of immune molecules, of teeth, trypanosomes and of species.
Duration: 1 minute, 54 seconds
Date story recorded: August 2005
Date story went live: 24 January 2008