NEXT STORY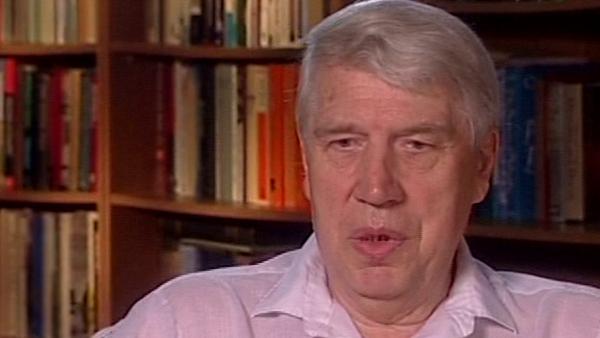 My decision to become a botanist
Searching for new plants and making a rare discovery
1
2
3
4
5
...
11
Already by that time I had a good knowledge of the plants in Silesia and certainly around my village, I knew everything that was growing there. In fact me and a few other enthusiasts from this school, with Karel Kousal, were roaming the countryside looking for new species. New, of course, not in the sense that it would be new to science, by that time it was all known what was growing in the whole Czech Republic, but species new for us that we never saw before and you cannot imagine, or a person who has not had this experiences cannot imagine, what a delight it is to come across a new species of this kind. One of my major findings of the new species was actually a plant... was a mushroom, scientifically its called Geastrum and the English name is Earthstar. It's a kind of a puffball except that it... the ball is actually... consists of two layers, one of which, the outer one eventually breaks and opens and breaks in such a way that it forms lobes, that when they open completely look like a star. So the star is spread out on the floor, on the ground and here in the middle is the ball, so it's a puffball. At least in the part where I was born it was very rare mushroom, so I knew it from some magazine where somebody in Prague was advertising that anybody who finds this mushroom should contact him because he was making a monography... writing a monography on this particular genus and he was interested in their distribution. I... when I was going through the woods and suddenly I saw this wonderful, beautiful Geastrum there on the ground; this is an experience you cannot describe, it was just wonderful. And so I could not wait until the next morning and will go to school and show it to the teacher. The teacher actually then contacted this person in Prague and not only that, he wrote an article about it because in the meantime we found some others also in some other places and how proud I was, my name was mentioned in the article, that Jan Klein... pupil Jan Klein found this in the village of Štemplovec and was showing everybody in the family. This is my first scientific contribution to be mentioned in... in an article.
Born in 1936, Jan Klein is a Czech-American immunologist who co-founded the modern science of immunogenetics – key to understanding illness and disease. He is the author or co-author of over 560 scientific publications and of seven books including 'Where Do We Come From?' which examines the molecular evolution of humans. He graduated from the Charles University at Prague in 1955, and received his MS in Botany from the same school in 1958. From 1977 to his retirement in 2004, he was the Director of the Max Planck Institute for Biology at Tübingen, Germany.
Title: Searching for new plants and making a rare discovery
Listeners: Colm O'hUigin
Colm O'hUigin is a senior staff scientist at the US National Cancer Institute. He received his BA, MSc and PhD at the Genetics Department of Trinity College, Dublin where he later returned as a lecturer. He has held appointments at the Center for Population and Demographic Genetics, UT Houston, and at the University of Cambridge. As an EMBO fellow, he moved in 1990 to the Max Planck Institute for Biology in Tübingen, Germany to work with Jan Klein and lead a research group studying the evolutionary origins of immune molecules, of teeth, trypanosomes and of species.
Tags: Silesia, Geastrum, Earthstar, Prague, Štemplovec, Karel Kousal
Duration: 3 minutes, 53 seconds
Date story recorded: August 2005
Date story went live: 24 January 2008