NEXT STORY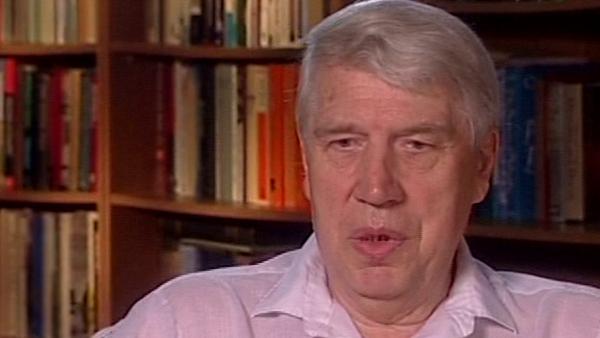 The influence of Lysenko on Czech biology
Strong dislike of Communism
1
2
3
4
5
...
11
In the west, many young... especially young... intellectuals were flirting with Communism or were infatuated by Communism. The same was in Czechoslovakia; there were many enthusiasts among the scientists as well as in general population for Communism. It seemed like it was a good regime to be under because there were... in the free Czechoslovakia there were many social problems and the Communist government promised to solve them and take care of people and so on and so on. So as I said there were people who were very... either sympathetic or enthusiastic about Communism, not only in Czechoslovakia but also amongst scientists in the west. I could never understand that, I don't know why... part of it was perhaps my environment but there must have been some other reasons. I never understood how could people be so stupid and go for such a regime. In my family, the whole family, although we were small farmers and so it could have meant improvement for us, the whole family was against it. I think the main reason was that the Communists immediately wanted the small farmers to join together into collective... they not only wanted it but they enforced it. They forced people to join, if they wanted or not, it didn't matter, they had to form this cooperate. Who doesn't know the mentality of an owner of a small land, like a farm, will have a hard time to understand it but the conviction of a farmer is to keep the land that he has because that's the only security that whatever bad times come he should be able to keep his family alive from that land. So they were almost uniformly against it. I must say we children saw it differently, a little bit, because for us it meant, if the farm would be part of a cooperative we would not have to work in the fields because there would be equipment and all the other things that would take care of this and it would not be any of our responsibility. But my mother could not... we tried to convince her that she should join but in the end it was joining by force. But the general... I think the main reason why I was not impressed by the Communist propaganda was that I was from the beginning very individualistic. I always wanted to read what I was interested in, what I wanted to read and to study what I wanted to study and everything should be my decision. Suddenly under the Communist regime you were not supposed to do that. They were supposed to read what they tell you to read and even think what they told you to think. You had no longer freedom of this and Marx was telling the economists what they should do and think, Engel was telling the biologists what they should study. Lenin, the physicists and Stalin to almost to everybody else... to linguists, he was telling Shostakovich how he should write symphonies and so on and so on. I could not see myself to be voluntarily a member and a supporter of such ideology. So I don't understand the western scientists who were supporters of this.
Born in 1936, Jan Klein is a Czech-American immunologist who co-founded the modern science of immunogenetics – key to understanding illness and disease. He is the author or co-author of over 560 scientific publications and of seven books including 'Where Do We Come From?' which examines the molecular evolution of humans. He graduated from the Charles University at Prague in 1955, and received his MS in Botany from the same school in 1958. From 1977 to his retirement in 2004, he was the Director of the Max Planck Institute for Biology at Tübingen, Germany.
Title: Strong dislike of Communism
Listeners: Colm O'hUigin
Colm O'hUigin is a senior staff scientist at the US National Cancer Institute. He received his BA, MSc and PhD at the Genetics Department of Trinity College, Dublin where he later returned as a lecturer. He has held appointments at the Center for Population and Demographic Genetics, UT Houston, and at the University of Cambridge. As an EMBO fellow, he moved in 1990 to the Max Planck Institute for Biology in Tübingen, Germany to work with Jan Klein and lead a research group studying the evolutionary origins of immune molecules, of teeth, trypanosomes and of species.
Tags: Czechoslovakia, Communist party, Communism
Duration: 5 minutes, 34 seconds
Date story recorded: August 2005
Date story went live: 24 January 2008