NEXT STORY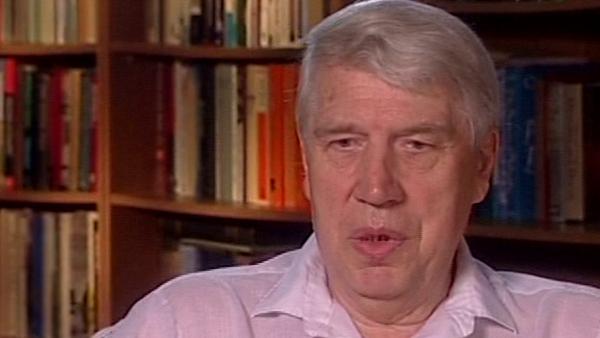 Immunological tolerance and hybridising somatic cells
1
2
3
4
5
...
11
So let me just briefly explain what it was that Georg and Eva Klein and their co-workers Göran and Erna Möller and Hellström and others in their lab were working on. You know who was Hašek first of all? Milan was one of the enthusiasts who embraced Lysenkoism. He believed there was something to it and he wanted to test it. And he did test it. He wanted to prove that really heredity is not concentrated in genes. That it's in the plasms, cytoplasm or in the whole body. And the way he wanted to prove it, or test, it was by so called parabiosis. He took two eggs from different breeds of chicken and made a small window opening in each of them with cut out just... just a piece. And then joined the eggs together, incubated them, and weaned or hatched the chicken from the eggs. It was known that when you keep them like this, the blood circulation between the developing embryos become joined and they exchange blood. So his thinking was that he would, by exchanging blood he would exchange also the genetic factors from one chicken to the other, and that should then appear as inherited property in the other breed.
So he did the experiment and I still remember he then wrote a booklet about it and there was a colour picture of the two chickens hatched. And he... he was... the caption said that the change is obvious, but I couldn't see any difference between them. But what they did see was that it appeared as if the chicken of the one breed had acquired blood group antigens of the others... of the other chicken. So, aha, here was inheritance. Blood group antigens are controlled by some genetic factors and there was a change of inheritance in the chicken by the exchange of blood. He published that in 1953, but I believe during that time he already got wind from England that make him think that the interpretation could be different of the results. The results were clear. The result was clear. The chicken had different blood group in their body. But in 1953 Peter Medawar, Leslie Brent and Rupert Billingham published a paper in Nature where... in which they took a mouse in that case, a new-born mouse and injected into these newborn mice... I used to then do it later. It's very tricky. You have to have a very fine needle. You have to get into the vein and you have to inject... I mean with my big fingers that were bigger than the embryo it was really tricky. But they did it and they showed that such... when you then wean the mice from it they grow up into adult. When you then exchange skin... skin grafts... you take a piece... patch of skin and place it from one in-bred mouse strain on to the body of the other, normally it's always within one week to two weeks it rejected... destroyed. The immune system destroys it. But in this chicken... in this mice treated this way the grafts survive. So you could have a white mouse and there would be black patch of skin growing on it. Evidence that there is no immunological response against the graft.
Born in 1936, Jan Klein is a Czech-American immunologist who co-founded the modern science of immunogenetics – key to understanding illness and disease. He is the author or co-author of over 560 scientific publications and of seven books including 'Where Do We Come From?' which examines the molecular evolution of humans. He graduated from the Charles University at Prague in 1955, and received his MS in Botany from the same school in 1958. From 1977 to his retirement in 2004, he was the Director of the Max Planck Institute for Biology at Tübingen, Germany.
Title: Blood group antigens
Listeners: Colm O'hUigin
Colm O'hUigin is a senior staff scientist at the US National Cancer Institute. He received his BA, MSc and PhD at the Genetics Department of Trinity College, Dublin where he later returned as a lecturer. He has held appointments at the Center for Population and Demographic Genetics, UT Houston, and at the University of Cambridge. As an EMBO fellow, he moved in 1990 to the Max Planck Institute for Biology in Tübingen, Germany to work with Jan Klein and lead a research group studying the evolutionary origins of immune molecules, of teeth, trypanosomes and of species.
Tags: Lysenkoism, parabiosis, Milan Hašek, Georg Klein, Eva Klein, Göran Möller, Erna Möller, Ingegerd Hellström, Peter Brian Medawar, Leslie Baruch Brent, Rupert Everett Billingham
Duration: 5 minutes, 11 seconds
Date story recorded: August 2005
Date story went live: 24 January 2008