NEXT STORY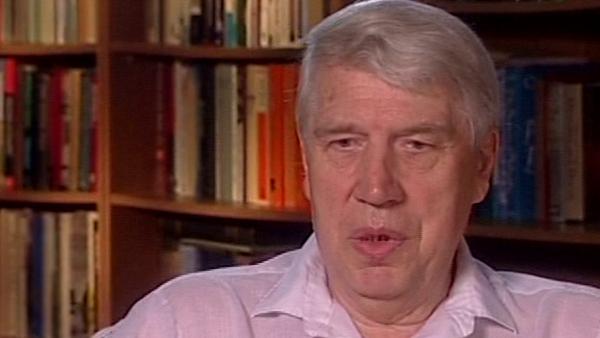 Becoming excited in the H2 system
Working with Milan Hašek and Pavol Ivanyi
1
2
3
4
5
6
...
11
It took me a while to understand the H2 system that I was supposed to work on because, already by that time, it was rather evolved and rather complicated and rather baroque one could say. So it was not easy to get into the details lets say of the system. But in the end I did. So let me just finish that part and then I will come back to the H2 system.
So I did the experiments... I got... at the beginning I got great help from Pavol Ivanyi who was working at that time on blood groups in rabbits... genetics of blood groups in rabbits. Hašek didn't like it, but this is characteristic of the atmosphere of the institute and of Hašek. He thought that Pavol wasted time on blood groups. It was not interesting to him and he was trying to persuade him for several times to give it up. I remember at the time very well that Pavol would come to me from a session with Hašek and then scratching his head... what to do because Hašek again tried to convince him to give it up. But Pavol was very stubborn and he didn't give it up until he himself came to the conclusion that he has no sense to continue it. But typical for Hašek is that he let him do even if he was convinced that it doesn't lead anywhere, it... he let him do what he wanted. And it's not true that it didn't lead anywhere; I mean Pavol discovered several blood group antigens in rabbits and it was useful for some other studies. But it was not something terribly exciting.
So Pavol knew the techniques that were necessary that I had to learn when I was going to work with mouse blood groups. So we did experiments together. He... I helped him, he helped me with something and... and Pavol remained... Pavol died about two weeks ago. Pavol remained one of my dearest friends and we... for a long time we collaborated still in other things. But at that time I began to work on the mouse and Pavol was working on the rabbits. Eventually Pavol switched from rabbits to the mouse also and we worked together on H2, but... and then he became involved in HLA studies, which is the mouse... which is the human... the system corresponding... human system corresponding to the mouse H2 system.
And before I forget it I would like to say that he worked on the HLA system with Jean Dausset in Paris. Jean Dausset got the Nobel prize for this work. But I think Pavol's contribution was never really properly appreciated and his contribution was great. He helped very considerably since he knew both systems, H2 and MHC. He could transfer his knowledge of the H2, which the HLA people couldn't understand, to the HLA people. And the H2 system was far more progressed in that time in terms of genetics than the HLA system so that the transfer of knowledge was very important. And Pavol was essential in the acceptance of the idea that the HLA system was an analogous system to their homologous system to the H2 system, and that it was a single system. It's hard to imagine how it was at that time, but I know. I visited Pavol several times in Paris and I would come to the lab and there were huge charts all hanging on the wall. They were the results of typing of one antiserum with a panel of 100 or 200 or several hundred of cells, and each antiserum gave you different results. But they were looking for a common pattern for something shared. So you could not do it on the basis yes or no. You had to do it statistically really and that's what they were doing and so... it was the interpretation was far from simple. What did all these patterns mean? And you really have to look from a distance at the charts. Like the chart, like on a modern painting or some impressionist painting to see the whole picture emerging from it and that, I think, in that respect Pavol was tremendously contributing to the right interpretation of the system.
Born in 1936, Jan Klein is a Czech-American immunologist who co-founded the modern science of immunogenetics – key to understanding illness and disease. He is the author or co-author of over 560 scientific publications and of seven books including 'Where Do We Come From?' which examines the molecular evolution of humans. He graduated from the Charles University at Prague in 1955, and received his MS in Botany from the same school in 1958. From 1977 to his retirement in 2004, he was the Director of the Max Planck Institute for Biology at Tübingen, Germany.
Title: Working with Milan Hašek and Pavol Ivanyi
Listeners: Colm O'hUigin
Colm O'hUigin is a senior staff scientist at the US National Cancer Institute. He received his BA, MSc and PhD at the Genetics Department of Trinity College, Dublin where he later returned as a lecturer. He has held appointments at the Center for Population and Demographic Genetics, UT Houston, and at the University of Cambridge. As an EMBO fellow, he moved in 1990 to the Max Planck Institute for Biology in Tübingen, Germany to work with Jan Klein and lead a research group studying the evolutionary origins of immune molecules, of teeth, trypanosomes and of species.
Tags: Nobel Prize, Milan Hašek, Pavol Ivanyi, Jean-Baptiste-Gabriel-Joachim Dausset
Duration: 6 minutes, 17 seconds
Date story recorded: August 2005
Date story went live: 24 January 2008