NEXT STORY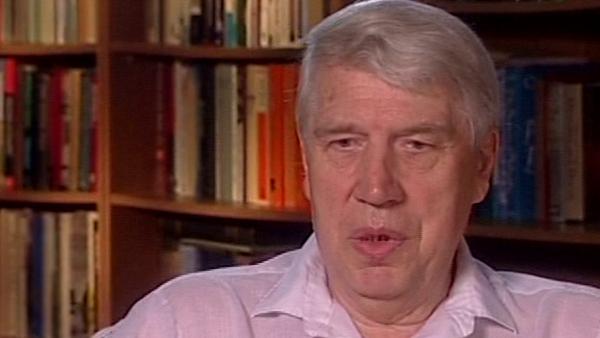 Realising I could be blackmailed by the secret police
Sent by the secret police to meet my cousin
1
2
3
4
5
6
...
11
Anyway, that was my first encounter and now I had to go to this place. There was a guy sitting, and he was very friendly, and he says, 'Oh don't... I know it's, you know, in this place... next time we will meet at some other place'. I said, 'Oh next time?' 'But you have a cousin, right?', he told me. I say, 'Yes'. 'Where do they live?' 'Well', I said, 'in West Germany'. The sister of my brother... not my brother... the sister of my mother married a German from... in the next village. He was a really nasty German. A real Nazi and my elder brother would tell stories about him.
So after the war the Sudeten Germans who could not show that they were anti-Nazi were expelled from the country. Now, whether it was right or wrong there is still great animosity between the two countries because of this act. But my aunt and this guy with... the whole family were expelled also. So I had two male cousins and two female cousins. Are they cousins also or what are they?
[Q] Yes, cousins.
... living in West Germany. So he was asking where do they live. Of course they knew everything better than I... I say, 'Yeah'. 'And where is Walter?' That was one of them. I said, 'In Germany I presume'. He says, 'No. He is in Paris', and... okay so he is in Paris. 'And do you know what he works for?' I said, 'No'. 'Well you know what the NATO is don't you?' I say, 'Yes'. 'Well he works for NATO'.
Well after a long discussion he said, more or less, 'I have the following proposal for you. We will send you to Paris and you will find out whether Walter would be willing to help us'. And he says, 'I give you two days to think about it. If you are willing to do that, fine. We will arrange everything for you. If not, well I don't think I need to go into details what it will mean for you'. I knew what it would mean. They would probably not put me in jail. They would just... I would never leave the country... would be allowed to leave the country and probably far from the institute and so on. So in a few days he called me and... 'Let's meet in the café such and such, you know'. And we went there and again very polite, very civilised, and smooth and so on. In the end, how did you decide?
I... at that time I read Graham Greene's Our Man in Havana, and if you remember he was in somewhat similar situation. And he was sent to spy or was supposed to spy and sent... so then on some secret weapons or something he was sending them an outline of a vaccuum cleaner or something and for... and well what could happen? I could go and I will just say he's not interested or something like that. And so I said, 'Yes'.
So I went to Paris. It was the first time for me abroad and I met my cousins. They... I couldn't speak German very well. Not very well... I hardly could speak German at that time and so they translated the letters into German for me... everything you know they arranged... they were prepared for everything.
Born in 1936, Jan Klein is a Czech-American immunologist who co-founded the modern science of immunogenetics – key to understanding illness and disease. He is the author or co-author of over 560 scientific publications and of seven books including 'Where Do We Come From?' which examines the molecular evolution of humans. He graduated from the Charles University at Prague in 1955, and received his MS in Botany from the same school in 1958. From 1977 to his retirement in 2004, he was the Director of the Max Planck Institute for Biology at Tübingen, Germany.
Title: Sent by the secret police to meet my cousin
Listeners: Colm O'hUigin
Colm O'hUigin is a senior staff scientist at the US National Cancer Institute. He received his BA, MSc and PhD at the Genetics Department of Trinity College, Dublin where he later returned as a lecturer. He has held appointments at the Center for Population and Demographic Genetics, UT Houston, and at the University of Cambridge. As an EMBO fellow, he moved in 1990 to the Max Planck Institute for Biology in Tübingen, Germany to work with Jan Klein and lead a research group studying the evolutionary origins of immune molecules, of teeth, trypanosomes and of species.
Tags: NATO, Our Man in Havana, Nazi, Sudeten Germans, Graham Greene, Henry Graham Greene
Duration: 5 minutes, 10 seconds
Date story recorded: August 2005
Date story went live: 24 January 2008