NEXT STORY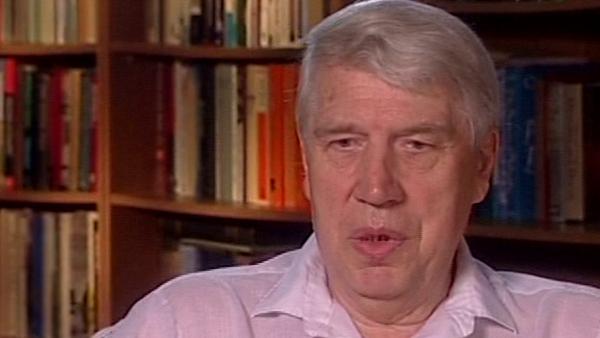 An explanation of the H2 system
Unable to keep my mouth shut
1
...
3
4
5
6
7
...
11
I was thinking sometimes and... it took them a while to declassify the documents. I would have been interested in seeing what that guy... I mean I must be... it must be recorded somewhere. There must be somewhere they... What?
[Q] Was your political profile obtained before or after?
Oh this was before.
[Q] Okay. So it wasn't...

No, no, no, this was before. No, I was... this is... I couldn't help it... I couldn't help my mouth... keep my mouth shut even if I knew that it made no sense to say things... that it would bring me into trouble. I just... it just... I just couldn't. I'm...
[Q] Were many other scientists in the same boat?
In what way?
[Q] In that they talked and got into trouble with the authorities? Or were you the only...
I didn't know any other case. I mean usually the Czechs are very careful you know. You... they got into trouble when they trusted somebody and that somebody turned out to be a... how do you call them? I mean they do reports on you? There were a lot of people. I mean we knew who they were usually. So when you were in front of them you didn't say things, but some of them of course you couldn't know.
[Q] Informers?
Informers, yeah. Well it would have been interesting to see what... whether they believed my story or not.
Born in 1936, Jan Klein is a Czech-American immunologist who co-founded the modern science of immunogenetics – key to understanding illness and disease. He is the author or co-author of over 560 scientific publications and of seven books including 'Where Do We Come From?' which examines the molecular evolution of humans. He graduated from the Charles University at Prague in 1955, and received his MS in Botany from the same school in 1958. From 1977 to his retirement in 2004, he was the Director of the Max Planck Institute for Biology at Tübingen, Germany.
Title: Unable to keep my mouth shut
Listeners: Colm O'hUigin
Colm O'hUigin is a senior staff scientist at the US National Cancer Institute. He received his BA, MSc and PhD at the Genetics Department of Trinity College, Dublin where he later returned as a lecturer. He has held appointments at the Center for Population and Demographic Genetics, UT Houston, and at the University of Cambridge. As an EMBO fellow, he moved in 1990 to the Max Planck Institute for Biology in Tübingen, Germany to work with Jan Klein and lead a research group studying the evolutionary origins of immune molecules, of teeth, trypanosomes and of species.
Tags: Czechoslovakia
Duration: 2 minutes, 1 second
Date story recorded: August 2005
Date story went live: 24 January 2008