NEXT STORY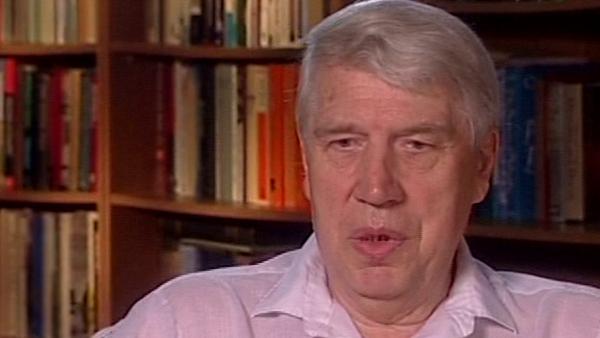 Gorer's discovery of the four antigens in mice blood groups
An explanation of the H2 system
1
...
3
4
5
6
7
...
11
I think at this stage I should say something about the H2 system that I've already alluded to several times. But for the sake of clarity I think I should explain what it was and how it came into existence. Actually it was the result of a convergence of two different fields of research. One was the blood groups, which were discovered in 1900 by Karl Landsteiner in humans - the well known A, B, O blood groups. And later it was shown... they were shown to be blood groups that means that different people have a different type of antigen on their red blood cells. And several... many years later only it was shown that they were genetically controlled, that they were genes that specified the antigens. How they did it remained for a long time a mystery. But that's a different story.
So that was one area because with the first human blood groups then there was a search to find other blood groups. They were found in humans' RH systems and many other antigens were discovered, and also in animals. Many mammals were then studied and a series of antigens were described. Surprisingly the mouse for very long time was... well in the mouse there were no antigens found. But in the mouse, the very popular laboratory mammal of experimentation, there was the other research area that in the end would converge on the blood group antigens. And that was tumor transplantation. For reasons that would be... would take us too far to explain, people began developing so called inbred strains, which meant strains in which every individual was genetically identical. So it would be like cloned animals today or like identical twins that always have existed. And they noticed that when a tumor arises... a cancer occurs in the particular inbred strain that you can transfer the tumor on the individuals of the same strain and it would kill the host, the recipient. Whereas if you transferred it into another strain, a completely different strain, it will be destroyed. It will be rejected by... later it could be shown that it was because of the immune system that would... just like it attacks bacteria, it will attack the tumor cells because they have foreign antigens on them. The strain had other antigens on them.
Born in 1936, Jan Klein is a Czech-American immunologist who co-founded the modern science of immunogenetics – key to understanding illness and disease. He is the author or co-author of over 560 scientific publications and of seven books including 'Where Do We Come From?' which examines the molecular evolution of humans. He graduated from the Charles University at Prague in 1955, and received his MS in Botany from the same school in 1958. From 1977 to his retirement in 2004, he was the Director of the Max Planck Institute for Biology at Tübingen, Germany.
Title: An explanation of the H2 system
Listeners: Colm O'hUigin
Colm O'hUigin is a senior staff scientist at the US National Cancer Institute. He received his BA, MSc and PhD at the Genetics Department of Trinity College, Dublin where he later returned as a lecturer. He has held appointments at the Center for Population and Demographic Genetics, UT Houston, and at the University of Cambridge. As an EMBO fellow, he moved in 1990 to the Max Planck Institute for Biology in Tübingen, Germany to work with Jan Klein and lead a research group studying the evolutionary origins of immune molecules, of teeth, trypanosomes and of species.
Tags: blood groups, transplantation, Karl Landsteiner
Duration: 3 minutes, 41 seconds
Date story recorded: August 2005
Date story went live: 24 January 2008