NEXT STORY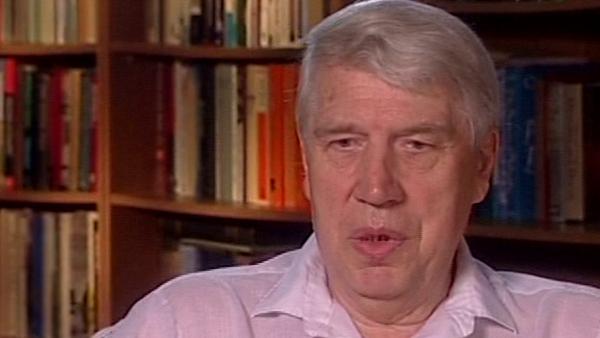 The world suddenly became interested in the H2 system
1
...
3
4
5
6
7
...
11
Then I, of course, left the country and was for some time with Shreffler and we worked together on H2. And Shreffler got... became another one of the major players in the H2 game. He got into... interested in H2 for totally different reasons. He did his post doctoral with Ray Owen in California and there he isolated or identified a protein in the serum of mice, which was present in high concentration in some strains and low concentration in others. He called it serum serological (Ss) protein. Not very attractive name, but he was happy with that. And it turned out that this... that the gene coding for this was very tightly linked to H2 and then he became interested in H2.
So I came to H2 through the tumor variance, Snell through histocompatibility genes, Gorer through blood group antigens, Stimpfling, I guess, through Snell, and Amos through Gorer. But suddenly we were all together in one group that came to be referred to as the H2 Club. It was H2 Club, you know, club... exclusive things that only the members know what's going on in them and the people outside are kept outside. Well we didn't keep anybody outside. We welcomed anybody who was interested in it, but there were not too many people interested in it because it was so complicated. It was... the serology alone was... well, we were involved in constructing so called H2 chart where... which we would have a list of strains going this way and list of antigens going this way. So there were some 30, over 30, I think the last... well no, later on there were 40. So let's say 50... 50 different antigens and there were very large number of strains. And here you have the distribution of the individual antigens in each strain and the combination of each of these antigens was characteristic of the strain. And we could communicate with each other because we remembered the combinations. We had the H2 chart in our brains. You know, you work with it daily and you are interested this antigen, what happens? Is it going to be a new... are you expecting some result where it's different? So you remember that it was like that and you... it engraved into your mind. So... but nobody else outside bothered to even familiarise superficially with the H2 chart. So we were exclusive in the sense that we... it was hard to communicate with other people.
Born in 1936, Jan Klein is a Czech-American immunologist who co-founded the modern science of immunogenetics – key to understanding illness and disease. He is the author or co-author of over 560 scientific publications and of seven books including 'Where Do We Come From?' which examines the molecular evolution of humans. He graduated from the Charles University at Prague in 1955, and received his MS in Botany from the same school in 1958. From 1977 to his retirement in 2004, he was the Director of the Max Planck Institute for Biology at Tübingen, Germany.
Title: The H2 Club
Listeners: Colm O'hUigin
Colm O'hUigin is a senior staff scientist at the US National Cancer Institute. He received his BA, MSc and PhD at the Genetics Department of Trinity College, Dublin where he later returned as a lecturer. He has held appointments at the Center for Population and Demographic Genetics, UT Houston, and at the University of Cambridge. As an EMBO fellow, he moved in 1990 to the Max Planck Institute for Biology in Tübingen, Germany to work with Jan Klein and lead a research group studying the evolutionary origins of immune molecules, of teeth, trypanosomes and of species.
Tags: serum serological protein, Ss protein, serology, H2 chart, Donald C Shreffler, Ray Owen, George Davis Snell, Peter Alfred Gorer, D Bernard Amos, Jack Stimpfling
Duration: 4 minutes, 7 seconds
Date story recorded: August 2005
Date story went live: 24 January 2008