NEXT STORY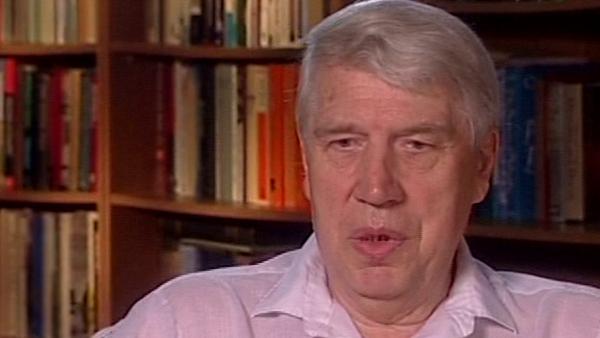 Having to work hard on the family farm
Why I would always call Czechoslovakia my home
1
2
3
4
5
...
11
I guess the reason why I'm here today, telling one of the Canterbury Tales, is that at one time of my career I was involved in a science that was exploding. It was immunogenetics and so my participation in that area of research might be perhaps of some interest to the listeners or viewers of this series.
I was born in a small village, it's actually a hamlet rather than a village... just a few houses... but this is what I would still call my home although... although the village still exists it doesn't exist the way I remember it. In my memory, if I close my eyes, what I see is a road... wide road leading from Neplachovice, which was where I went to school, to Štemplovec, to where I was born. The road is lined with cherry trees, each of them different, each of them tasting different and of course they belonged to somebody and there was a watchman to guard it, but when we were going home from school he could not... it was some two kilometres long road, so if we knew at which end he was we just waited until the other end and then tasted. So I tasted all of them. I can still remember where particular trees of a particular taste were located. And I... so I was going closer to my village, I remember the road was sloping down and then it suddenly turned right, crossing a river... bridge. And then it continued straight for a short distance and then it was like if it was going... enter into a farmhouse but it actually turned left before the farmhouse and went through the village. Well the place where it was like going to enter the farmhouse, the farmhouse was the house where I was born. On the right was a garden with peonies, dahlias, bleeding hearts and all the other plants. On the left was a vegetable garden, in the windows were nasturtium and petunias and all the other plants. Then there was the house and behind the house was a big orchard and then somewhere on the hill was a manor house... manor park surrounding a manor house. In my time it was... the lord was no longer living there, it served some other purposes. But the park was full of magnificent trees, truly magnificent trees. I remember, for instance, two tulip trees, huge tulip trees. Well I have now one in my garden. Many of the plants I mentioned I have now in my garden, so that's my reminder of my home. Behind the park was an alley of linden trees, about 500 metres long. Wonderful trees. And on the hill was a small patch of woods with a chapel.
Well that was my home and it was... it remains in my memory as it probably never existed. It has, kind of, quality like the Dutch paintings where you have the golden glow on them. They look very realistic but in fact they are idealised landscapes. And that is also what probably is now in my mind, in fact I know when I visited it, it's no longer the same place. It has changed physically and it is different. So, but in contrast to people who were born, for instance, in this country, I would still call this my home. Although I am citizen of this country and I have lived in many other places which I loved, this was my home and I realize that it has influenced me in many, many respects.
Born in 1936, Jan Klein is a Czech-American immunologist who co-founded the modern science of immunogenetics – key to understanding illness and disease. He is the author or co-author of over 560 scientific publications and of seven books including 'Where Do We Come From?' which examines the molecular evolution of humans. He graduated from the Charles University at Prague in 1955, and received his MS in Botany from the same school in 1958. From 1977 to his retirement in 2004, he was the Director of the Max Planck Institute for Biology at Tübingen, Germany.
Title: Why I would always call Czechoslovakia my home
Listeners: Colm O'hUigin
Colm O'hUigin is a senior staff scientist at the US National Cancer Institute. He received his BA, MSc and PhD at the Genetics Department of Trinity College, Dublin where he later returned as a lecturer. He has held appointments at the Center for Population and Demographic Genetics, UT Houston, and at the University of Cambridge. As an EMBO fellow, he moved in 1990 to the Max Planck Institute for Biology in Tübingen, Germany to work with Jan Klein and lead a research group studying the evolutionary origins of immune molecules, of teeth, trypanosomes and of species.
Tags: Czechoslovakia
Duration: 6 minutes, 9 seconds
Date story recorded: August 2005
Date story went live: 24 January 2008