NEXT STORY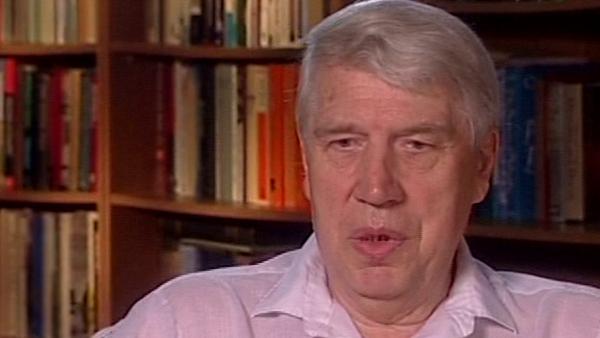 Publishing a controversial essay
The two-locus model of H2
1
...
4
5
6
7
8
...
11
It was very difficult because of this complexity of the region. But in the meantime I was getting suspicious about the... what the real complexity of the system was because I remembered that when I did the somatics studies, the tumor variant studies, that I always got two regions. I didn't get eight regions or six or whatever. The antigens were grouping into two groups. I didn't test all of these antigens, but those that I tested seemed to be on two molecules. Nothing more. So that would mean two genes would be the simplest interpretation. So was this complexity that the recombinants seemed to be showing the many regions, was this real? Or could it be some artefact? Well then we realized, when we continued, we realized that some of the antigens seemed to map into different places depending on which recombinants you tested. That sometimes it was at one end and the same antigen in another recombinant would be mapping to the other end. Now, you can think of some explanations how this could be... could happen even if you keep those eight regions. But I thought that the simplest, the most parsimonious explanation would be the one that the tumor variants suggested there were only two regions, not counting the Ss. This was always considered to be very clearly separate, and the IR was a question mark. But the serologically detectable regions... six serologically detectable regions could be just an artefact. Just an illusion.
We discussed it with Don Shreffler with whom I was working at that time. Many times... Don was very conservative. I was anything but conservative, I guess. And... but primarily because of my experience with the somatic cells I was pushing for simplifying the interpretation and explaining the apparent mapping into different regions by saying it's a cross reactivity. The antigens are shared between the two different molecules at the different end on the H2 complex. So that in different... in some recombinants, in some H2 types you get a reaction with one at this end and another at this end, and this is the reason why the ambiguity arose in the test. So in the end he was invited to write the review, which he was very slow to always to write anything. And I was eager to get that review and he... well he told me we will write it together. So I wrote actually the paper and I brought it to him. And I remember to this day he just looked at it, and had... take a look... took a look at it and said 'Oh, I see. You put the two-locus model into it'. Well, it was the case, yes. He went along and it was published, and this is what I presented at the meeting in Asilomar, the so called two-locus model. I said, the regions are artefact except the K and D. There are two M... H2 loci and the rest is non-existent... it's an artefact of cross-reactivity. Now, that the audience understood and they realized that... and I think simultaneously there was already a rumour or it was already coming out, that McDevitt with the help of all these recombinants of which two pairs were crucial and they were produced by Stimpfling, Shreffler and myself. And together when you put those pairs together they gave you... you could test... you got a combination where the ends were identical and the middle part was different. So you were testing for the middle part. And McDevitt was getting an idea that the IR gene might be in the middle part and using these recombinants he could map it there.
So here was a case. Two loci, which are the H2, K and D, and in the middle is the IR gene that controls an immune response in some basic way. So suddenly everything was simple. Everything was clear and people knew that something... they could smell that something important was hidden there. Because as soon as McDevitt published his data one laboratory after the other was reporting response to this antigen, to this antigen, to that antigen, all of these responses are controlled by an IR gene which is in the H2 complex. So suddenly there was a tremendous demand for all the recombinant strains and everybody wanted to map his favourite antigen and everybody was calling the three of us... send me, and when are you going to send me? And we were sending anything. We had often, I must say, often I wanted to do some experiments, but somebody was begging so I didn't have enough. I sent him the ones that I set aside for my own experiments, and people were mapping.
Born in 1936, Jan Klein is a Czech-American immunologist who co-founded the modern science of immunogenetics – key to understanding illness and disease. He is the author or co-author of over 560 scientific publications and of seven books including 'Where Do We Come From?' which examines the molecular evolution of humans. He graduated from the Charles University at Prague in 1955, and received his MS in Botany from the same school in 1958. From 1977 to his retirement in 2004, he was the Director of the Max Planck Institute for Biology at Tübingen, Germany.
Title: The two-locus model of H2
Listeners: Colm O'hUigin
Colm O'hUigin is a senior staff scientist at the US National Cancer Institute. He received his BA, MSc and PhD at the Genetics Department of Trinity College, Dublin where he later returned as a lecturer. He has held appointments at the Center for Population and Demographic Genetics, UT Houston, and at the University of Cambridge. As an EMBO fellow, he moved in 1990 to the Max Planck Institute for Biology in Tübingen, Germany to work with Jan Klein and lead a research group studying the evolutionary origins of immune molecules, of teeth, trypanosomes and of species.
Tags: recombinants, Ss, IR gene, Asilomar, two-locus model, Donald C Shreffler, Hugh O'Neill McDevitt, Jack H Stimpfling, George Davis Snell
Duration: 7 minutes, 6 seconds
Date story recorded: August 2005
Date story went live: 24 January 2008