NEXT STORY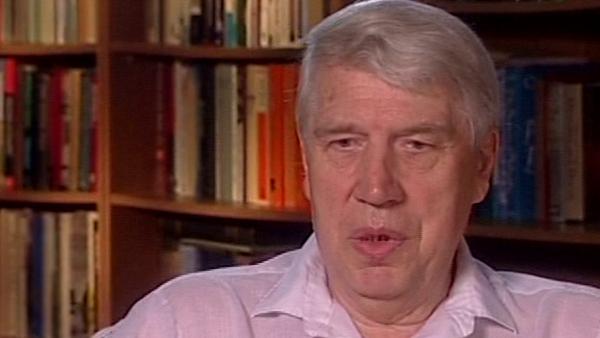 My earliest memories are associated with World War II
Having to work hard on the family farm
1
2
3
4
5
...
11
I was born on a farm. My father was drafted into the German army before... when the war started, which means I have... and he never returned back... so I have practically not know... I don't remember him. So it was run by my mother. We had a... it was a small farm, about seven hectares. We had a few cows and so it was... it meant that all the children who lived on the farm, and there were two brothers and two sisters, that all of us had to work on the farm otherwise it could not.. we could not live. So in the fields, in the farmyard, in the garden, in the orchard, we were fully busy with various chores and work that needed to be done. The... we went to school but when I came home from school, especially in the summer, there usually was a note on the table saying your lunch is in the oven, take Zora... Zora was the very wise cow... and come in such and such field and join us. So there I worked doing all that a child can do, depending on the age, until the dusk fell, then quickly do some homework and then to bed. And that was six days a week. On Sunday we would have to go to the church in the morning and the only time we had for ourselves was in the afternoon... Sunday afternoon. And I remember how we envied other children who were not born on a farm, they had... we could hear them screaming from the creek and having a lot of fun while we were working. But, I think, it had influenced me to a great degree too. I don't know whether... people say people are workaholic, I don't know whether there are endorphins in... released by working hard but certainly from that age on, until now, I got used to working very hard and it didn't... I cannot actually live without working. So it had some good effects, I think, also. But it was hard time that has had an impact on me.
Born in 1936, Jan Klein is a Czech-American immunologist who co-founded the modern science of immunogenetics – key to understanding illness and disease. He is the author or co-author of over 560 scientific publications and of seven books including 'Where Do We Come From?' which examines the molecular evolution of humans. He graduated from the Charles University at Prague in 1955, and received his MS in Botany from the same school in 1958. From 1977 to his retirement in 2004, he was the Director of the Max Planck Institute for Biology at Tübingen, Germany.
Title: Having to work hard on the family farm
Listeners: Colm O'hUigin
Colm O'hUigin is a senior staff scientist at the US National Cancer Institute. He received his BA, MSc and PhD at the Genetics Department of Trinity College, Dublin where he later returned as a lecturer. He has held appointments at the Center for Population and Demographic Genetics, UT Houston, and at the University of Cambridge. As an EMBO fellow, he moved in 1990 to the Max Planck Institute for Biology in Tübingen, Germany to work with Jan Klein and lead a research group studying the evolutionary origins of immune molecules, of teeth, trypanosomes and of species.
Duration: 3 minutes, 31 seconds
Date story recorded: August 2005
Date story went live: 24 January 2008