NEXT STORY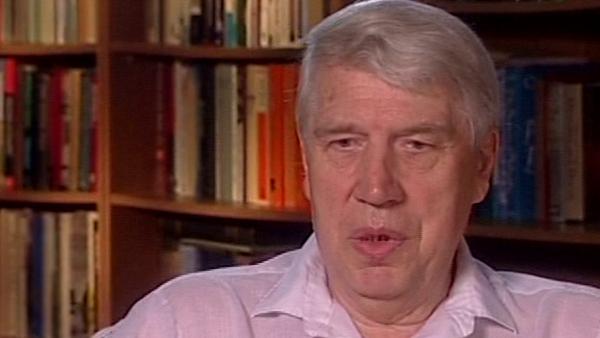 How does the immune response function?
Dual recognition appeared as a bolt out of the blue
1
...
5
6
7
8
9
...
11
[Q] Were Zinkernagel and Doherty the first to look at a possible function for this very peculiar system that decided a tissue rejection in principle and tumor rejection... were they the... did the question never arise, what does this system do, what's its function?
Oh, of course we... from the beginning after the function of the MHC, it was on the minds of all of us that we realized that it's not there to make difficulties to the transplant surgeons, but that it must be doing something completely different. Transplantation is a very unnatural situation and here was a system that by some weird side effect must be responsible for that but in reality it must be doing something else... but we... and so we were asking that question, so what is that something else? And nobody had any idea. We all knew that it was related to the immune response. There were some studies by Frank Lilly and others before that also viral immune response was affected by the H2. He could show that some viruses grew in some inbred strains better than in others and that the reason why that was so was a gene which was closely linked to MHC... to H2. So, it was in the air that all kinds of different responses would be associated with the H2.
[Q] It's just that you described Zinkernagel and Doherty as a bolt out of the blue... lightening out of the blue and so on....
Because the idea that there would be a dual recognition has not occurred to anybody.
[Q] Right.
And it was not that Doherty and Zinkernagel had the idea of going to dual recognition... testing dual recognition, but they were testing something completely different, and this result... the result they got forced them to the interpretation of dual recognition. There were other possibilities but one of the possibilities that they considered was this dual recognition type, so... phenomenon rather than type. So it was serendipity that it was discovered, and again, to what degree it was by chance or because of rumours, I don't know, but Zinkernagel and Doherty's discovery was followed very quickly by other people's reports of a similar phenomenon with different antigens, so-called minor histocompatability antigens or modified... chemically modified antigens and so all turned out to be showing the same phenomenon. But that was in... the interpretation at least was then influenced by Zinkernagel and Doherty's finding, but their own study was motivated by completely different reasons. They were not studying the function of the MHC, they were studying immune response against viruses and got a result which appeared weird and came up with the interpretation that the best way to explain it is this. So it was because nobody was thinking of... specifically of the dual recognition type of explanation that it was... it appeared suddenly as the bolt out of the blue.
Born in 1936, Jan Klein is a Czech-American immunologist who co-founded the modern science of immunogenetics – key to understanding illness and disease. He is the author or co-author of over 560 scientific publications and of seven books including 'Where Do We Come From?' which examines the molecular evolution of humans. He graduated from the Charles University at Prague in 1955, and received his MS in Botany from the same school in 1958. From 1977 to his retirement in 2004, he was the Director of the Max Planck Institute for Biology at Tübingen, Germany.
Title: Dual recognition appeared as a bolt out of the blue
Listeners: Colm O'hUigin
Colm O'hUigin is a senior staff scientist at the US National Cancer Institute. He received his BA, MSc and PhD at the Genetics Department of Trinity College, Dublin where he later returned as a lecturer. He has held appointments at the Center for Population and Demographic Genetics, UT Houston, and at the University of Cambridge. As an EMBO fellow, he moved in 1990 to the Max Planck Institute for Biology in Tübingen, Germany to work with Jan Klein and lead a research group studying the evolutionary origins of immune molecules, of teeth, trypanosomes and of species.
Tags: tissue rejection, tumor rejection, Rolf Martin Zinkernagel, Peter Charles Doherty, Frank Lilly
Duration: 5 minutes, 10 seconds
Date story recorded: August 2005
Date story went live: 24 January 2008