NEXT STORY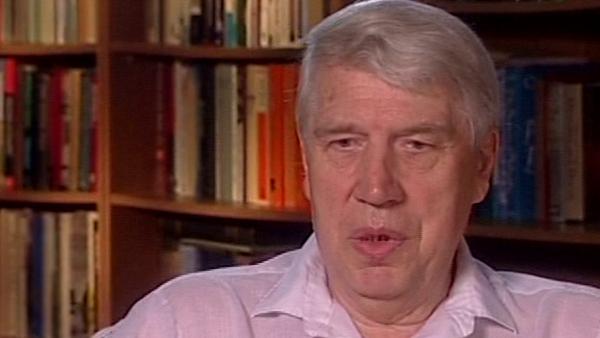 Period of confusion in immunology with many false claims
New books were published on a Thursday in Czechoslovakia
1
...
6
7
8
9
10
11
But, of course you have to understand the situation in Czechoslovakia that I knew. A lot of books were published and the system was such that the new books appeared on a certain day and that was always on Thursday, I remember, and so on Thursday if you wanted a new book and it was something worthwhile, you better go to the bookstore and stand in the line to get the book because they were publishing a lot of books but they were books that nobody wanted to read like the classics in Marxism, Leninism, the collected works of Stalin and the collected works of Lenin and then the Czech classics like the collected works of Hašek. It was... those were okay but people didn't want to buy these kind of books, they wanted The Old Man and the Sea, which was talked about but we could not read it before because you could not get it in English, of course. And many other of the books that were bestsellers were translations from English or other languages. And so people really stood lines on Thursday to get the book and often before you got to the cashier or into the store, the book was already sold out because also the booksellers put many copies under the... they were trading them, you know, for other things that were not easily available.
So anyway, that explains how in a few days a book, even a scientific book or popular books, can be... can disappear... be sold out. So then I wrote a book on H2, which again I summarised because I had to learn everything about H2 and the next one was on immunology and so on. So every time I wrote a book it really was because I was getting into a new field... new area, and I wanted to learn everything that there was and so it came natural that I would write a book about it.
Born in 1936, Jan Klein is a Czech-American immunologist who co-founded the modern science of immunogenetics – key to understanding illness and disease. He is the author or co-author of over 560 scientific publications and of seven books including 'Where Do We Come From?' which examines the molecular evolution of humans. He graduated from the Charles University at Prague in 1955, and received his MS in Botany from the same school in 1958. From 1977 to his retirement in 2004, he was the Director of the Max Planck Institute for Biology at Tübingen, Germany.
Title: New books were published on a Thursday in Czechoslovakia
Listeners: Colm O'hUigin
Colm O'hUigin is a senior staff scientist at the US National Cancer Institute. He received his BA, MSc and PhD at the Genetics Department of Trinity College, Dublin where he later returned as a lecturer. He has held appointments at the Center for Population and Demographic Genetics, UT Houston, and at the University of Cambridge. As an EMBO fellow, he moved in 1990 to the Max Planck Institute for Biology in Tübingen, Germany to work with Jan Klein and lead a research group studying the evolutionary origins of immune molecules, of teeth, trypanosomes and of species.
Tags: The Old Man and the Sea, Karl Marx, Vladimir Ilyich Ulyanov, Lenin, Josef Stalin, Jaroslav Hašek, Ernest Hemingway, Joseph Vissarionovich Stalin
Duration: 2 minutes, 33 seconds
Date story recorded: August 2005
Date story went live: 24 January 2008